We have an App for that!
Our app is available to download on the app stores for any android (Google) (click here) or IOS (Apple) (click here) mobile device. You can also search for "My Pet Points" or "Cascade Hospital" to find it.
Our app, makes communicating with us easy -
CALL US: has both location telephone numbers, in addition to the two 24/7 animal emergency facilities in Grand Rapids.
MESSAGE US: Permits you to send a text message.
DIRECTIONS: Will give you driving directions to our Cascade location.
REWARDS YOU:
It has an integrated loyalty card built in. When you collect 16 stamps, you will earn a $50 reward that will be applied to your veterinary account for use at either our Cascade or Breton locations. The stamps have no cash value.
Once you download the app, you will be guided through some overview screens to review the app features.
When the "Get Started" button is pressed you will register/personalize your account.
**Notice the "If you already have an account Sign In" located at the bottomof the "Get Started" screen.
If you are sharing this app among family members, make sure you use the same email address and password so you share pet information and reward stamps among all of your mobile devices.
Once downloaded the app features the Cascade Hospital for Animals' logo with the title
"My Pet Points" below.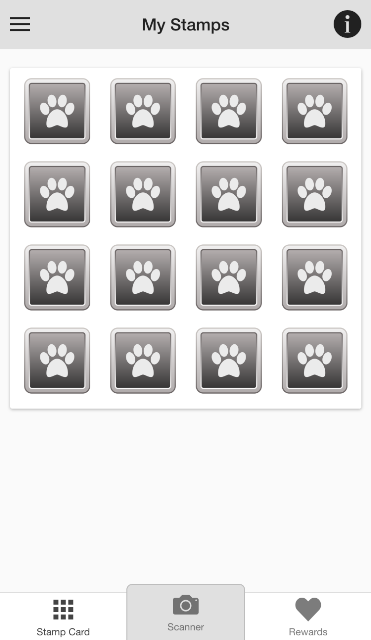 Ways to Earn Stamps:
When you...

DOWNLOAD THE APP
Stamps rewarded - 1 Stamp
REFER A NEW CLIENT WITH "SHARE THE CARE"
Stamps rewarded - 2 Stamps
GIVE US A POSITIVE REVIEW (ON GOOGLE+, FACEBOOK, ANGIE'S LIST, ETC.) AND BRING IN A COPY.
Stamps rewarded - 5 Stamps
SPEND $100 MINIMUM ON AN INVOICE
For example if you have an invoice for $380, (you will earn 3 stamps)
Stamps rewarded - 1 stamp / $100 paid invoiced
PURCHASE 12 MONTHS OF PARASITE PREVENTATIVES
Stamps rewarded - Double Stamps on invoice
How Stamps are applied to your account.
At check-out, you will notify a member of our healthcare team, that you have our app. They will then present you with the appropriate QR code(s) you earned for today's paid invoiced total.
You will open the "My Pet Points" app on your mobile device, and take a picture of the QR code(s). Once the picture is taken, the stamp(s) will appear on your device.
Your "Loyalty Stamps" can be accessed by clicking the menu tab in the upper left (hamburger menu) then go down to "Loyalty Stamps".
In the middle on the bottom there is an icon of a camera with the title "Scanner"
Clicking "Scanner" this will open your camera where you will then capture the QR code image.
Once your mobile device has read the QR code, it will close and you will see the stamp(s) appear on your device. You may have to repeat the process for additional rewards as each has a unique QR code.
FAQ:
Can I use this app at both the Cascade and Breton location?
Yes, the app can be used at either location.
Can I use the app on multiple devices?
Yes, the app can be on any devices in your family. Instructions on setting this up can be found on page 1 of
this document.
Do the stamps expire?
No, the stamps do not expire, however we reserve the right to discontinue the program at any time.
Do the stamps have cash value?
No, the stamps have no cash value.
Do I need to present the app to receive the stamp(s)?
Yes, it is up to you, the client, to inform our staff that you have the app, and would like to receive stamps.
Can I retroactively (past invoices) collect stamps?
No, you must notify our staff upon the conclusion of your paid in full invoice. We cannot reward stamps for past invoices, even if the app was active at that time. Also, we can not reward stamps in the event the app or your mobile device is experiencing issues or is unable to work at the time of concluding the invoice.
Can I use my redemption reward on today's invoice?
Yes, this is the preferred method for the redemption of the stamps.