Everyone loves a good love story. We have one we would like to share about two very special people.
Ben started working at Cascade Hospital in 2006 as an Animal Care Technician while attending college with hopes of going to veterinary school. Ben transitioned into the role of an Exam Room Technician a few years later. He worked with the veterinarian in the exam room, helped educate clients, and assisted with outpatient appointments.
In 2010, Abbey, a Licensed Veterinary Technician (LVT), joined Cascade Hospital for Animals. She returned to Michigan after living out East, earning her degree and working at another veterinary hospital. Abbey's return to Michigan was a homecoming to be closer to her family. Abbey's role as an LVT had her working with surgical patients, performing dental cleanings, monitoring hospitalized patients, among many other tasks.
Around this time, Ben was informed that he was on the waitlist for acceptance into veterinary school. For anyone who has ever been so close to achieving something, it was heartbreaking news to hear. Fortunately this delay in plans helped foster the relationship between Abbey and Ben. Abby was extremely supportive of Ben, and helped pick him up and push him to continue pursuing his dream of attending veterinary school.
In 2012, Ben's hard work finally paid off, as he was accepted into veterinary school. To remain close to Abbey, he commuted daily from Grand Rapids to attend school in East Lansing.
Two years later in 2014, Abbey and Ben were married at a beautiful ceremony surrounded by family and friends.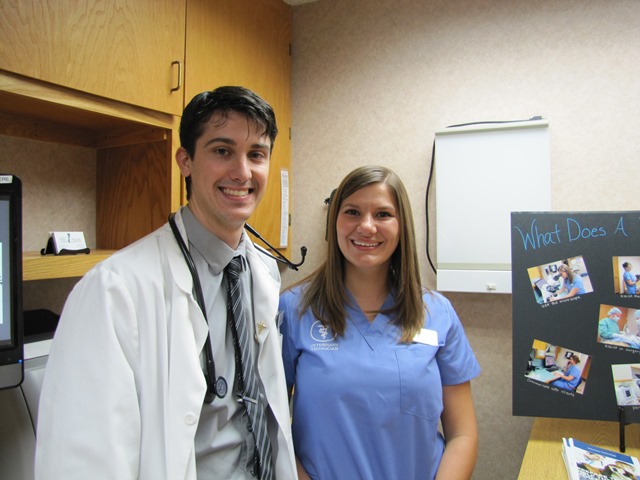 This past May, a childhood dream was achieved, and Ben graduated from the College of Veterinary Medicine at Michigan State University with honors.
As if their lives were not busy and exciting enough, in July 2016, Abbey and Ben welcomed their first child a son, into their lives.
Ben earned the opportunity to be pursue a residency in Anatomic Pathology at Colorado State University. So the journey of Abbey, Ben and now baby, will have them traveling out West.
Abbey and Ben met at work, married, and now are starting a family. Congratulations Abbey and Ben! We know you will tackle this new chapter in your lives with the same passion and dedication you've displayed with our patients and coworkers. Working alongside you both has been an honor and privilege, and we know you will continue to succeed in anything you do.
We will miss you Abbey and Ben!