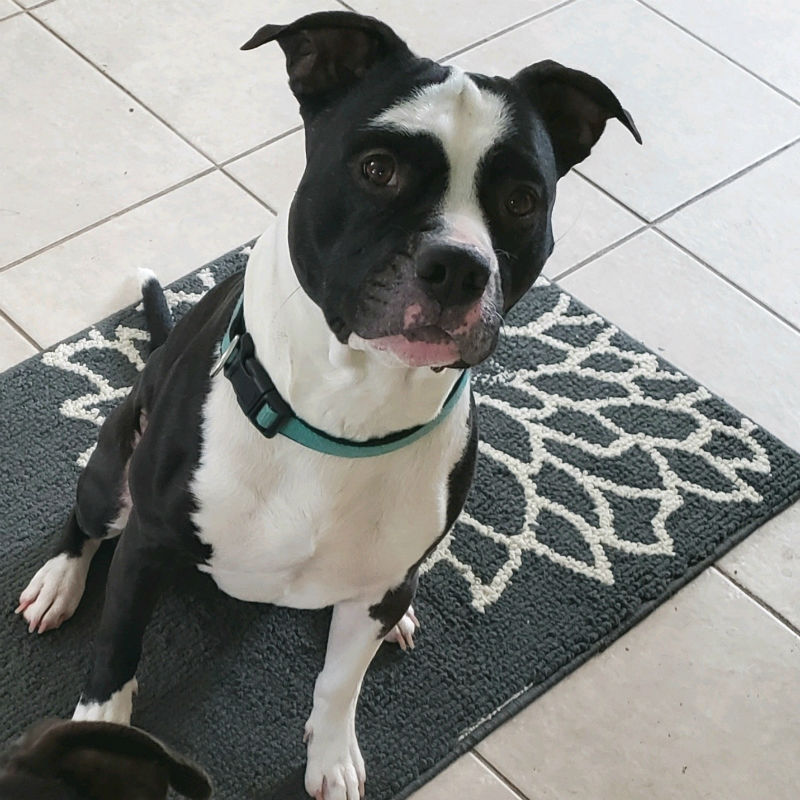 Tazz was frustrated that heartworm kept him from being his usual playful self.
Summer is here and so are the mosquitos—and heartworm disease
Summer is finally here and so are the mosquitos. But the scourge of our backyard cookouts and camping trips are more than just an annoyance. For pet owners and their canine companions, they can lead to a potentially deadly and certainly painful condition called heartworm disease. Brittny Taylor, a Client Care Assistant at Cascade Hospital for Animals, recently learned first-hand how difficult it can be to watch a beloved pet suffer from this terrible condition.
Brittny's boyfriend has owned Tazz, a six-year-old Pitbull, since he was a puppy. In February of this year, Tazz was scheduled to be neutered, but Dr. Abel learned from a routine pre-surgery blood test that he was heartworm positive and the surgery had to be cancelled. Examining x-rays of Tazz's chest and heart, Dr. Abel found that his heart was mildly enlarged as a result of the heartworms clogging his arteries.

For Tazz, a heartworm diagnosis meant he couldn't run around and be his normal playful self—anything that drove his heart rate up was off-limits. This was difficult for his family to see, said Brittny.

"He had to stay calm at all times; no being hyper or running around the yard or playing rough—anything that would make his heart beat faster." The only exercise the usually active Tazz received during this period was being walked outside on a leash.

On top of his limited activity, Tazz also had to take different medications in order to curb the disease's progress. Dr. Abel prescribed Doxycycline, an antibiotic; Prednisone, a steroid; and Sentinel, a monthly heartworm preventative to kill immature heartworms and stop new infections from developing. She also scheduled injections of melarsomine, a drug that kills adult heartworms.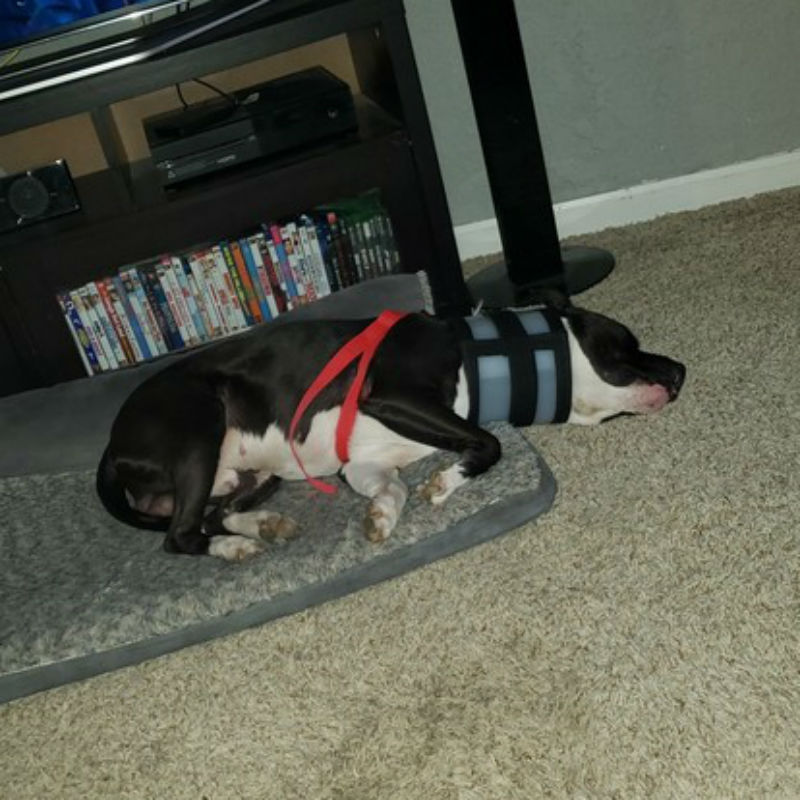 Frustratingly, when Brittny brought Tazz in for his first injection, a test showed that there were still immature heartworms, or microfilaria, present in his blood, possibly because he had vomited up his Sentinel during an earlier illness before the drug had a chance to take effect. The presence of microfilaria meant that poor Tazz needed another month to get his initial injection—another month of medication and limited activity.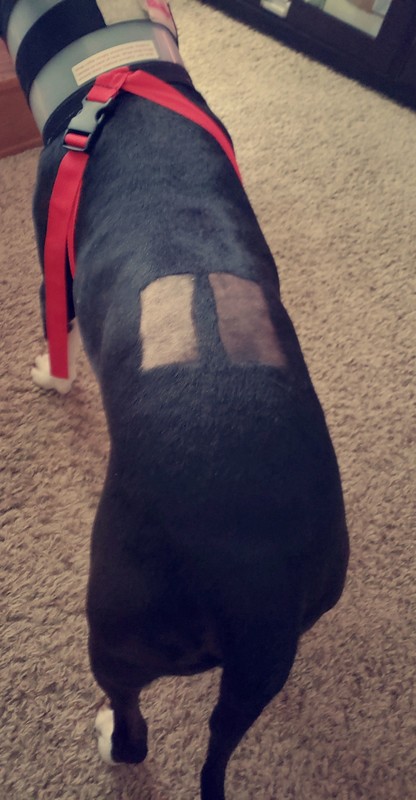 On April 15, a retest for microfilaria came back negative, which meant that Dr. Abel could now begin giving Tazz the melarsomine injections. These injections, made straight into a muscle in his back, can be very painful, so Tazz had to be given two new medications to help him cope: Trazadone for sedation and Gabapentin for pain. Following the first injection, his family had to remain vigilant over his health. "We had to monitor him to make sure his gums were not pale, no vomiting or coughing; anything not normal needed to be reported," said Brittny.

On May 13th, Tazz came into the office for his second injection into another spot on his back, followed by his third injection the following morning. One month after the third injection, on June 16, Tazz came into the office for a recheck blood draw to be certain that there were still no microfilaria or new microfilaria. He was negative!

This news came as a great relief to Brittny. "If the test had been positive, we would have had to start the treatment all over again. Now that he is negative we have 30 more days of relaxation and then he can be a free dog again. We will have to do another recheck in about a year to be certain that he is free of heartworm disease."

Tazz's experience was difficult for him and his family to endure, but it was essential that he receive all of the treatment he did: throughout the entire ordeal, there was always a risk that Tazz might die from the heartworm infection.

Brittny's experience with Tazz brought her a new perspective on the monthly preventative medication for heartworm that she sells to clients regularly.

"Working in an animal hospital, from personal experience I have a lot of clients who come in and are very concerned about the price of medication, but to be 110% honest, it will be healthier for your dog and more lightweight on your pocket if you just do monthly heartworm preventatives," Brittny said. "Doing about 4-5 months of treatment is very expensive and it is just very exhausting on your pet. It is definitely sad having to see your dog cooped up inside not being able to do much of anything or go anywhere with you. I also recommend that clients keep up on heartworm tests. It is a huge relief to hear that your pet's test came back negative."

Her advice to those who might not be as careful as they should be about making sure their pets get their monthly preventative medication is this: "Think about your pet's health; it can definitely happen to anyone. All it takes is one mosquito."