Kayla knew something was very wrong with her newly adopted cat, Murray. Just a few weeks after she brought him home from the Humane Society of West Michigan this past June, he began vomiting everywhere and seemed to lose his appetite.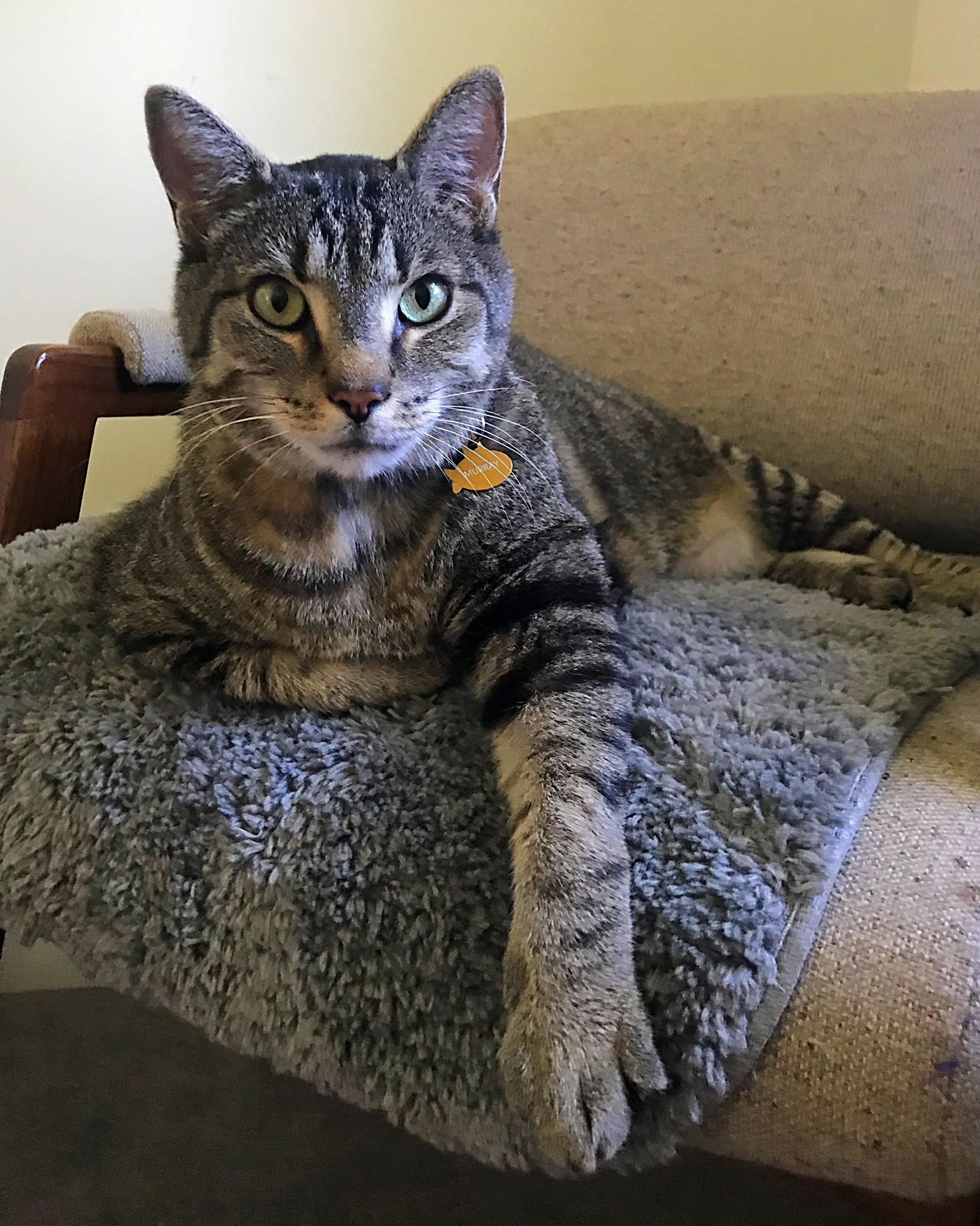 As a professional in the veterinary field herself, Kayla suspected the symptoms indicated fatty liver disease. At 28 lbs., Murray's weight meant his health was already at a high risk. Although he came to the Humane Society via the Kent County Animal Shelter as a stray, Kayla could tell he was once someone's pet. "I think someone probably loved him, because I don't know how else a cat gets to be almost 30 pounds without it."
She brought Murray to the veterinary office she worked for at the time, but "it was obvious that the level of care he needed was more than they could provide," she said. "I had four different vets tell me he probably wouldn't make it."
She decided to bring Murray to Cascade Hospital for Animals and knew she'd made the right decision right away. "That's when Dr. Veneman took over."
"We didn't know if he would make it"
Dr. Veneman could tell that Murray's situation was dire. "Murray was in rough shape when he presented to us," she said. "He was yellow, which means his bilirubin levels were very high. I knew that even though it was a risk, he had to be put under anesthesia to have a feeding tube placed. We didn't know if he would make it through that initial procedure let alone at all."
For Kayla, Dr. Veneman's quick action was reassuring. "Right away she determined the most important course of action," Kayla said. "She put him on a feeding tube and kept him overnight. He had aspiration pneumonia, and fatty liver. And Dr. Veneman put a feeding tube in him that day, and kept him a couple of days on oxygen."
Over the course of two difficult months, with Dr. Veneman trying different treatments and Murray in and out of the hospital, his pneumonia cleared up and he stabilized. Unfortunately, he wasn't quite out of the woods yet. "The fluid in his lungs was resolving but we still knew there was a chance that he had cardiovascular disease," said Dr. Veneman, "so Kayla brought him to the cardiologist for an echocardiogram." To their dismay, the cardiologist diagnosed him with heart failure. "We found out that just when his meds were done he had to start heart meds" said Dr. Veneman.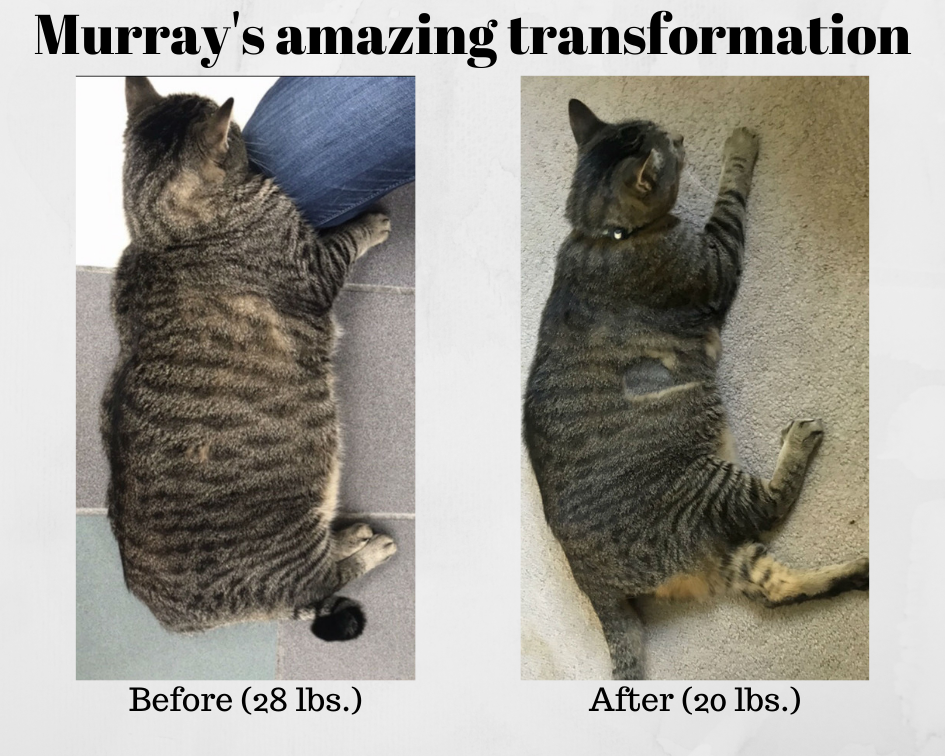 Murray has a follow-up echocardiogram in a few months, but Kayla says it seems as though he doesn't have a heart condition at all. His health has vastly improved. "He's down to 20 pounds now," she said, "which means as of right now he's lost just over a quarter of his body weight from May."
His overall demeanor has changed too. When Kayla first adopted him, it was evident he'd never lived with other animals before. He seemed stressed out by her dogs and hissed at her other cats. "He has a little brother kitten and at first Murray couldn't even look at him. He just would smell him and freak out, and hit him and run around hissing." Now that Murray's health has improved, however, "they're best buds. Wherever Murray is, I call Humphrey his little shadow."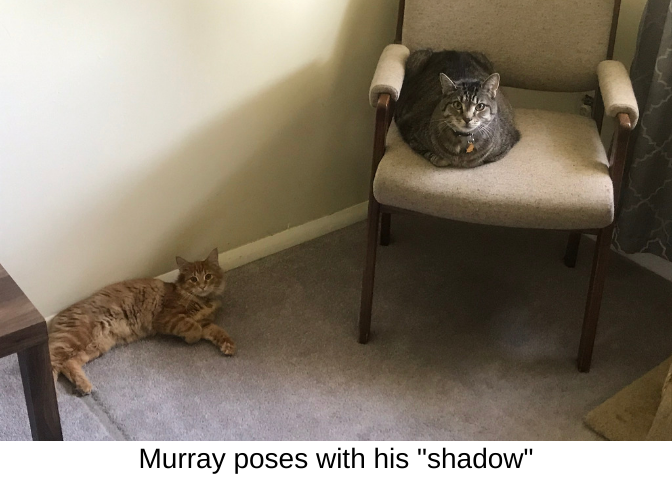 "A fan forever"
Kayla's experience with CHFA and Dr. Veneman's dedication to bringing Murray back to health made her "a fan forever."
"I love Dr. Veneman. The whole process, his whole recovery, it was her," said Kayla. "The medications, the testing...the diet—she completely changed his diet. She was so on top of literally everything about this cat."
Murray has clearly won over Dr. Veneman as well. "Murray is a very special guy," she said. "We call him Murman and joke that he is a person trapped in a cat's body because he has the best personality. I'm so grateful to have had the chance to be a part of his incredible journey to recovery."