At first, the homeless kitten seemed to have the odds stacked against him. On May 23, a passerby discovered him crying out in pain at the side of a road. Seeing he was in bad shape, the Good Samaritan scooped him up and took him to a nearby 24-hour emergency veterinary hospital, where the staff found he had five broken metatarsals in his left rear leg and a significant abscess in his right groin. They also found puncture wounds that suggested he had been attacked by another animal.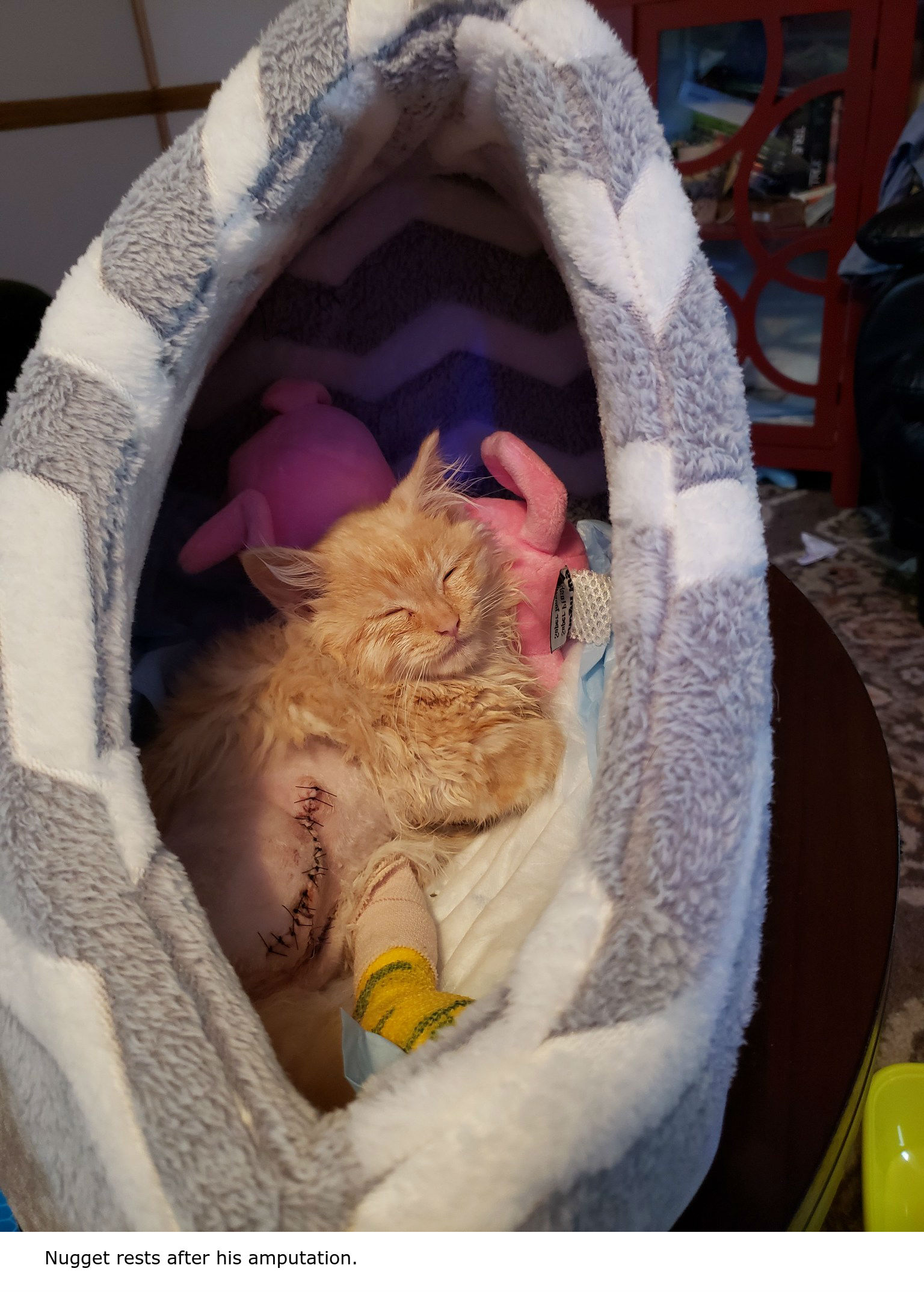 The hospital staff treated his wounds and put him on antibiotics, and after his overnight stay, transported him to the Kent County Animal Shelter. The following day, Nancy Mogle from the local non-profit Vicky's Pet Connection paid the shelter a routine visit, looking for animals that might need the organization's assistance.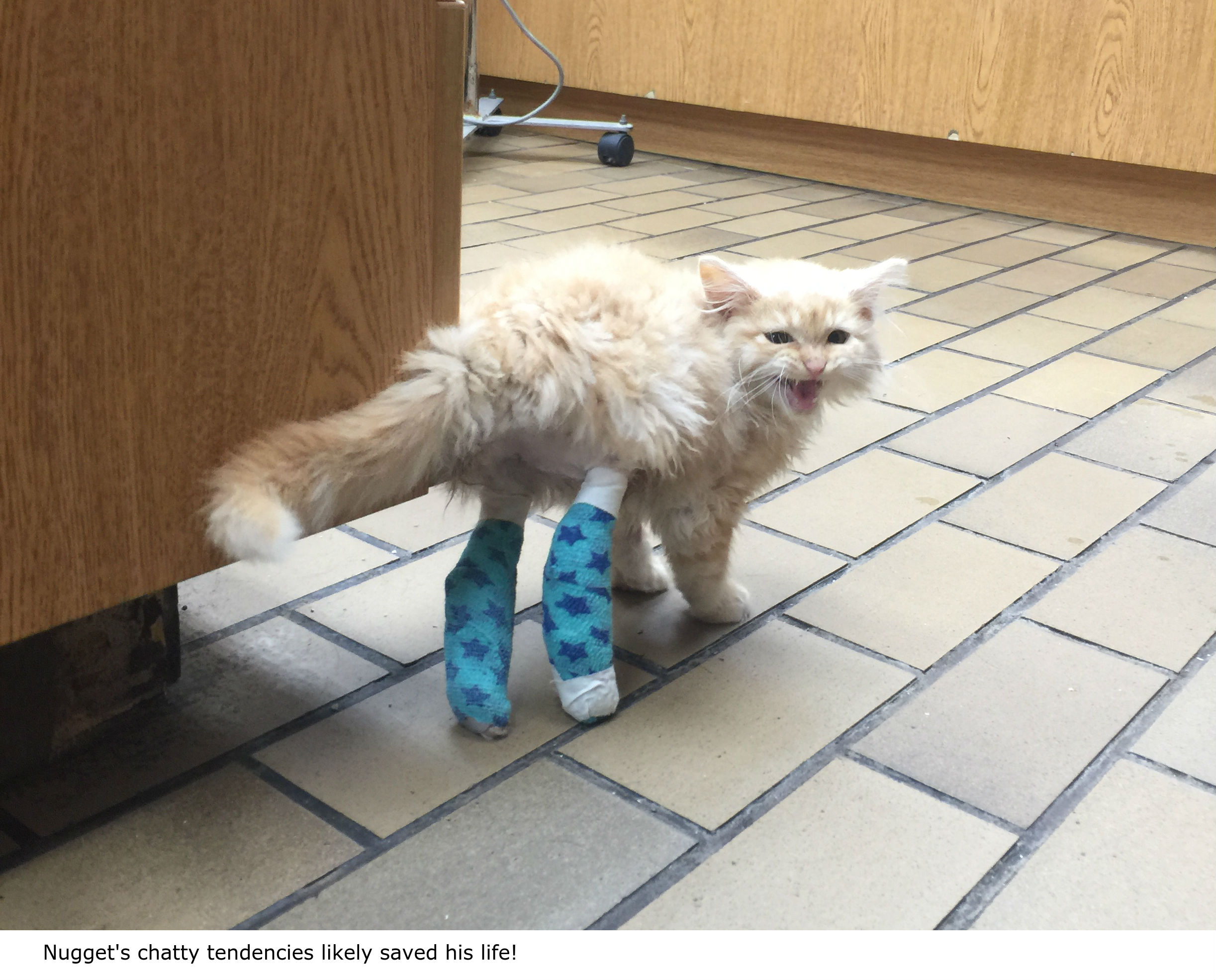 Love at first sight
When Nancy encountered the kitten, he immediately charmed her with his sweet disposition. "He craved affection and was nudging people with his head and purring away." Nancy decided to pull the kitten, whom she named Tango, from the shelter, but she faced a challenge. It was Saturday of Memorial Day weekend and she needed to find a hospital that could continue Tango's treatment. She called CHFA, a facility she and the organization have long trusted, and wasn't surprised when they offered to see him that day. As she would later say, "the pieces of the puzzle started to fall into place."
At CHFA, he was initially treated by Dr. Schaffer and Vet Assistant Diana. "I immediately fell for him," said Diana. "Despite the pain that he was in and coming in with a drain tube placed on his stomach from a large abscess, he was still purring and making 'kitty bread' whenever anyone touched him or showed any affection."
Even as he won over the CHFA staff with his personality, Tango's situation was frightening. After they removed his bandages, Dr. Schaffer and Diana had to debride and clean his right rear leg, which was actively being eaten by maggots. The next day the right leg looked even worse, and it was clear that they had to amputate as soon as possible or his body would go into sepsis, a condition that could eventually lead to his death.
"Even though he was anemic," said Diana, "he still made it through surgery."
A hectic summer
The summer following his emergency amputation saw many trips back and forth to the hospital as he recovered from his abscess, although Tango adapted well to becoming a "tripod." He also had an infection of his incision site, so he was prescribed two courses of antibiotics and other medications.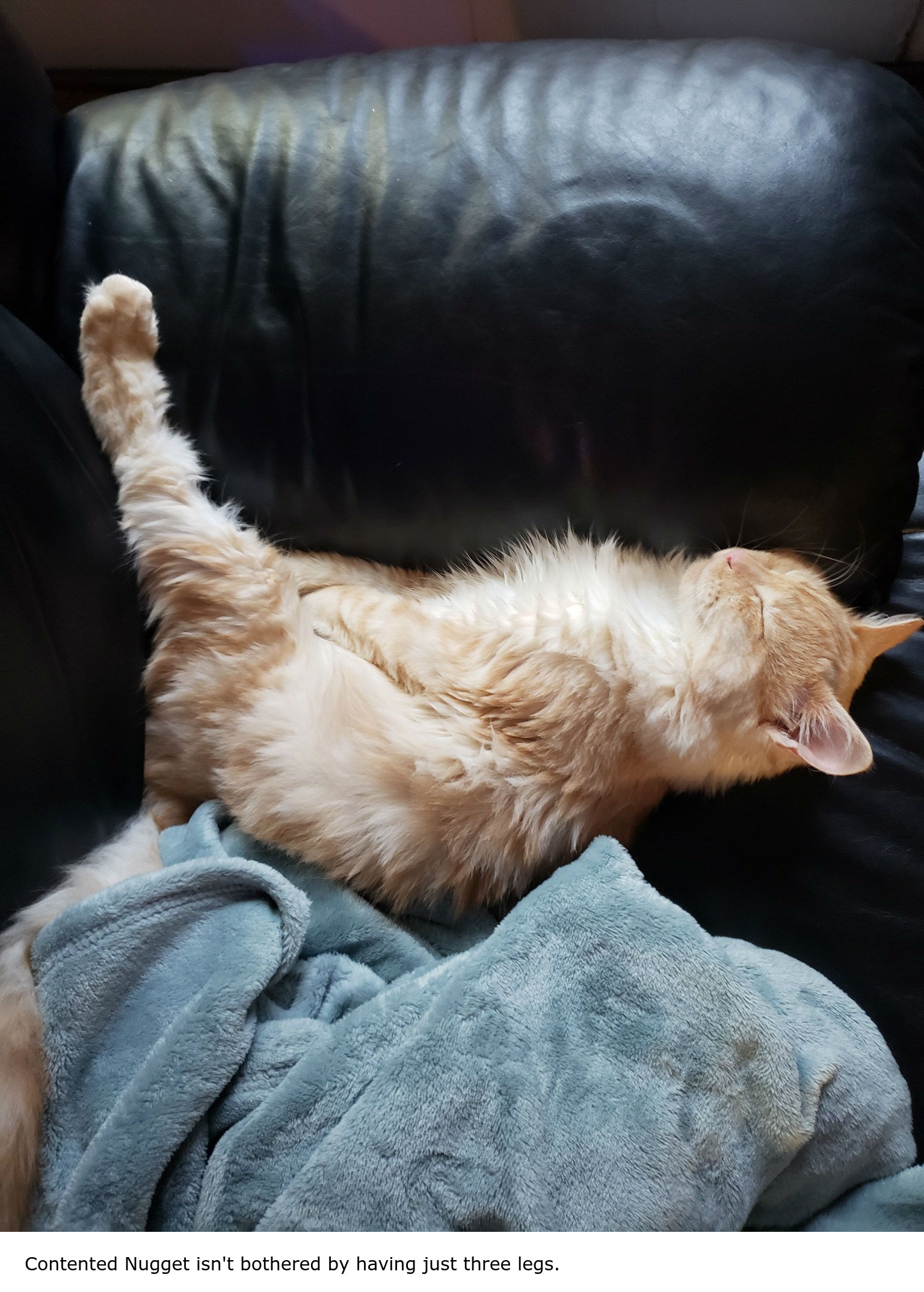 Throughout the entire ordeal, his love of attention and affection never wavered. "He took everything like a champ and it was so rewarding watching him feel better everyday," said Diana.
At the beginning of August, with his health significantly improved, it was clear that it was time for Tango to settle into a permanent home. Diana, the Vet Assistant who fell for Tango when he first arrived at CHFA, offered to foster him for Vicky's Pet Connection until he was recovered enough from his injuries that he could be adopted.
It took one night at Diana's home for Tango to become a "foster failure."
"After he met all of our animals we fell in love and asked to adopt him. He's always had the toughest spirit going through all of this and he never stopped purring or kneading anyone that came to greet him."
A new name and a fresh start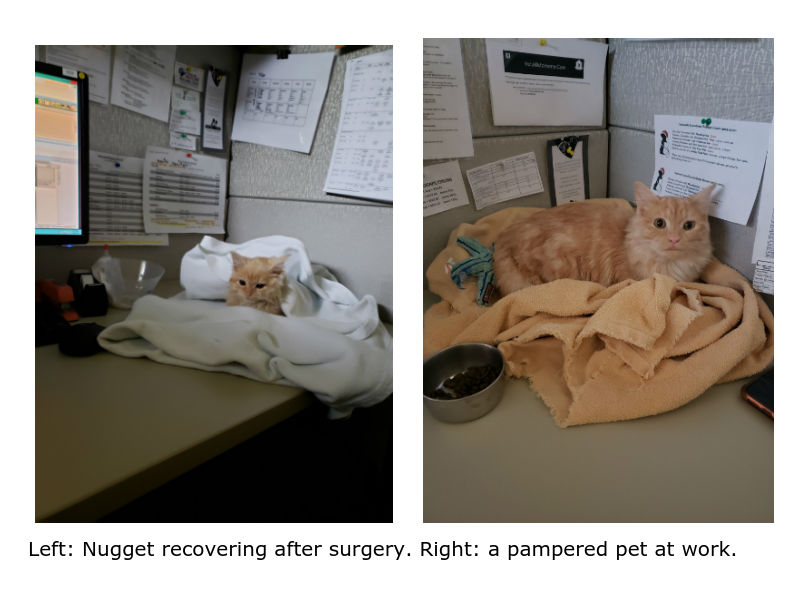 Before Tango officially joined her family on August 7, Diana renamed him Nugget. Today, he fits into her household perfectly.
"He is doing great now!" Diana said of Nugget. "He's getting so big and runs the house with my other two cats. He actually wrestles them up quite a bit and acts like any normal kitten—just minus one leg! He does have some back pain occasionally and walks funny on his rear leg, but gets around just fine and always seems to be in happy spirits."
And he still goes to work with Diana, which means seeing his friends at CHFA on a regular basis. "Ever since the day I took him home, he came to work with me every single day and learned to love car rides," Diana said. "He would fall asleep on the way there and back and he would also sleep in his kennel at the hospital. He was fearless! He would sleep through barking dogs and other loud noises. Everyone would spoil him daily and give him attention."
Nancy at Vicky's Pet Connection is grateful that Diana was in the right place at the right time. Among the hundreds of animals she's worked with other the years, Nugget is "a kitty I will never forget. He's quite a remarkable little guy."
To schedule an appointment with our dedicated staff, please visit our Patient Portal.
To learn more about Vicky's Pet Connection, please visit their website and Facebook page.
---
Shortly before his amputation:
Shortly after his amputation:
At home with his brother recently: