Buffalo Dip the cat rules the other animals in his household with his outsized personality. But just over a year ago, when he was a 12-week-old kitten, Buffalo Dip was so sick that his family was ready to say goodbye to their new pet.
His owner, Ashley, who is a Client Care Assistant at CHFA, says adopting Buffalo Dip was a dream come true. She'd been wanting to add a cat to her household for a while when a client brought in a tiny kitten and told her its littermate was also available for adoption and offered to bring the kitten to her from Traverse City. When her initially reluctant husband finally agreed, she jumped at the chance.

A fitting name
Buffalo Dip got his unusual name at a CHFA holiday party only a few days after his adoption. Ashley's son was carrying him around the party, showing off the then-nameless kitten.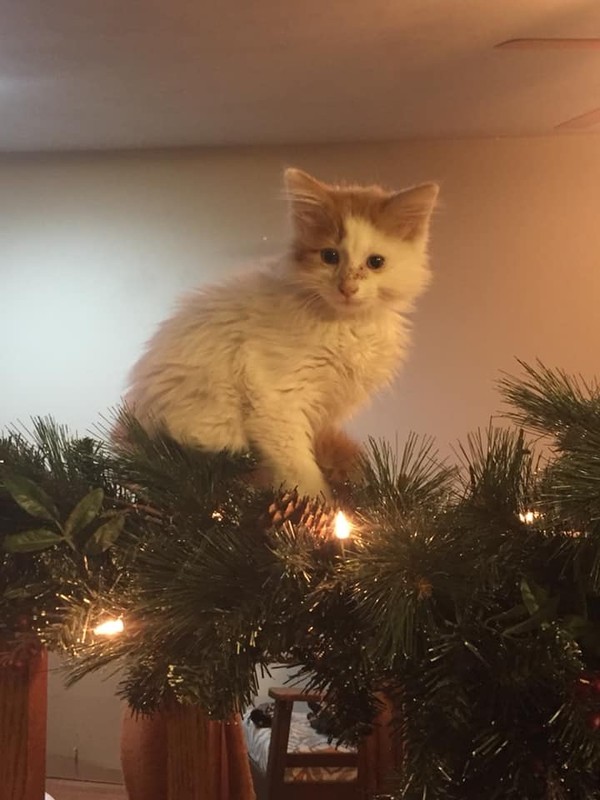 Buffalo Dip as a kitten at Christmas
"We had been told Buffalo Dip was a girl so I had the perfect name all picked out," Ashley said. "And then when the doctors told us, 'Well, she's a boy,' I struggled with finding the right name."
At the holiday party, Ashley's colleague Jillian jokingly pointed out that since he was the color of the buffalo dip being served at the party, his name should be Buffalo Dip. Ashley laughed it off, but her four-year-old son was completely sold, and from that day on, the kitten was Buffalo Dip.

A scary situation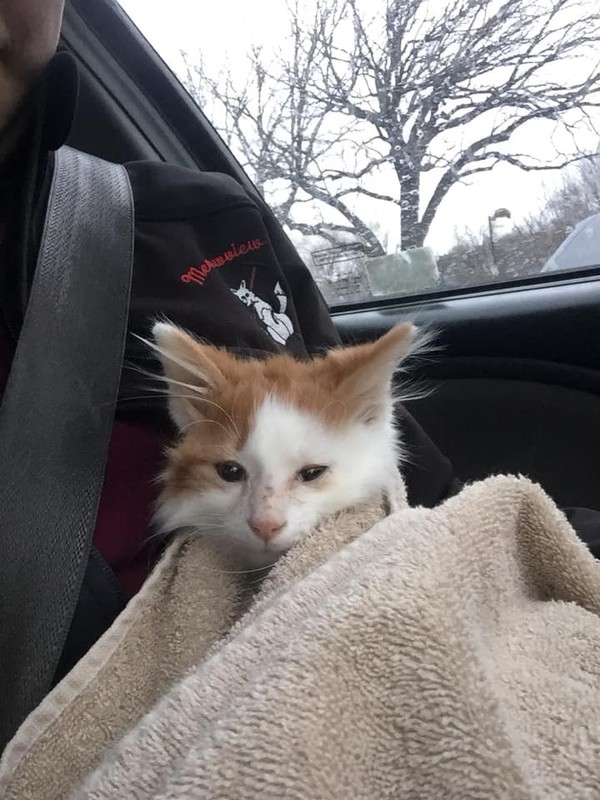 Buffalo Dip worried his familyOnly a few weeks after he joined the family, Buffalo Dip woke Ashley up at 3 a.m. crying in pain. She took him in to work with her that Friday morning, and by the time she arrived he was "almost unresponsive. He went downhill literally overnight. His body temperature was like 94 degrees," said Ashley.
CHFA staff got to work right away to look for a diagnosis and a solution. Because the kitten was so small, everything the staff did for him was especially difficult. "Natalie had to put a little catheter in him. She struggled and struggled and he didn't react at all because he was so sick. His blood was like the consistency of ketchup."
Veterinarians diagnosed Buffalo Dip with acute kidney failure. He spent the weekend at the hospital under the careful watch of the CHFA staff. Ashley was grateful that she was able to check in with him throughout her workday, and even on the day she didn't work, staff members kept her up to date. "Jill sent me pictures of him, Dr. Veneman called me in the morning and Dr. Schaffer called me that night," Ashley said.
Every member of the family was upset about Buffalo Dip's situation. "We were pretty sure he wasn't going to come home," Ashley said. "We'd only had him for a month but we had the kids come that Friday night and say goodbye just in case he didn't make it. Even my husband who doesn't like cats was devastated that our poor kitty was so sick...in that short timeframe we had gotten so attached to this little dude."

Right place, right time
But Buffalo Dip, it turns out, was in the right place at the right time. "Dr. Veneman and Dr. Schaffer put their heads together and between the two of them determined what to do," said Ashley. "'Let's try this and see if we get a response here' or 'let's try this and see if we can get a response there.' And then they were constantly trying to figure out what could have happened."
Their dogged persistence paid off. By Saturday night, he started to turn the corner. Not only did he wake up, he soon started crying for attention. By Monday night, he was more than ready to go home.
"He was just sitting there in his cage yelling and sticking his little arm out, like 'come over here,"' said Ashley. "I think he survived just because of the two of them together, brainstorming...I mean had he not gone in when he did he would not have made it another hour without the two of them."
Just another dog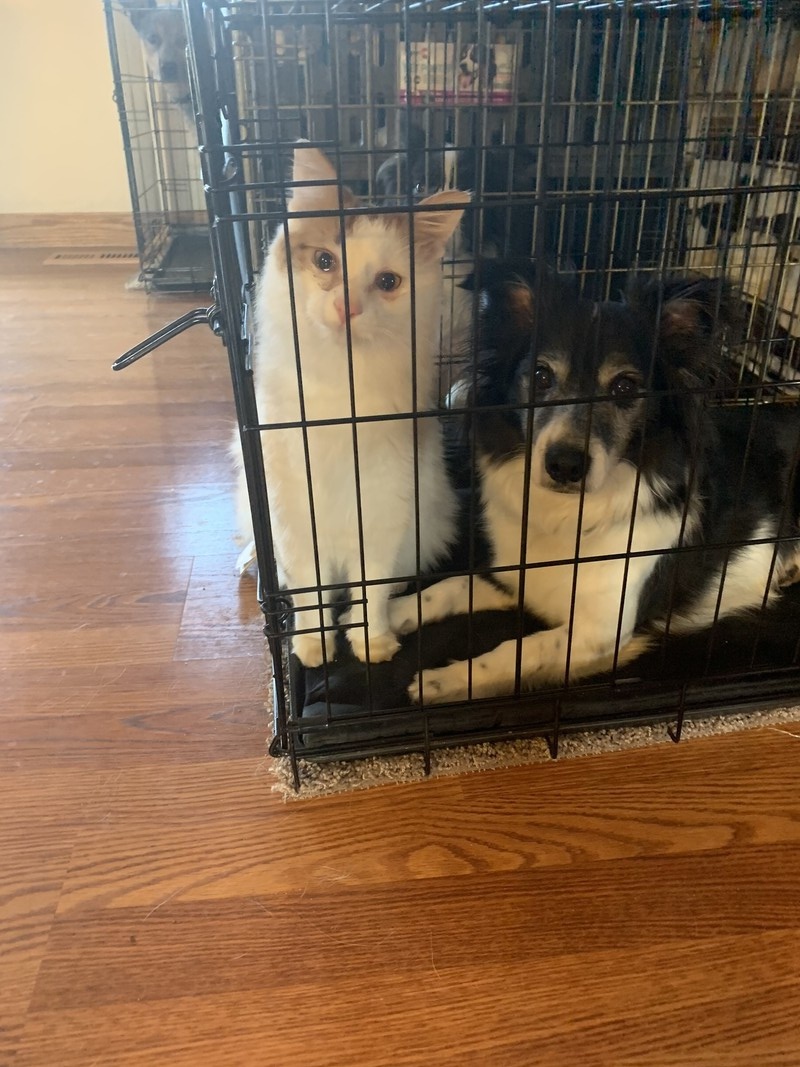 Buffalo Dip and his brother Dublin share a crate
In the year since his ordeal, Buffalo Dip has grown into the boss of the house.
"He runs the house for sure. We have three dogs and we foster a dog for PAWS. They're best friends. I think Buffalo thinks he's more of a dog than a cat, honestly," said Ashley. "He doesn't do so many cat things. He fetches toys just like a dog would. When he's tired and wants to hang out, he just goes into one of the dog kennels and curls up on a bed and he's very much a dog. You can be sitting anywhere in the house and just go 'Buffalo, Buffalo' and he just comes. He comes crying just like a dog would."
Ashley and her family are grateful to the CHFA staff for giving Buffalo Dip his second chance.
"I have no doubt that had he gone anywhere else he wouldn't be here today because our doctors are fierce."