Adorable, curious, and charming—puppies are hard to resist. People who choose to adopt them usually expect a wild ride, but many are still surprised at how just demanding puppies are and how much responsibility—and time—is involved in raising a puppy into a good dog.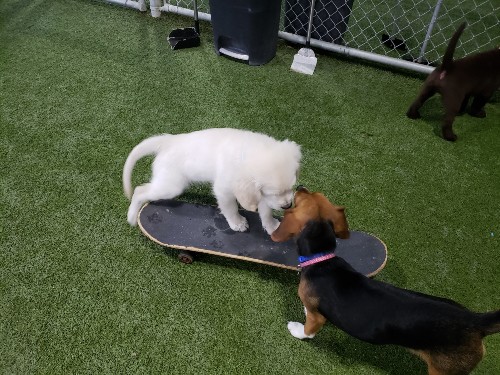 Puppies learn valuable skills at Puppy Primer, including socialization.Puppy Primer at Cascade Hospital for Animals is the solution. Puppy Primer is a drop-off day program that helps develop puppies' key behavioral skills under the experienced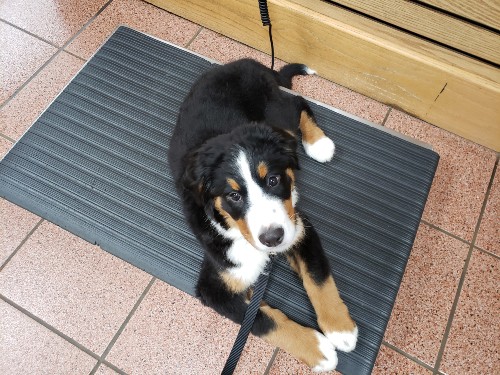 A well-behaved puppy grows up to become a good dog.teachings of veterinary nurse Nikki Edgcombe. Nikki has been training dogs through her personal venture Dream Dogs Training & Behavior, for 9 years, and was instrumental in establishing Puppy Primer at her workplace, CHFA, in December of last year.
Puppies enrolled in the six-day program that meets Tuesdays and Thursday are dropped off at CHFA in the morning, spend the day under staff care, and participate in training sessions with Nikki before being picked up in the evening. At the end of a puppy's program, Nikki holds a valuable transfer session with the the whole family, where everyone finds out what the puppy has learned and how they can help the puppy grow and thrive with its newfound skills.
Learning the basics
At a session, Nikki gets to know the puppy's personality and uses well-practiced and reliable training methods to teach socialization, build confidence, and develop the basic skills that will lead the puppy to grow into a good dog.
The amazing success stories will keep coming as Puppy Primer turns out graduates, but there are already a couple that stand out to Nikki.
"There was a pair of Maltese puppies who were so fearful and always barking at everything out of anxiety," said Nikki. "They were even afraid of stairs and were so scared they had to be carried into the clinic." But after lots of patience and persistence, "I saw them begin to slowly come out of their shells. I got a call from their owner recently who was amazed that while walking them, a noisy garbage truck drove by them and they didn't bark or seem frightened at all! In fact, the last I heard, they were visiting Florida, behaving themselves, climbing stairs, and living their best lives!"
Success in action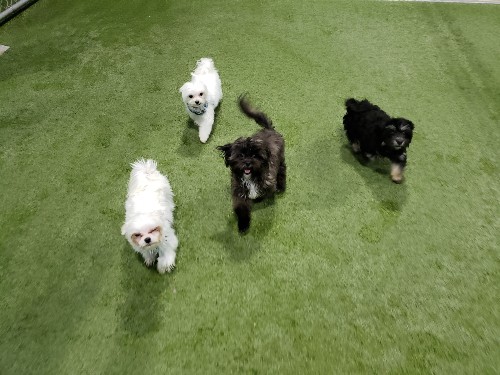 Puppies have fun with their new friends at Puppy Primer.Sometimes the change that takes place with the puppies is so fast, it surprises Nikki.
"I had a recent major success story," she said. "It was a 5-month-old Husky-Shepherd mix who was behaving like a typical puppy, trotting around the room, misbehaving. My task was to perform some grooming on the dog, including nail trimming, and though that seemed impossible at first, I was able to build a bond with that puppy, build trust, and at the end of an 11-minute grooming session, the puppy was lying down, calmly allowing me to trim its nails."
Every day of training and every puppy is different, but for Nikki, the work is always rewarding. "I love the results. Seeing the puppies when they first come in compared to who they are when they go out, working through their socialization, and most importantly, knowing the work we've done has made an impact on the rest of their lives."
Puppy Primer spots fill up quickly, so reserve yours today! https://www.grandrapidsdogtraining.com/puppy-primer-registration