The COVID-19 crisis has affected every business, and Cascade Hospital for Animals and Breton Village Animal Clinic are no exceptions. Facing the unprecedented global pandemic in early March, the leadership of CHFA and BVAC didn't wait for government orders to start making changes to protect staff and clients. When health officials first began to suggest social distancing measures as the COVID-19 crisis hit closer to home in Michigan, the two veterinary clinics implemented "curbside service."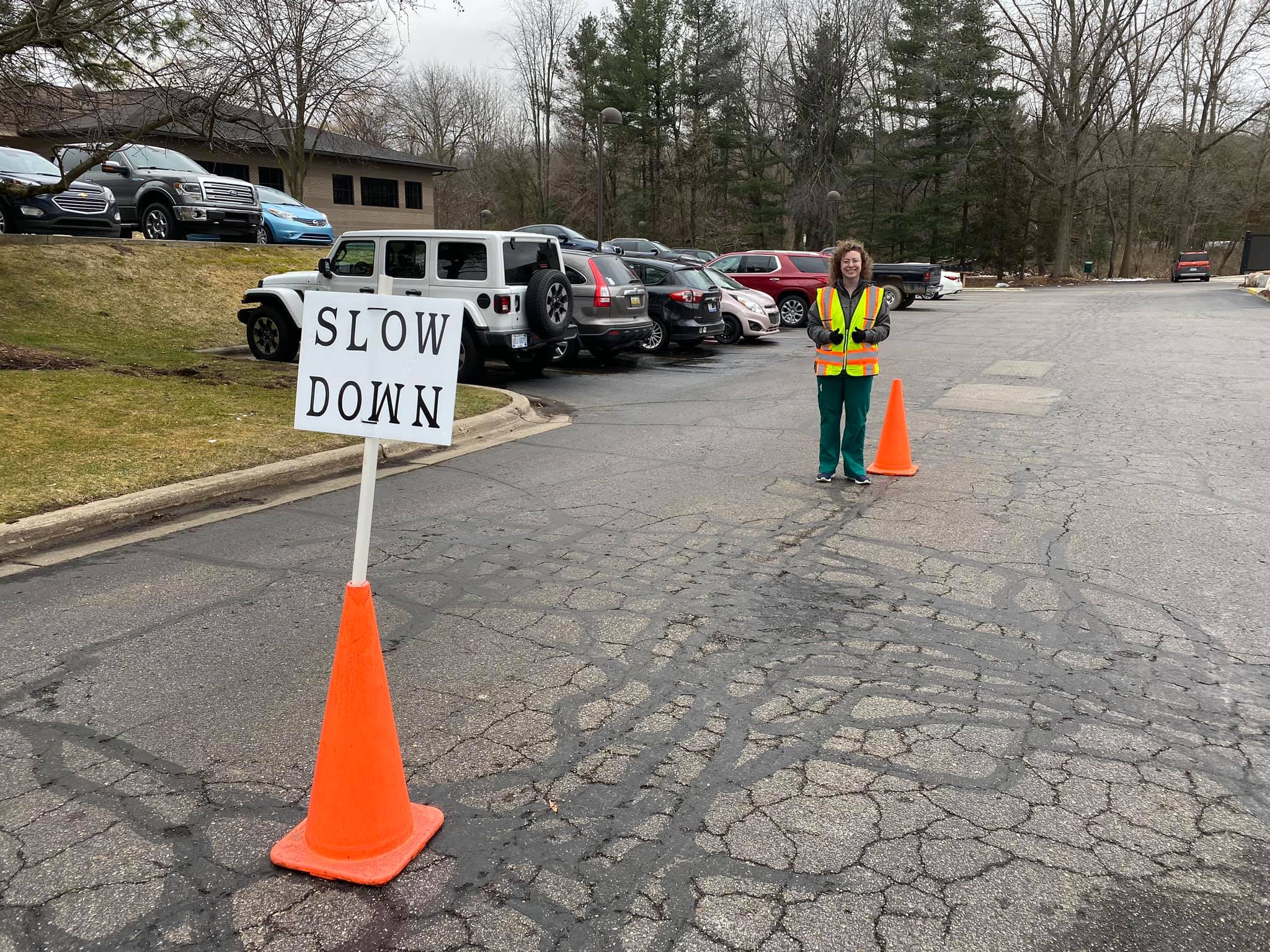 Pet Care Assistant Jennae greets clients and takes their information during curbside service at Cascade Hospital for Animals.The workflow of the curbside process has evolved to comply with state regulations and guidelines, but it still maintains the same level of care and adherence to safe practices that it did from the beginning. At both locations, clients pull up into the parking lot of the facility. A staff member asks for their name and cell phone number, and then the pet is taken into the clinic. From the examination room, the doctor will call the client who is waiting in the parking lot to discuss their pet's care. The doctor and veterinary assistants will perform whatever treatment is needed while communicating with the client, then take the pet back out to the owner waiting in the car, along with any medications. After the client has left, staff will email the client the pet's records.
Co-owner Dr. Richard Siegle describes the whole process as efficient, with everyone on staff coming together to make it work. "We're providing essential services to the pets, while also social distancing from both clients and each other," he said. "So considering everything, it's worked out quite well." Although the state government has now put a stop to what it deems nonessential veterinary services, such as routine dental treatments, the need for essential services, including medical and surgical interventions for sick pets, as well as vaccinations to control rabies, leptospirosis, and other communicable diseases, remains strong.
"Our greatest resource"
Staff at both locations adapted easily to the changes. "Curbside service was definitely a change for everyone, but every department came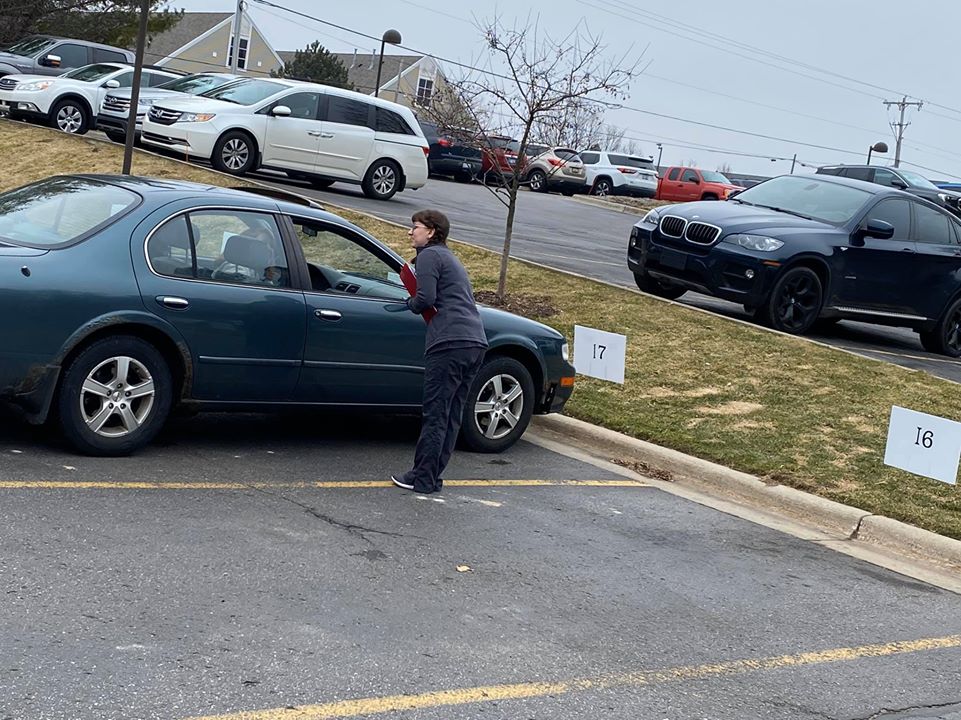 A staff member takes information from a client.together to do a job that they don't normally do and we stayed as positive as we could," said Client Care Assistant Jillian, adding: "The hardest thing I personally have with this situation is not being able to talk to the clients face-to-face and take that extra time to get to know them and their pets right now. We have been getting a lot of clients expressing their appreciation to the staff for being open and that has been what's getting us all through this tough time."
It was the staff's well being, as well as that of clients and pets, that the leadership had in mind when implementing the curbside services. "Our first priority is our staff's health," said Dr. Siegle. "Above all, they're our greatest resource. We have to take care of them because we are blessed to have a lot of fantastic people working with us, and they not only have medical expertise, but a great love for the animals. So in turn, we just need to take care of them."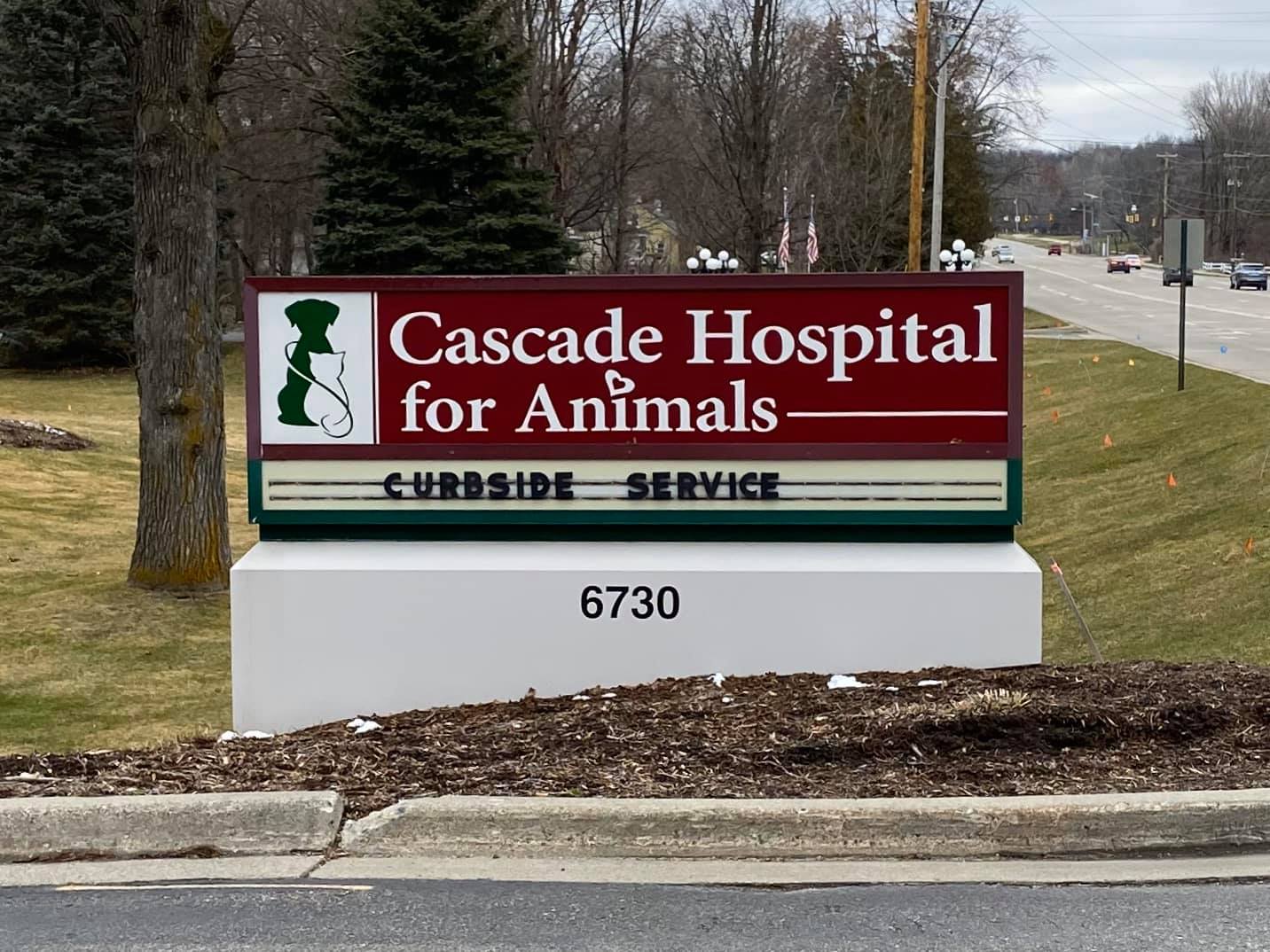 Long-term optimism
Dr. Siegle maintains a positive outlook during these uncertain times. "Being in practice 42 years, I've certainly never experienced anything like this, but I am optimistic that over time things will come back," he said. "It's not going to come back overnight, but I'm very optimistic in the long term economic wellbeing of the Grand Rapids area."
The staff at Cascade Hospital for Animals and Breton Village Animal Clinic are here for the clients, the pets, and each other through this crisis!