Chris Ballard knew the type of dog for him from early on. As a teenager visiting a breeder to pick up his new Chocolate Lab, he immediately fell for the breeder's family pet, a Great Dane. "I just said, 'Oh my God, someday I want one of those!'" Years later, as he worked to convince his cat-preferring wife to adopt a dog, she told him, "You can get the smallest one or the biggest one."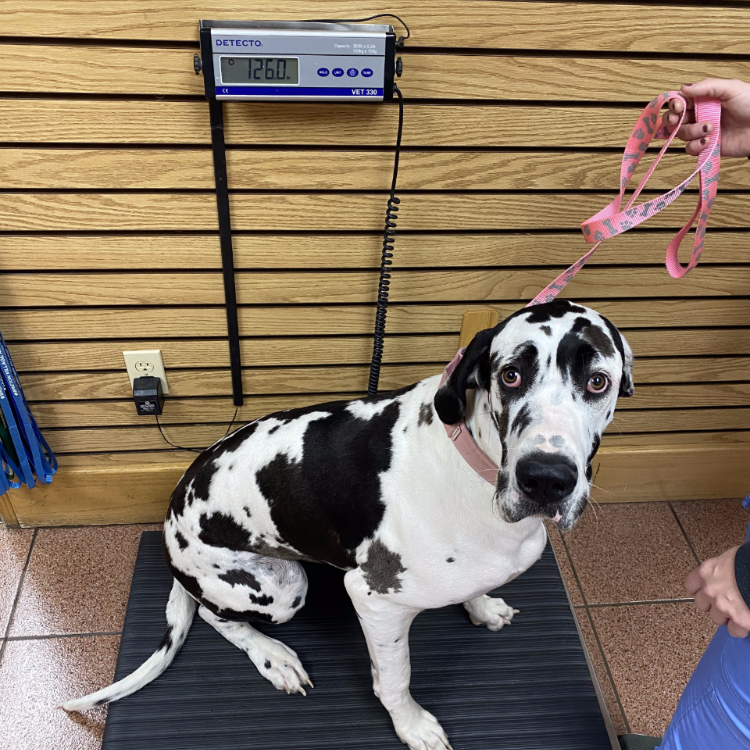 Harlie weighs in for her spay and gastropexy at Cascade Hospital for Animals."Well, I wanted the biggest one. I wanted a Great Dane," said Chris. They adopted their first dog and soon became lifelong fans of the breed. "Great Danes love their people. They're super gentle, inquisitive, and sometimes a little neurotic."
An added risk
For all their benefits, though, large breed dogs like Great Danes are susceptible to certain health problems that are less common in smaller breeds. One of the more serious of these issues is commonly called bloat, a condition in which gas or food stretches the stomach to many times its normal size, causing great discomfort for the dog and potentially compressing the dog's circulation, leading to a quick and painful death. Deep-chested dog breeds like Great Danes are at a higher risk, and dogs weighing more than 99 pounds have a 20-percent risk of bloat, a risk that increases with age. Eating rapidly and exercising before or after eating are two activities that have the potential to cause bloat, but it is not always easy to control.
Once a dog has been diagnosed with bloat, treatment involves stabilization, followed by emergency surgery. There is, however, another type of surgery that can help prevent bloat from happening in the first place. Gastropexy is an elective surgery usually performed at the time of an at-risk dog's spay or neuter surgery. In this procedure, the dog's stomach is tacked to the body wall, drastically reducing the stomach's tendency to twist, making distention caused by gas or food uncomfortable, but not life-threatening.
Welcome Harlie
The Ballards' first Great Dane passed away because of a back issue four years ago and the family "made it a week before we got another one." That second dog became a happy part of their household, but their daughter wanted a dog that could be hers. Enter Harlie. "We were lucky," said Chris. "The breeders we got Harlie from were going to keep her for themselves, but then decided to retire from breeding and didn't want a puppy around. So, we got her at six months, partially trained."
As veteran Great Dane owners, the Ballards were aware of the dangers of bloat, and have always taken careful steps to avoid it. "We monitor their eating habits and make sure to limit their activity before and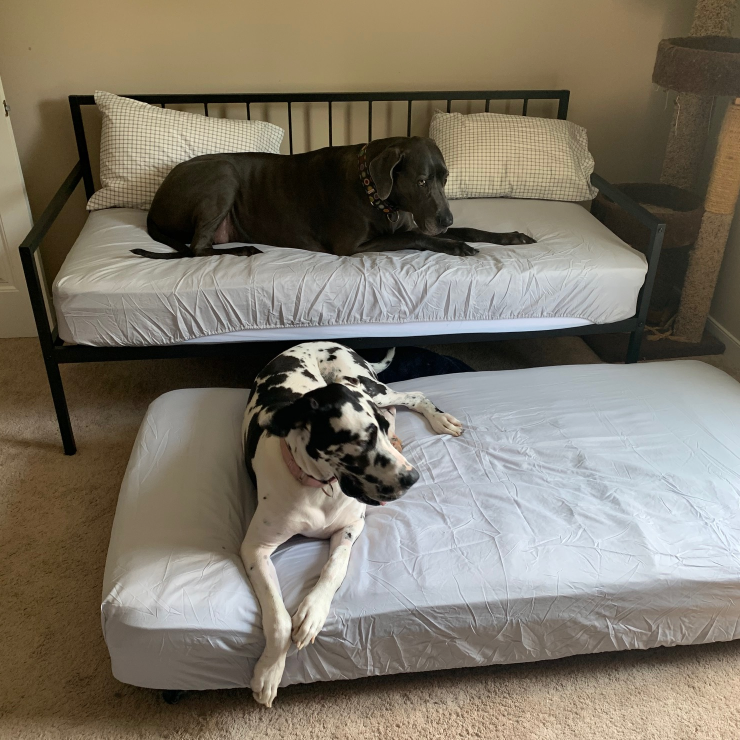 Both of the Ballard's Great Danes have their own twin beds for maximum comfort.after eating," said Chris. But when he scheduled a spay for Harlie at Cascade Hospital for Animals and the doctor recommended a gastropexy take place at the same time, it didn't take Chris long to agree.
"I did a little more research on my own and came to the conclusion, if she developed bloat later on in life, even if she survives, it's really expensive to treat," said Chris. "So the cost of surgery was worth it."
Dr. Greg Paplawsky, who performed Harlie's surgery, agrees. "With gastropexy, the cost is outweighed by getting ahead of the risks down the road."
A good start
Harlie's surgery went well, as did her recovery. "They told me, 'Take her home, and don't let her be active for three weeks.' I said, 'Okay, I'll do my best to keep my 130-lb. puppy calm.'" For the most part, though, with the help of a mild sedative, Harlie was calm enough to recover well and is back to full "Great Dane" a month later.
As for Chris, his love for the breed never wavers. "I just like the uniqueness of them," he said. "My wife always jokes, 'You just like it when you go out and everyone tells you how pretty your dog is,' which is probably true."