Cascade Hospital for Animals and Breton Village Animal Clinic are proud to welcome Dr. Justine Rasche to our experienced and talented team of veterinarians. Dr. Rasche and her family have returned to Grand Rapids to be near family and she's excited to be a part of CHFA/BVAC.
Dr. Rasche's childhood helped shape her lifelong devotion to animals. Growing up on a farm in Shepherd, Mich., she cared for her family's cats, dogs, and even goats. As a young person, she observed at veterinary clinics and volunteered at a rescue shelter walking dogs. In her words, "it just ended up making sense" that she would eventually find herself pursuing a career in veterinary medicine.
As an undergraduate at Grand Valley State University, she worked as a veterinary assistant at the Animal Emergency Hospital, where her experiences with the clients and their pets cemented her resolve to become a veterinarian. She later earned her Doctor of Veterinary Medicine degree from Michigan State University College of Veterinary Medicine, where she focused on primary care, dentistry, low-cost spay and neuter clinics, and emergency medicine. Along with her first post-graduate job as a primary care veterinarian in the Lansing area , she was also a surgeon for a working cat spay/neuter program in Northern Michigan.
One of the proudest moments of Dr. Rasche's career was being awarded the 2018 AAHA Award for Proficiency in Primary Care after being nominated by the clinicians she worked with while in veterinary school. The award was a surprise and an honor for Dr. Rasche. "Veterinary school can be extremely stressful, so being recognized for doing a good job and excelling in patient care definitely helped me believe in my abilities as a new graduate ," she said. "I really showed the supervising clinicians that I had a really strong passion for primary care and that I really cared about developing those relationships with clients."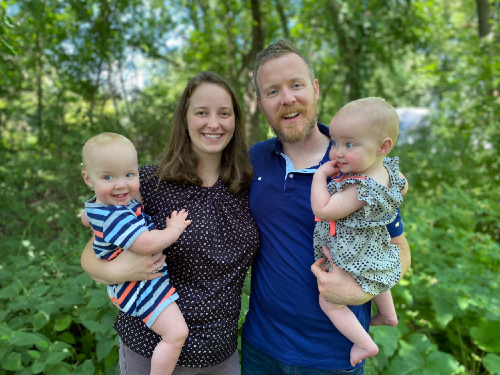 The Rasche family, from left: Theodore, Dr. Rasche, Jim, and Charlie.Dr. Rasche and her family, husband Jim and fraternal toddler twins, daughter Charlie and son Theodore, round out their household with lab/boxer mix Penny and domestic longhaired cat Lily, both rescues. She adopted Penny while in veterinary school, when she had her first experience with what it was like to be a veterinary client on the receiving end of bad news.
"Shortly after we adopted Penny, she was diagnosed with heartworm disease that she contracted from her time as a stray," Dr. Rasche said. "Going through that lengthy treatment process was challenging, but it provided me with an understanding of what my clients go through when dealing with a sick pet." Now completely recovered, Penny was also a part of Dr. Rasche's clinic rotations during her time at MSU helping students gain hands-on experiences. Lily, a "foster fail" who herself has a history of health issues from flea and food allergies, is an active cat who loves to wrestle and play with Penny so much that they call her their "dog cat."
In her spare time, Dr. Rasche loves reading, crafting, travelling with her husband and spending time with her active twins, watching them grow and explore the world around them.