Cat lovers don't need to be told their beloved pets only get sweeter with age. Many choose to adopt adult cats, not only because they are more likely to be overlooked in the shelter system, but also because they have often grown out of the behavioral problems that come along with adopting kittens and younger cats.
"I think people appreciate the older cats," said Cascade Hospital for Animals' Dr. Becky Schaffer. "As long as they are well-adjusted to your household, senior cats are already impeccably neat and don't cause a lot of issues for their owners."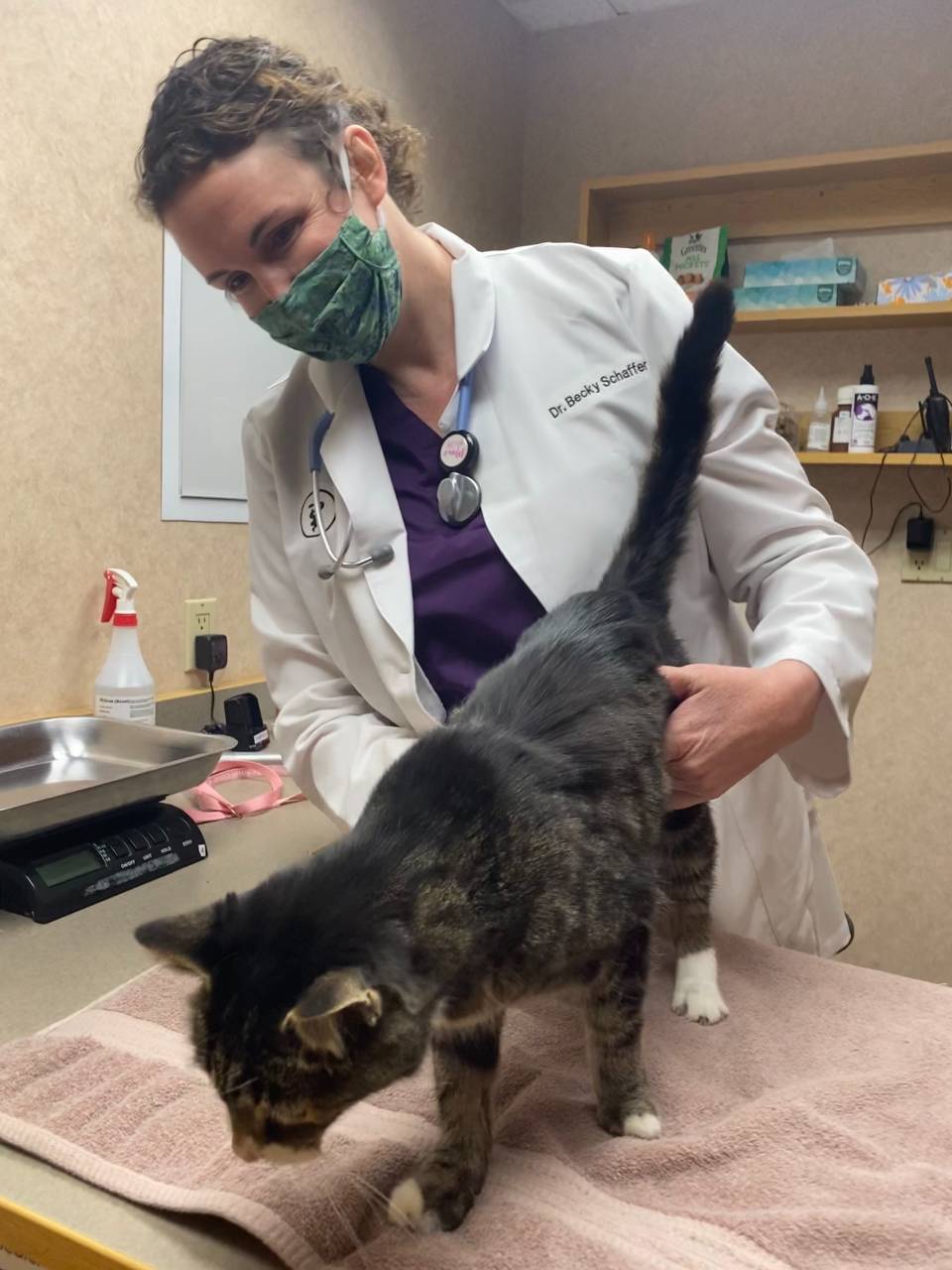 Dr. Schaffer examines senior cat Piglet."You know you're taking on medical expenses when you adopt a senior pet, just as you know the costs go up as your pet gets older," she said. "Cats are more likely to hide their age from us than dogs, so when we adopt them as adults, it's hard even for us vets to gauge how old they are."
Whether your cat has matured from a kitten to a senior in your home or you have adopted him later in his life, it's key to maintain regular visits to your veterinarian to ensure that you aren't missing any warning signs of ailments that are common with older cats, says Dr. Schaffer.
"The most common problem we see in older cats is kidney disease. Kidneys are the first organs that just stop working efficiently. An older cat who drops weight really fast could have developed an overactive thyroid, called hyperthyroidism, or could have an intestinal cancer or inflammatory bowel disease." These conditions are serious, but can be treated successfully if caught early on.
"There's a huge value in getting your cat of any age examined at least once, ideally twice a year," said Dr. Schaffer. "As their veterinarian, we want to be able to treat them before they develop symptoms rather than after. If we're regularly checking up on your cat, we are able to catch these problems and do something about them right away. It's heartbreaking to see cats who haven't been to the vet in 10 years who've lost several pounds since their last visit and have clearly been sick for some time. We are able to treat them, but it's so much more costly for the owner at that point."
Part of the problem for cat owners, especially owners of older cats, is that their pets are so resistant to going to the vet. Cascade Hospital for Animals and Breton Village Animal Clinic are cat-friendly practices, meaning that the vets prioritize giving the cats as calm an experience as possible.
"It's impossible to fully eliminate stress for cats, because starting from the car ride, it's simply not fun for a cat to come to the vet," said Dr. Schaffer. "We keep them in their carrier as much as we can, use pheromone sprays to reduce their anxiety, and dispense sedatives to help the ones who are really resistant to treatment—just having a sedative beforehand can really help reduce stress and make it much less traumatic for the cat."
If an owner waits until the cat is showing symptoms of illness before coming to the vet, that first visit will be all the more traumatic for the cat, Dr. Schaffer says. "Bring your healthy cat to the vet so we can get the lab work done that's so important for cats. It gives us a ton of information."
Those who open their homes to cats who are in their later years undertake extra responsibility but are rewarded with loving companionship, said Dr. Schaffer. "I think it takes the kindest-hearted person to adopt, especially senior animals," she added. "The best people do that."