Dogs can play a very important role in providing assistance and facilitating independence for people with disabilities. It's no secret, however, that an assistance dog's success doesn't come naturally. It's due to incredibly hard work from a number of people along the way, starting from puppyhood.
Paws With A Cause® is a non-profit organization headquartered in Wayland, MI, that specializes in training puppies, usually Labrador or Golden Retrievers, to become assistance or facility dogs to serve people with varying conditions. Cascade Hospital for Animals' own puppy and dog trainer Nikki Welch has trained puppies for PAWS®, and has encouraged her CHFA and Breton Village Animal Clinic colleagues to foster potential assistance dogs as well.
Danielle, a Client Care Assistant at CHFA, recently fostered a PAWS puppy named Rosie, a Black Labrador Retriever. Danielle and her husband brought Rosie home in August 2019, when she was only eight weeks old.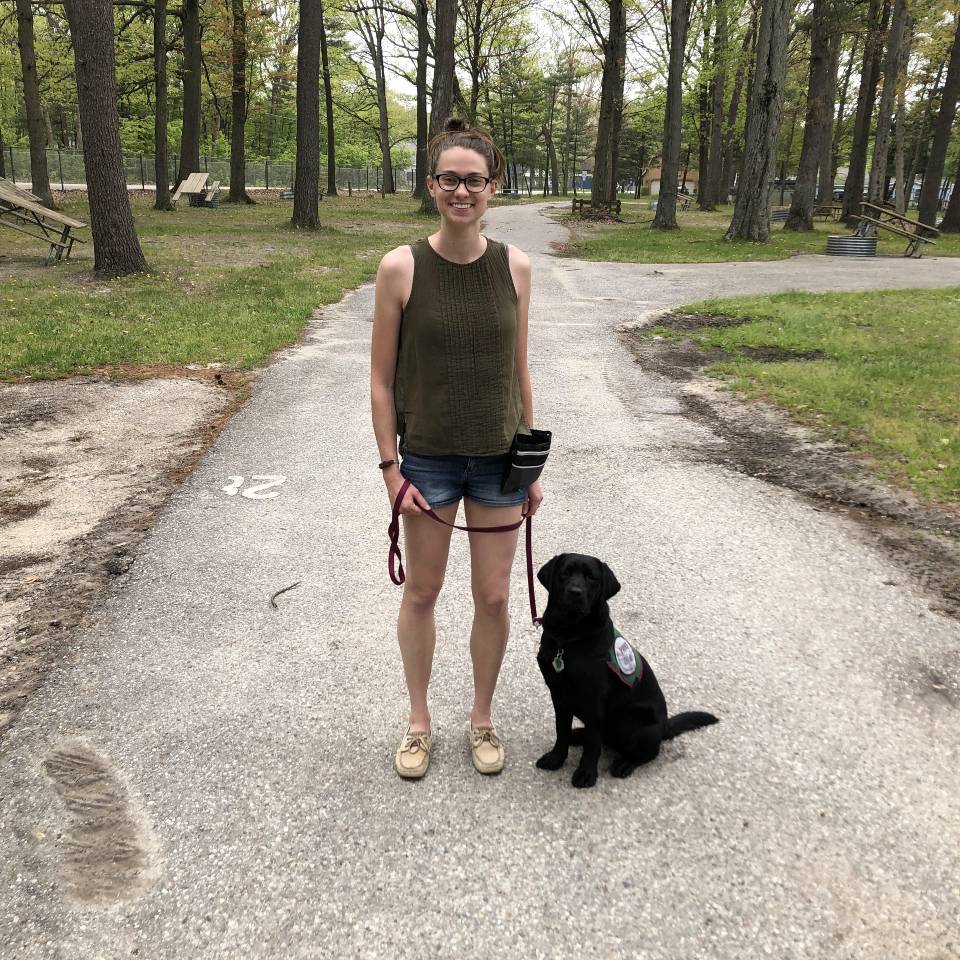 Danielle and Rosie in Silver LakeFulfilling a wish
"Nikki inspired me to do it," said Danielle. "I filled out an application to foster for PAWS and they reached out to me when Rosie was ready." However, Danielle was no stranger to the PAWS program. "When I was in fourth grade, my family temporarily fostered a PAWS puppy. I have always been an animal lover and since then I have wanted to foster a PAWS puppy of my own and last year I finally had the opportunity to do so."
From the beginning, PAWS was supportive and involved with Rosie's training. "Before the pandemic, we were going to PAWS headquarters for weekly in-person puppy classes to teach her obedience skills," said Danielle. "We worked on her basic commands, such as politely greeting people and how to relax under the chair her handler is sitting in." After the pandemic, everything continued, just virtually, with regular emails and videos about training.
"The PAWS Facebook page was also a great resource, where we could ask questions and communicate with our fellow fosters to share experiences and tips," said Danielle. "When we went away for a weekend, we were able to leave Rosie with a fellow foster so that she wouldn't fall behind in her training. It was a chance for her to get outside of our household and socialize with children. PAWS was still with us every step of the way."
Out to the ball game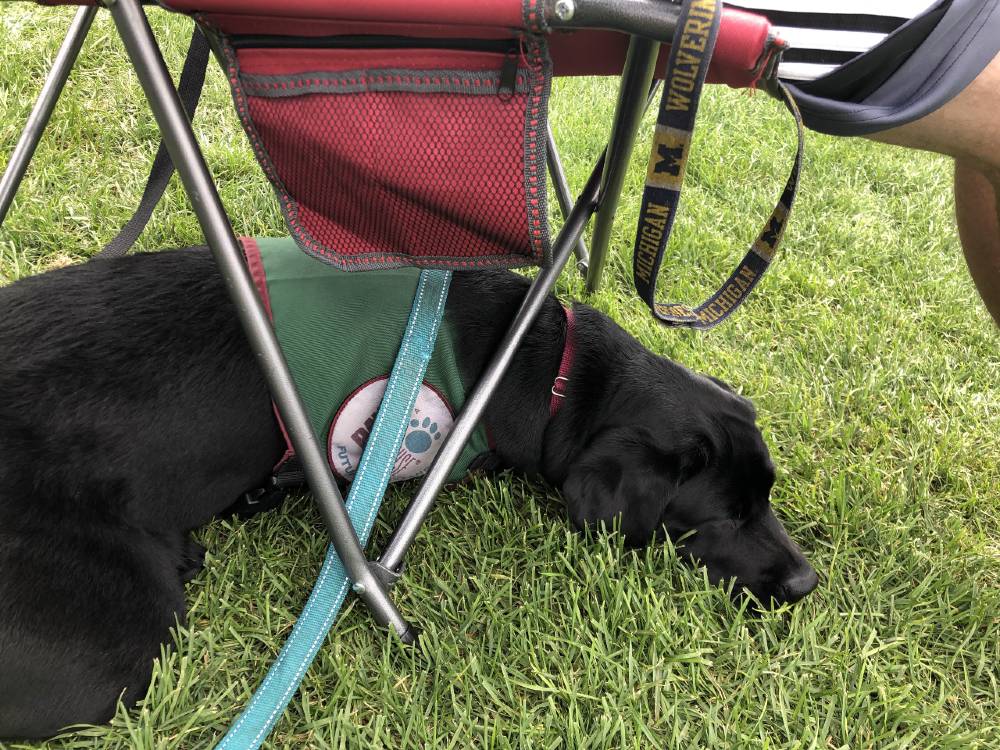 Rosie demonstrates one of her favorite commands, "under," at a baseball game
The pandemic made it somewhat difficult to take Rosie out in public to learn socialization, but Danielle and her husband found ways to make it work. "We would go to baseball games which was a great way to put some of her skills into practice," said Danielle. "She got to experience lots of noise and activity and practice what she had learned. One of her favorite commands was 'under' which is what we would say to her to get her to quietly go under our seat. It was great to see how excited she was to just dive under the seat and show us her skills."
Teaching respect
Rosie also accompanied Danielle on trips to Target where other shoppers kept a respectful distance from them, allowing Rosie to learn how to behave in public. "We live in an area where PAWS puppies in training are more common, so people knew how to behave," said Danielle. "If anyone approached us, I would ask them to give us space since she's in training. It's important to use these opportunities to educate the public on assistance dogs, too."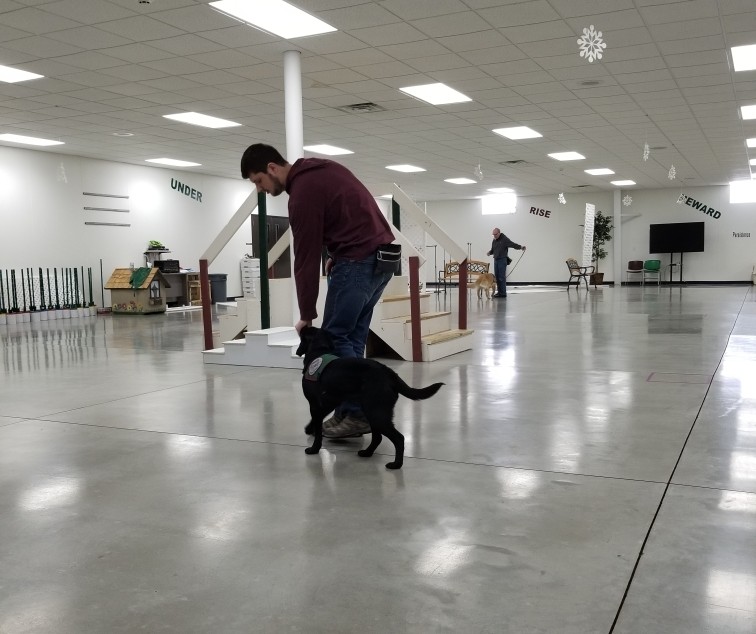 Rosie at PAWS Puppy Class before the pandemicDanielle and her husband took care of Rosie from her energetic puppyhood to the age of 16 months. It was difficult for them to say goodbye, even after having prepared themselves for it from the beginning, but they were encouraged to see Rosie move on to the next important step in her training.
"She is currently in the second phase of training, in what PAWS calls its prison program," said Danielle. "She will spend about four months training with an inmate who is able to spend adequate time with her to build on her skillset. Once that is complete, she will return to PAWS for another evaluation. The goal is for her to eventually become an assistance dog, although there are a number of other jobs that she might be a good fit for." Along the way, PAWS will continue to provide Danielle with updates about Rosie until she is placed in her job.
One thing is certain to Danielle: Rosie has what it takes to help someone someday. Danielle would recommend fostering to anyone, even those without experience with pets. "The orientation is so good and so thorough, I think PAWS could prepare anyone for fostering."