It's what every pet owner dreads – their beloved four-legged family member disappearing without a trace. In spite of everything owners do to keep them safe, the call of the great outdoors is far too tempting for some pets, including Disco, a now one-year-old rescue cat. Her owner, Jenna, felt helpless when Disco slipped out the door of her apartment and ran into the woods behind the apartment complex. But with the help of the staff of Cascade Hospital for Animals – and a tiny chip – Disco eventually found her way home.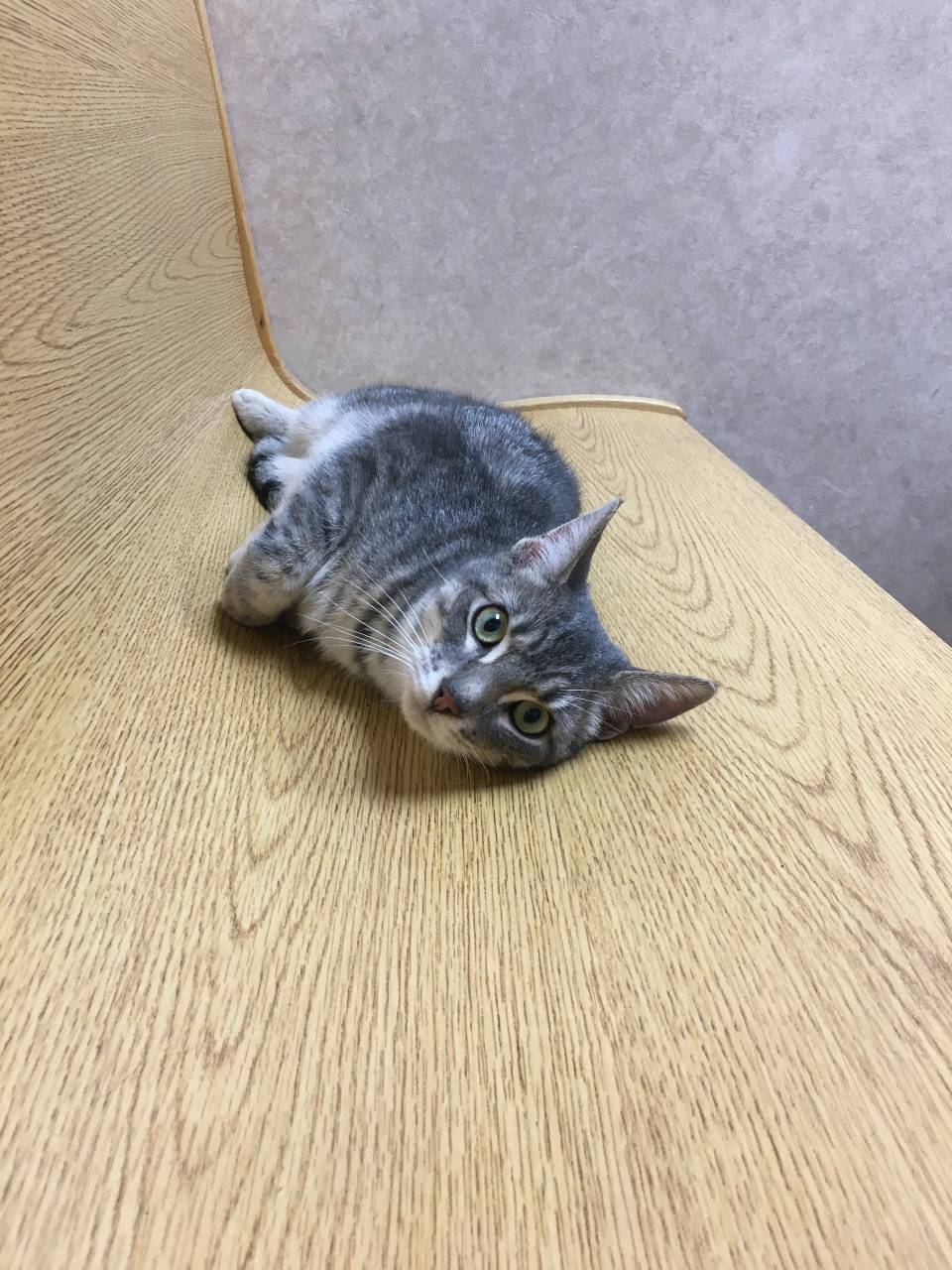 Disco made herself right at home at CHFAA new friendship
Jenna adopted Disco at eight months. At the time of her adoption from Pet Tales Rescue, Disco was injected with a microchip as part of the rescue's standard adoption procedure. A microchip is a tiny, harmless identification transponder that can be scanned to reveal key information about the pet, most importantly the owner's contact information. Jenna was glad that Disco had a microchip, but didn't give it much thought after she started her life with Disco.
Curious cat
Once she came to live with Jenna, Disco was content and curious. From her new home, said Jenna, the former stray "always showed an interest in the outdoors, always staring out the window." One day, when she saw an open door, she took the opportunity and bolted before Jenna could even see where she had gone.
"I walked all around, calling her name and looking for her. It was hard for me to go to work during the day and be away from home knowing she was out there," said Jenna. "I left food and her litter box in front of the door hoping the scent would bring her back." The constant worry about where Disco went and what she was doing kept Jenna in this routine for two weeks. "After that, I checked social media regularly and called shelters just in case. I started to think she just wouldn't come home. The worst part was when her first birthday came around in September and she was still missing. It was so difficult not being able to celebrate with her."
Mystery caller
One day, 55 days after Disco first went missing, Jenna was at work when she got a call on her cell phone. "I was on the phone working and calls from an unknown number kept appearing on my smart watch. I was busy so I kept ignoring them." It wasn't until the mystery caller texted her that they managed to grab her attention.
"I looked at my smart watch and all I saw were just a few of the words of the text: 'We've found your cat.' I immediately checked my voicemail, and the caller said, 'This is Cascade Hospital for Animals and we found Disco,' and that was all I needed to hear. I called back right away. All they needed to say was, 'We're open till six,' and I was out the door."
Jenna rushed to CHFA. Because of curbside service, she called from her car and spoke to the vet tech Mackenzie. "I was so excited I couldn't stop talking," Jenna said. "The vet tech who was working was just as excited as I was." Mackenzie told Jenna the person who had brought Disco to the clinic was a regular client who noticed her wandering around limping. "The client had mentioned that she might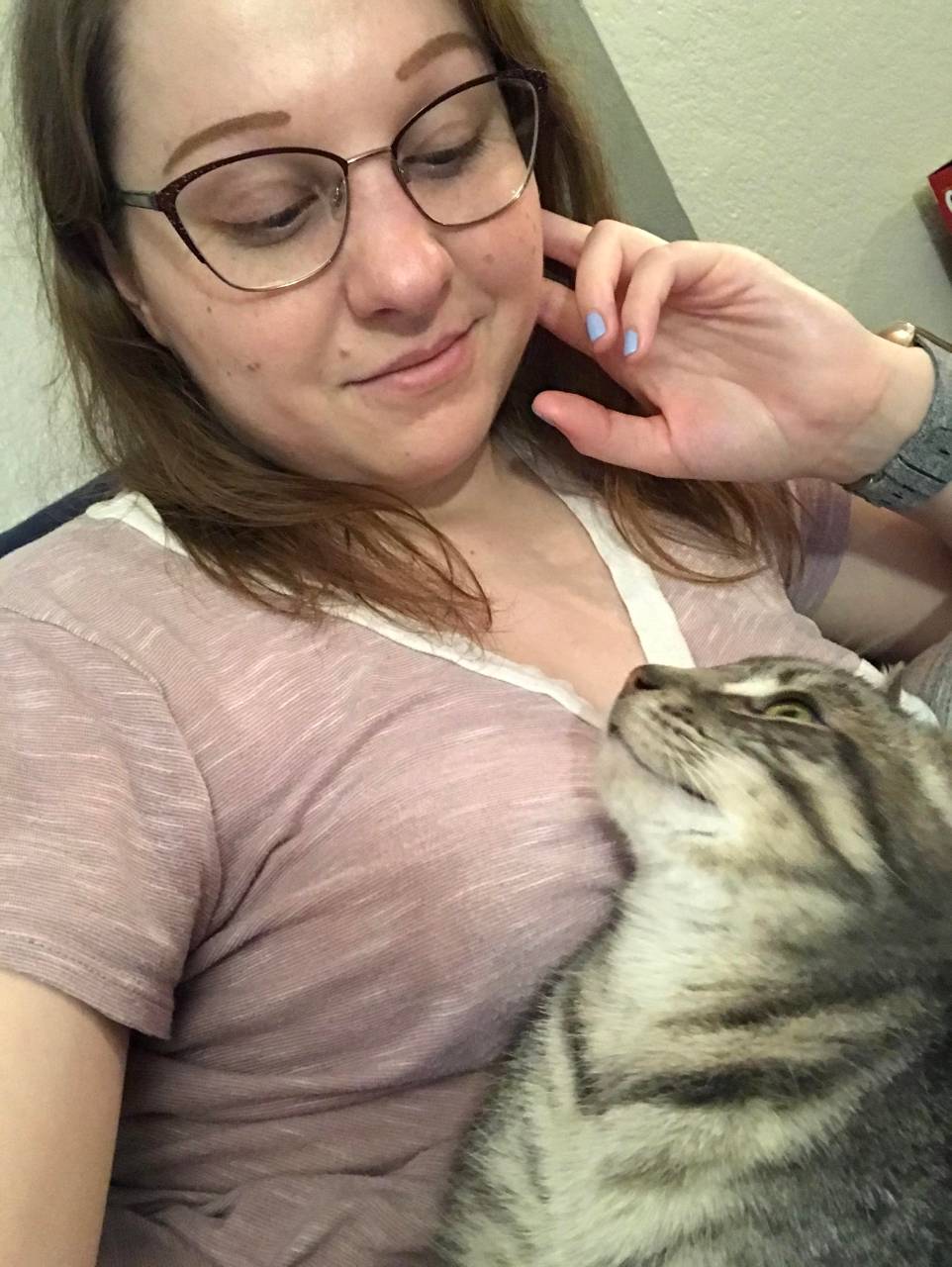 Disco didn't seem too sorry for all the worry she caused her owner, Jenna want to adopt her, but they checked for a microchip and my information came up."
At first Jenna was concerned when she learned Disco had been limping. Dr. Hekman, who was treating Disco, assured her over the phone it probably wasn't serious. "She asked if I wanted an x-ray and I said yes right away." Fortunately, the x-ray showed no broken bones. "Dr. Hekman said it was probably a sprained muscle. I was so relieved to hear that."
Because of curbside service, Jenna wasn't reunited with Disco until her examination was all over. "They brought her out to me and she was meowing a lot; they said she had been vocal the whole time, but got really vocal when she saw me. My first comment was, 'she looks older!' because she was still so young when she ran away."
Jenna is amazed Disco managed to wander from her home in the Knapp's Corner area to the Cascade area. "She travelled six miles or so," Jenna said. "Since she's a former stray, I bet she was having the time of her life. Other than the limp, she was fine and obviously knew how to get food. Once she got home it was as if she had never left. She just walked right in like, 'oh, that's right, this is my pad.'"
Overall, Jenna said, "My experience with CHFA was wonderful. The staff shared my excitement and was so helpful and understanding. I'm so grateful that they found her and were able to help me bring her home."