Many pet owners don't necessarily see a link between grooming and their four-legged friend's overall health. But regular grooming is key to maintaining an animal's health and well-being.
Our newest groomer, Emma Tinklenberg, loves every aspect of her job. An animal lover through and through, Emma says she "could not be in a career that's not dog-related." At home, she personally grooms her five very active dogs regularly—and not just because she wants them to look great. Grooming is an essential component of a healthy pet's life. "I love making an impact on the dog's life because grooming is so vital to keeping them healthy," she said.
Maintaining standards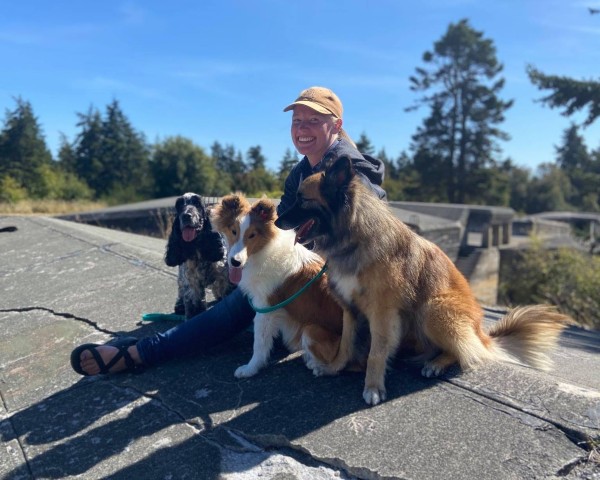 Emma with three of her dogsWhen Emma came on board in late February, she brought with her more than five years of experience in professional grooming and a master groomer certification from the National Dog Groomers' Association of American (NDGAA). This certification is significant because it means that she passed the NDGAA's "rigorous testing process."
"I did four practical tests, meaning I groomed four different dogs: a sporting dog, a non-sporting dog, and two terriers," Emma said. "I was given a time limit to groom them, and then evaluators went over them and scored them. I was able to use one of my own dogs for the test. There was also a corresponding written test with each and then a final end test. The test took place in Chicago in conjunction with a grooming competition."
Emma received her advanced training from Whiskers Resort & Pet Spa, where she was employed before joining the CHFA/BVAC staff. The training and preparation involved getting to know the standards for different breeds of dogs—what sets apart, for example, grooming a Cocker Spaniel versus grooming a Labrador Retriever. "There's a different breed standard for every dog. A Lab is pretty wash and wear, there's not a haircut involved beyond maybe trimming their foot hair if it's a little long, cleaning them and brushing out their undercoat. A Cocker Spaniel, on the other hand, would receive a haircut to highlight their features." With a background in showing dogs, Emma takes those standards seriously.
However, it's ultimately the owner's call on how the pet will appear. "The majority of dogs that we groom on a day-to-day basis are pets and not show dogs, so what the owner wants, we can make that happen," she said.
More than appearance
Emma stresses that the purpose of grooming is not merely about the animal's appearance. CHFA and BVAC offer grooming services because they are such an important part of a pets' overall health. The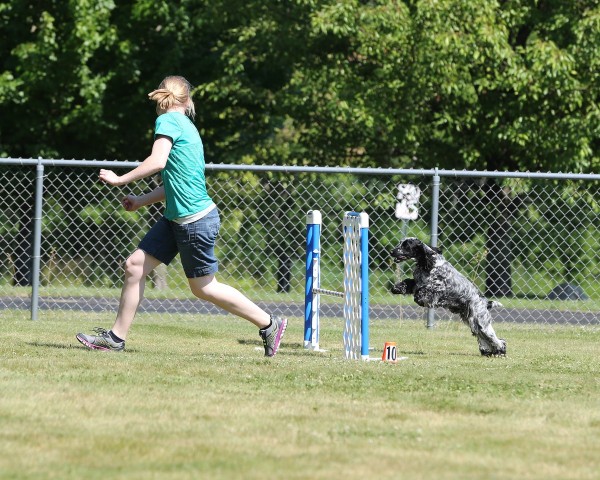 Emma helps her Cocker Spaniel Macey practice agility. different levels of grooming care are based on the pets' needs or the owners' requests. A session with a groomer like Emma includes a bath (with medicated shampoo if necessary), nail trim, hair cut based on the breed standards, a brush-out, a light dematting, ear cleaning, external anal gland expression, ear plucking, and a high-velocity dry. Additional services could include a nail dremel, an internal anal gland expression by a veterinary tech, and, if necessary, a heavy dematting. The clinics also offer a Bath and Brush Out service performed by a Pet Care Assistant that is intended only for specific breeds.
The part of her job that means the most to Emma is playing a role in pets' health. "Grooming is more than just hair and nails. It's vital to keeping them healthy and in good condition, and sometimes it means finding things before a yearly vet exam."