Nothing brings spring into a home like a flower arrangement. When CHFA client Brittany received a lily bouquet from a friend, she displayed it on her desk. But while her back was turned for just a moment, her new cat Olaf began to eat the pollen out of the flower.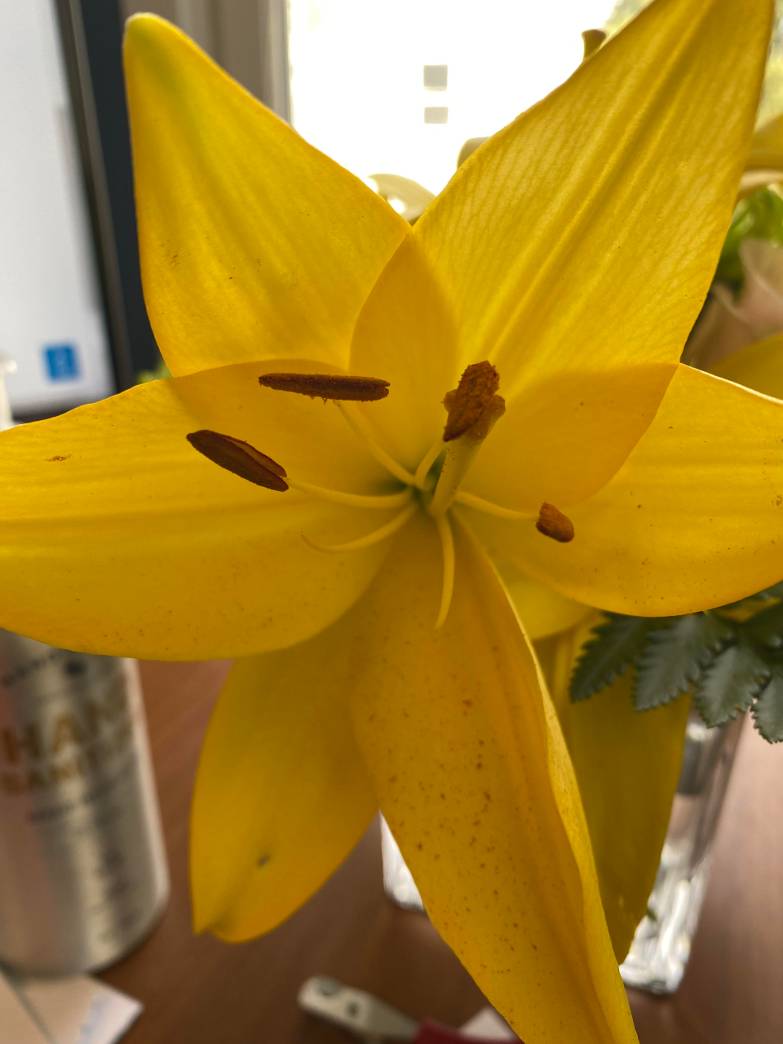 Olaf couldn't resist the pollen in this Easter lily"I'm new to having a cat. So I didn't really think about the danger to cats. Olaf was lounging on my desk and I caught him in the act," said Brittany. "I did a quick Google search, and I found out it was a bad thing for him to eat."
Brittany immediately texted her sister-in-law Jillian, a Client Care Assistant at CHFA, who consulted with Dr. Veneman. "Dr. Veneman recommended she call the Poison Pet Helpline right away," said Jillian. The Poison Pet Helpline puts the client and the veterinarian in touch with toxicology experts to determine the correct treatment for the specific toxin or poison. Brittany called the helpline and was told to bring Olaf to the vet as soon as possible.
"I took him to CHFA very quickly after he ate the pollen," said Brittany. Dr. Veneman provided the initial treatment. "He wasn't showing any symptoms, but after she coordinated with the poison control, Dr. Veneman said, 'We'll monitor him, take lab tests to see if his kidneys are okay, then put him on an IV for a few days.'"
"From what I've learned since then, cats often don't show symptoms after they eat lilies," said Brittany. "It's really scary because sometimes the owner doesn't even know what happened and later the cat will have passed away from kidney failure." Brittany feels incredibly lucky that she happened to catch Olaf eating the pollen.
Quick treatment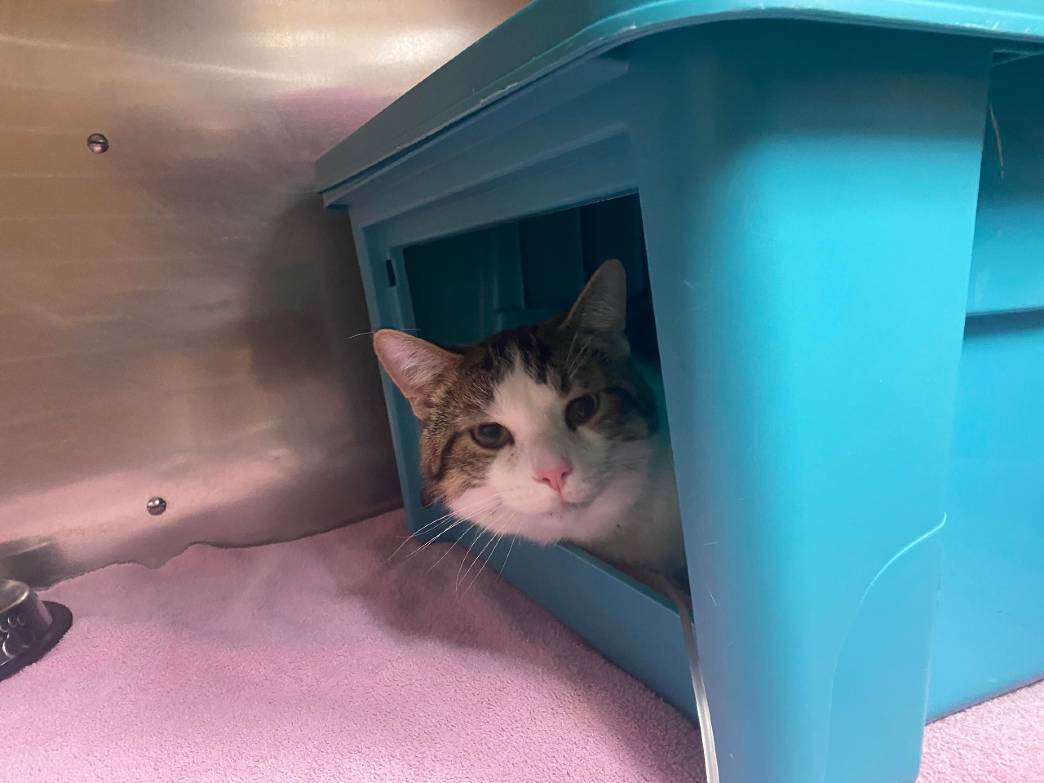 Olaf peeking out of his box while staying at the vet
Treatment to flush the toxins from Olaf's body was intensive. "They gave him the IV for two days to support the kidneys," Brittany said. "They also gave him activated charcoal to try to absorb some of the toxins."
After two days in the hospital with continued treatment from Dr. Rasche, it was time for Olaf to come home. "They told me because I had brought him in right away and they were able to get him on the IV, he would probably not have any long-term effects," Brittany said. "If I had brought him in after he started showing symptoms, it would have been another story. Symptoms mean that their kidneys are already affected."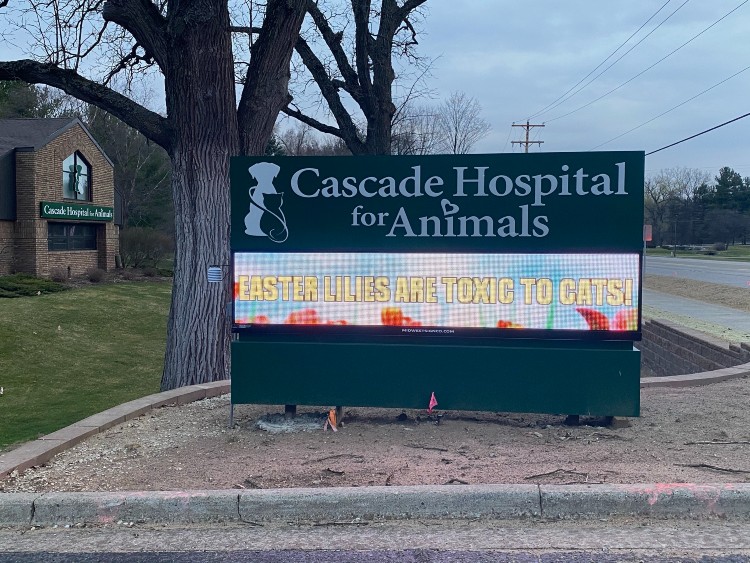 CHFA reminds passersby about the dangers of the Easter lilyBrittany was impressed with the standard of care from CHFA. "When I first brought him in, Dr. Veneman took the time to talk me through some of our options," said Brittany, "such as whether or not they should induce vomiting. She talked me through strategies for treatment and made me feel involved in his care. Also, I got calls from both Dr. Veneman and Dr. Rasche each day he was in the hospital giving me updates. I was less nervous knowing that he was doing well, and getting those kinds of updates from the people who were giving him care."
A couple of weeks after returning home, Olaf is doing fine. "If anything, he's just gotten cuddlier than before. We had only just adopted him so those couple of days in the hospital made him wonder if we'd abandoned him! Now that he knows he's home for good, he's happy."
Brittany learned a valuable lesson about household toxins and hopes that other cat owners stay vigilant about the hazards they bring into their house. "As pretty as lilies are, they can be deadly," she said.