Some of the biggest problems for dogs come from the tiniest creatures: fleas, ticks, intestinal parasites, and mosquitoes. These pests cause problems ranging from annoying itchiness to life-threatening illness. As we get closer to outdoor summer fun and our pets get more exposure to these threats, it's a good time to ensure they're fully protected.
Dr. Paplawsky cradles Duncan the puppy.Thanks to Simparica Trio, a new monthly chewable, protection is easier than it's ever been. Veterinarians at Cascade Hospital for Animals and Breton Village Animal Clinic are excited about this new preventative and are happy to recommend it to clients. Dr. Greg Paplawsky says Simparica Trio is a time and cost saver.
"It's different from other preventatives because it is a single monthly chew that controls for heartworms, fleas, ticks, and intestinal parasites," said Dr. Paplawsky. "In the past we had to prescribe two different products each month to do what Simparica Trio does."
An ounce of prevention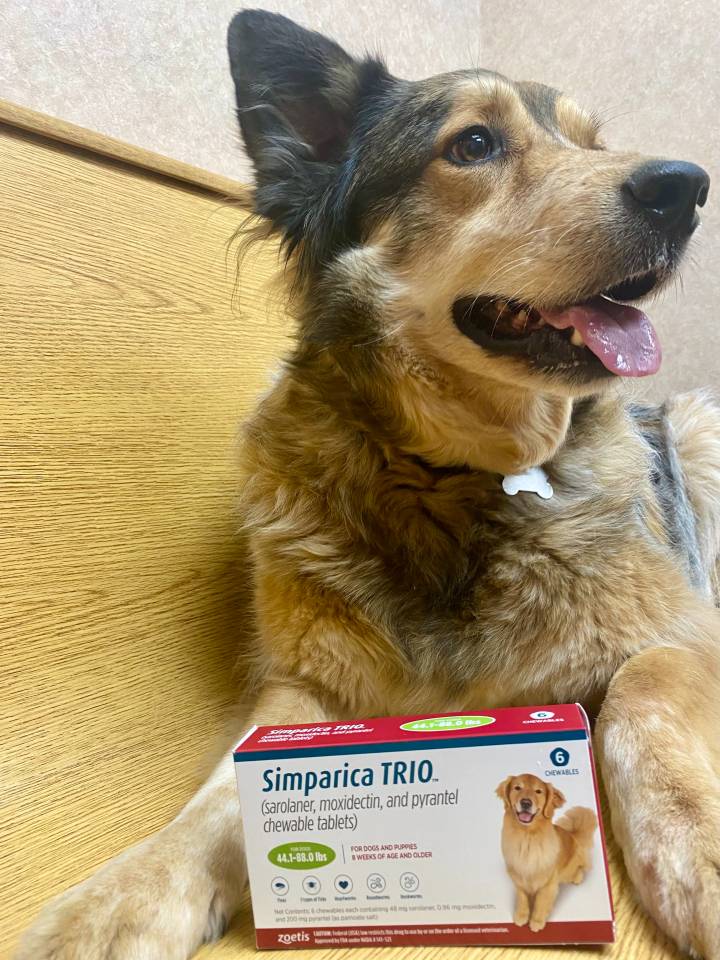 Not only is it easier on the wallet, an all-in-one preventative like Simparica Trio means clients don't have to remember to give their pets any more than one pill per month. Any dog owner knows that no matter how many reminders they set, there's always a possibility that they will forget to give a dose of medication on time. It gives veterinarians peace of mind to know that clients are more likely to remember to give a single pill, said Dr. Paplawsky.
"It eliminates the need for multiple products per month," he said. "Pet owners just need to remember to give the monthly chewy treat to keep their pet protected."
But Simparica Trio's cost-effectiveness doesn't only come from the reduction in the number of necessary monthly preventatives. Dr. Paplawsky has seen firsthand how costly an infection such as deadly heartworm disease can be...and not just financially.
"Simparica Trio prevents heartworm disease by killing off the immature heartworm larva, called microfilaria, before they have a chance to mature into adult heartworms," he said. "Once adult heartworms develop and set up residence in the heart and lungs they are very difficult and much more expensive to treat."
Putting it all into perspective, Dr. Paplawsky added: "You could buy three years worth of Simparica Trio for the same cost as treating adult heartworms." Considering that heartworm prevention is only one of four forms of prevention Simparica Trio offers, while also killing fleas and ticks and treating and controlling intestinal parasites, it's easy to see why veterinarians recommend it.