Even before the COVID-19 pandemic temporarily changed the way we run our clinics, Cascade Hospital for Animals and Breton Village Animal Clinic have been mindful of the effects their jobs have on our employees' health and well-being...and, in turn, the effect their mental health and well-being have on our success. Our management team was motivated by some sobering statistics to promote a healthy work-life balance for employees. The most recent step to improve that balance has been an adjustment to the weekend hours at CHFA, shortening the hours on Saturday and ending medical services on Sunday.
The need for better work-life balance has long been on Dr. Steve McBride's mind. "One of the things that we recognized even before COVID was that veterinary medicine has a problem with mental health and suicide, in particular amongst doctors and licensed technicians," said Dr. McBride. "And it stems from several different factors, but one of them has to do with the fact that veterinarians and people in the veterinary industry in general graduate with relatively high debt loads, but they only earn 50% or less of what their human medicine counterparts earn."
On top of the financial difficulties veterinary professionals often face, the job comes with unique stressors. "They're in a high stress profession because they're dealing with people's 'four-legged children' who they're very emotionally attached to, and the vast majority of the time there's something negative happening, or they wouldn't be at the veterinarian to begin with," said Dr. McBride.
Coupled with the fact that the veterinary profession draws people who tend to be more empathetic, this emotional toll can be devastating. Some studies have shown the suicide rate among veterinarians is as high as one and half times that of the general population. With that in mind, even before COVID hit, one of Dr. McBride's focuses was to provide mindfulness training to staff members "to try to counter some of the ongoing stress and get them more out of their head and into the moment so they're not dwelling on issues quite as much," he said.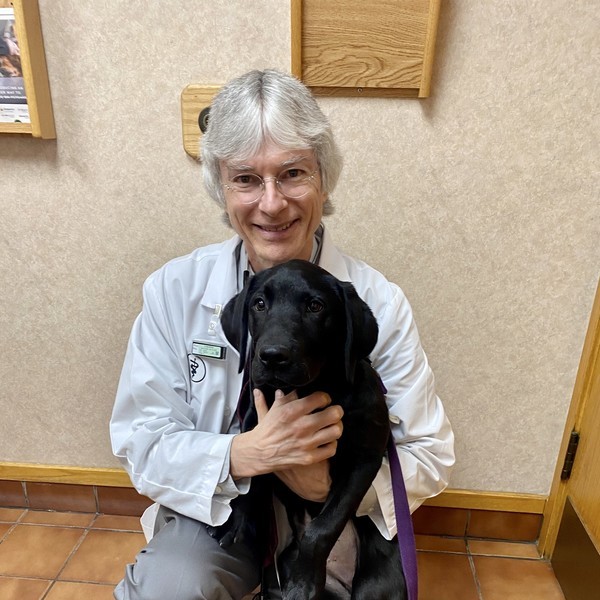 Dr. Steve McBride with a patientMaking matters worse
Once the COVID-19 pandemic started affecting West Michigan in March of 2020, the need for work-life balance only deepened. A nationwide trend of backlogs swept veterinary clinics and ours were no exception. "We had the decreased efficiency of doing curbside compared to our typical protocols," said Dr. McBride, "and in an unfortunate coincidence, the Baby Boomers in veterinary medicine, which represent a very large proportion of the veterinarians, are retiring, and COVID, if anything, accelerated their retirement."
At the same time, he added, "there has been an increase in demand that we saw because people were purchasing pets, they had more time at home, and because they were spending more time with their pets and finding more problems. These factors bring about a dramatically escalated workload, and workload levels are probably one of the biggest causes of burnout," said Dr. McBride. "Another factor that contributes to burnout is the degree of control or autonomy that you have over your work, and medicine by its very nature is somewhat uncontrollable because you don't know when the next emergency is going to walk through the door."
Of course, veterinary medicine will always be an unpredictable field, but Dr. McBride and the rest of the management team are doing their best to mitigate the stress employees feel, and, in turn, improve the quality of our services.
"We recognized that being open seven days a week with an increased workload and a decreased ability to attract staff was a recipe for disaster," said Dr. McBride. "And unlike many products, if you try to hurry up medicine, you're going to necessarily decrease the quality of medicine that you can provide. We're not willing to decrease the quality of medicine that we provide. So that led us to the decision to close on Sundays and to close an hour earlier on Saturdays."
A careful decision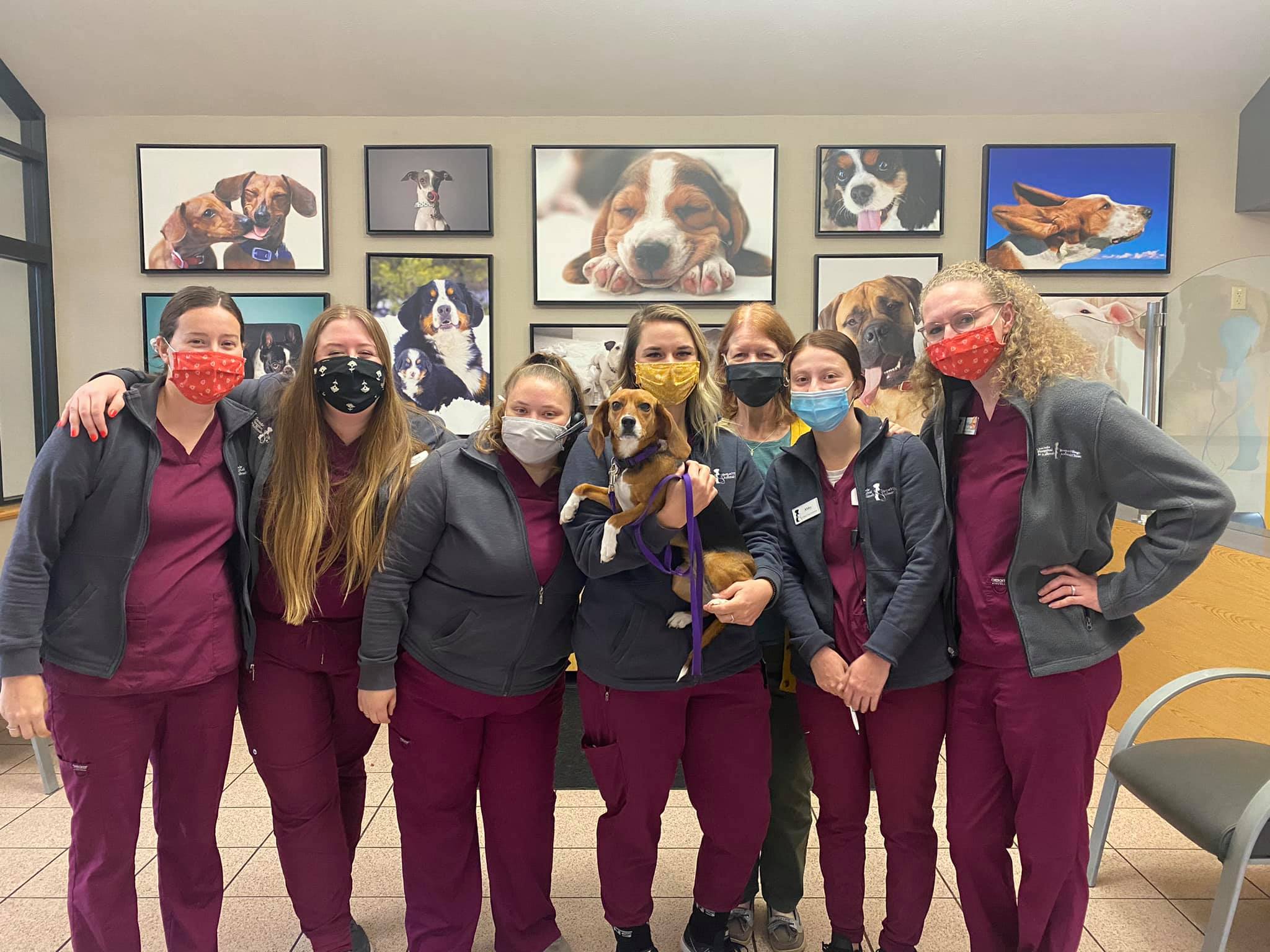 The decision to change the weekend hours came after much thought and careful planning. Once again, changes brought about by COVID played a role in the decision. "One thing that has changed is that because a very large part of the population now has shifted to at-home work, and reports indicate that many of them will continue to do so, we're not as constrained by our clients' work schedules as we used to be," said Dr. McBride. "It used to be that clients couldn't come in any other time except for weekends and evenings. Now we're seeing that ability for them to come in at many different hours, they can make it convenient for them. So that gives us a little bit of flexibility, but it allows us to give our staff a quality of life at home outside of the clinic, which is really important, so that they can be refreshed and recharged to come back and deal with the typical stresses of a veterinary day."
With these more favorable working conditions, Dr. McBride and the management team see a step forward in retaining employees as well as attracting quality candidates, including essential support staff such as Groomers, Client Care Assistants, Pet Care Assistants, and Veterinary Assistants. "We're very cognizant of the fact that our decisions can mean somebody's mental health," he said.