It's a fear that haunts every dog owner: that their pet will be hit by a car. When it happened to Kate, a Cascade Hospital for Animals client, her first inclination in a time of rushing adrenaline was to get her dog, Kevin, to CHFA as swiftly as possible.
"We had him there so quickly," said Kate of the incident that occured in May. "After he was hit, he just came running back to me, and we had him in the car and to Cascade Hospital for Animals in probably five or six minutes from the time he got hit."
The decision almost came naturally, she added. "They are just a phenomenal practice as far as vets and support staff. So, I couldn't think of anywhere else to go. At a time like that, you're just focused on what you need to do."
The right choice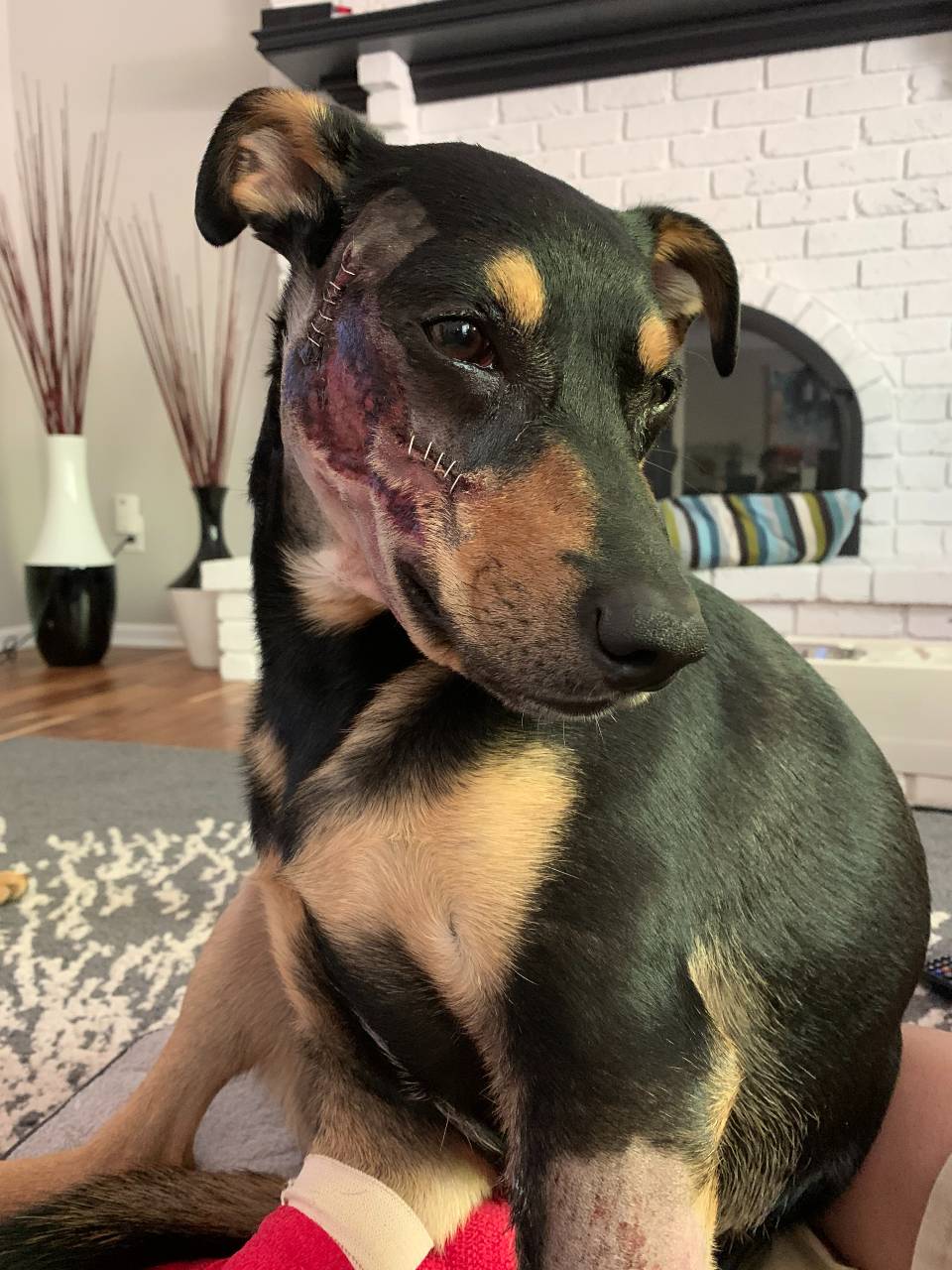 Kevin had a number of lacerations after the accident and was in a lot of pain.
For Kate, following her instinct and heading straight to CHFA was the right choice. When he first presented to Dr. Fuller, Kevin's injuries were extensive and severe. The three-year-old German Shepherd mix suffered three rib fractures and lacerations on both sides of his body, including the right side of his face and an injury to his right eye. Dr. Fuller cleaned and bandaged his wounds and administered pain medication. He was then transferred for an overnight stay at a local animal emergency hospital, where he received fluids, pain medications, and monitoring. The following morning, Dr. Veneman performed surgery to repair his lacerations.
Kevin was able to return home that night, but his recovery was far from over. He needed to come back to CHFA every few days to have his wounds cleaned and his bandages changed, allowing the veterinary staff to keep a close watch on his healing process and look for signs of infection. A month out from the accident, he no longer requires bandage changes, though he's not yet fully recovered and still on a pain treatment regimen.
Although it can be overwhelming at times for Kate to see how much care Kevin requires after the accident, she feels good about dropping him off for his recheck appointments because she knows "he's not just in good hands, he's in the best hands."
"When I drop him off for those bandage changes, I know I can trust the staff implicitly," said Kate. "So that takes away so much stress, even though the entire situation is stressful."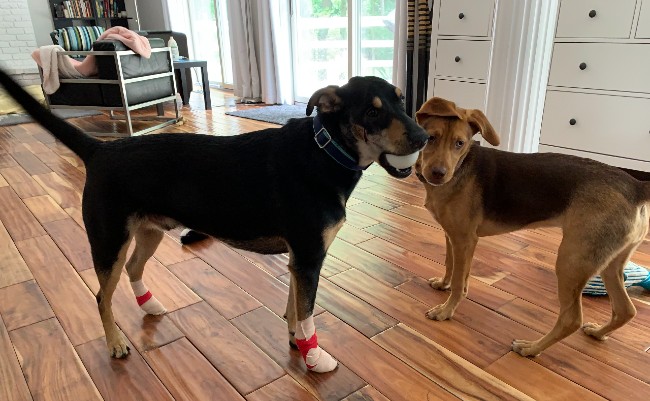 A bandaged Kevin plays with his sister, Harper.A long-time fan
Kate has been a client of CHFA for several years and has always been pleased with the level of care and service she receives. Now more than ever, she has complete faith in CHFA, and not just the veterinary staff. "The support staff is utterly amazing," she said. "They have played such a significant role in this entire process. I can't thank them enough."
"From the front desk to the exam room, everyone is knowledgeable and everyone cares. I feel like they know me and they know Kevin, and they're so incredibly supportive and communicative," she added. "I love the fact that everybody works as a team, everyone consults with one another. And they explain everything so well that I never second guess what they're saying to me. I feel like I'm a part of it."
Though she wishes Kevin could have been spared the pain of the experience, Kate doesn't believe she could have made a better decision than bringing him to CHFA on that traumatic day. "They're just the best partners in care," she said.