Cascade Hospital for Animals and Breton Village Animal Clinic are pleased to announce that Clayton Siegle, DVM, joined our staff on July 12. As the grandson of CHFA's founder and the son of one of its current owners, Clayton is proud to carry on the family legacy, but the decision to go into the veterinary field was entirely his own.
Early signs
Clayton's love of and fascination with animals appeared in his earliest career aspiration while in preschool, to be a pig farmer. "My dad encouraged that, and even took me to visit a pig farm, even though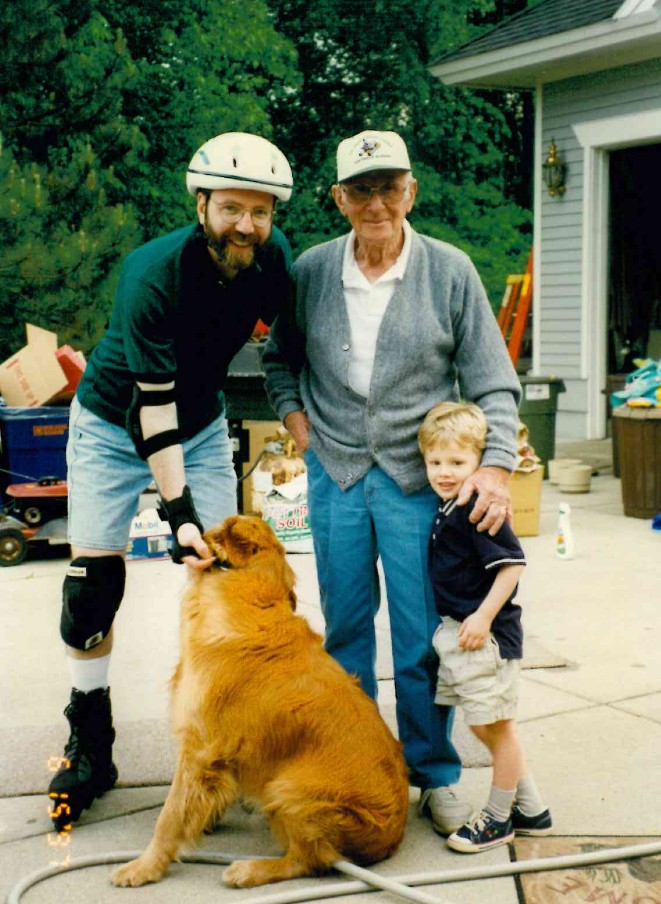 Three generations of Siegles pose with a family pet. my conception of what a pig farmer did was very skewed," he said. "I thought they raised pigs for pets, not for food. So when I found out where bacon came from it was a shocking reality."
The visit to the pig farm was not a complete loss, though. "It was so exciting. And just continued to spur my love for animals." Growing up the son of a veterinarian gave Clayton a unique view of the influence people like his father had. "I remember going to Meijer with my dad as a kid, and we'd always run into a client there who was so appreciative of the work he had done for their pets. It showed me how much of an impact veterinarians have not only on a pet's life but for humans as well."
Clayton attended Hope College as an undergraduate, where he studied Biology with a Management minor. Though he never once felt pressure from his father to carry on in his footsteps, it was during these undergrad years when contemplating over what to do with his life that it all came together for him. "I talked to my dad and asked him, 'do you mind if I start to see what veterinary medicine is all about?' I had an outside understanding of what it was, but he could give me access to what it was really about." Shadowing doctors made it even clearer that veterinary medicine was the right path. "I really enjoyed the relationships, the interactions, the problem solving, the science, and how it blended together all of my interests."
Gaining new experience
Clayton has a familiar face to many in the CHFA family. While studying at Hope College and Michigan State University's veterinary school, he spent several summers working at CHFA, first as a Patient Care Assistant and later as a Veterinary Assistant. "It's an honor to work with doctors that I assisted then, like Dr. McBride, Dr. Paplawsky, and Dr. Malik, as my colleagues now," he said.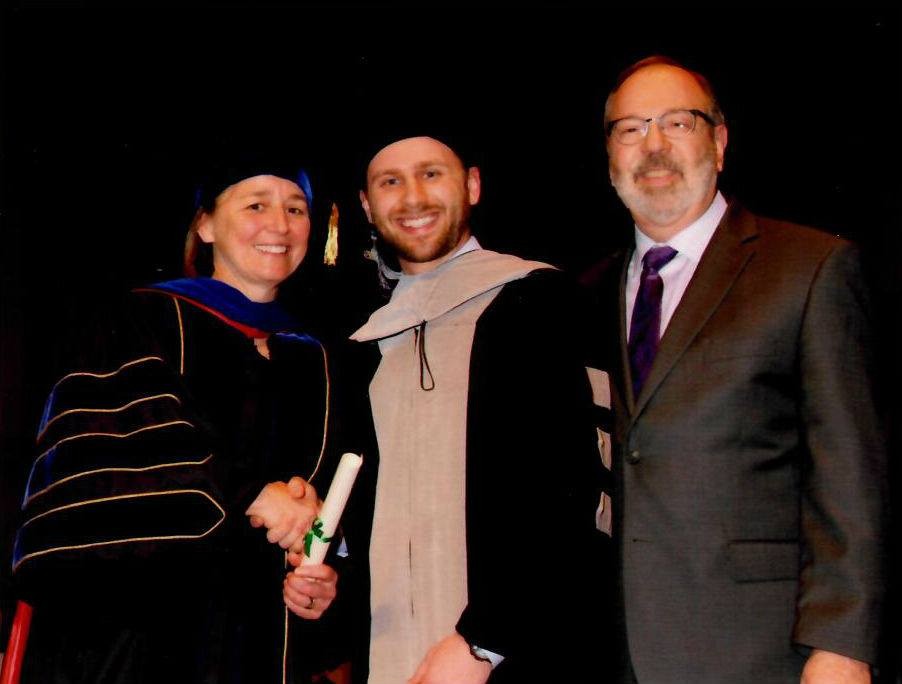 Dr. Clayton Siegle's proud father presented him with his DVM at his graduation from Michigan State in 2019.After receiving his DVM from Michigan State in 2019, presented to him by his dad, Clayton did a rotating internship at Pieper Memorial Veterinary Hospital in Middletown, Connecticut, followed by a surgery internship at the Animal Surgical Center of Michigan that ended in June.
The third generation
Clayton shares more in common with his father and grandfather than a last name and a career choice. Both also graduated from Michigan State's veterinary school, his grandfather in 1939 (80 years before Clayton) and his father in 1978. Clayton is well aware of their influence on his life. "My dad has been such a helpful guiding mentor through all of this, never once being overbearing or influencing my decisions," he said.
"My grandfather, I heard so many stories from him and wish I could ask him for more today. He was a veteran, which also fascinated me. He used to tell me stories about the roles that veterinarians played in the army in World War II, which always stuck with me."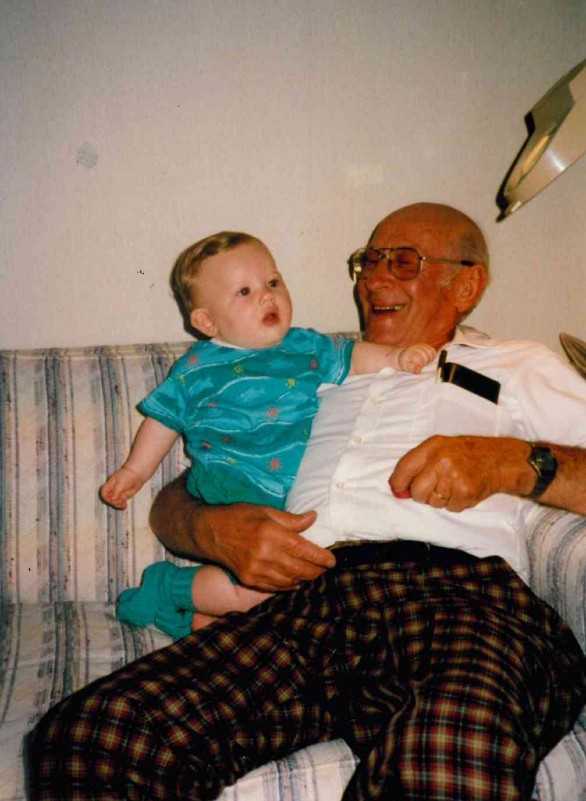 One of the most meaningful memories of his grandfather was from his undergraduate days. "I remember telling him I wanted to pursue a career in veterinary medicine. And I just remember the lights in his eyes. He was so happy. That happened not long before he passed away, and he didn't get to see me get into MSU and graduate, but that memory of him being so excited sticks with me today."
Outside of work, Clayton keeps himself busy fixing up a house he recently bought with his brother. "He and I are learning all about home care, maintenance and home renovation.
And we are getting into all sorts of trouble together, but it's a good time. It's a nice learning experience for both of us," he said.
Clayton doesn't have any pets currently, but has already chosen a name for the Golden Retriever he'll adopt when he's ready. "Cassius, after Cassius Winston. He was an MSU basketball player and, in my opinion, the best Spartan player that I have personally witnessed in my lifetime ." The elder Dr. Siegle would disagree. "His first dog was named Magic, after Magic Johnson."
Besides following the Spartans, Clayton is a "big nerd for the Marvel Cinematic Universe" and hasn't missed a MCU movie premiere in many years. He also likes going to the family cottage on Lake Michigan. "That's always a nice little reprieve."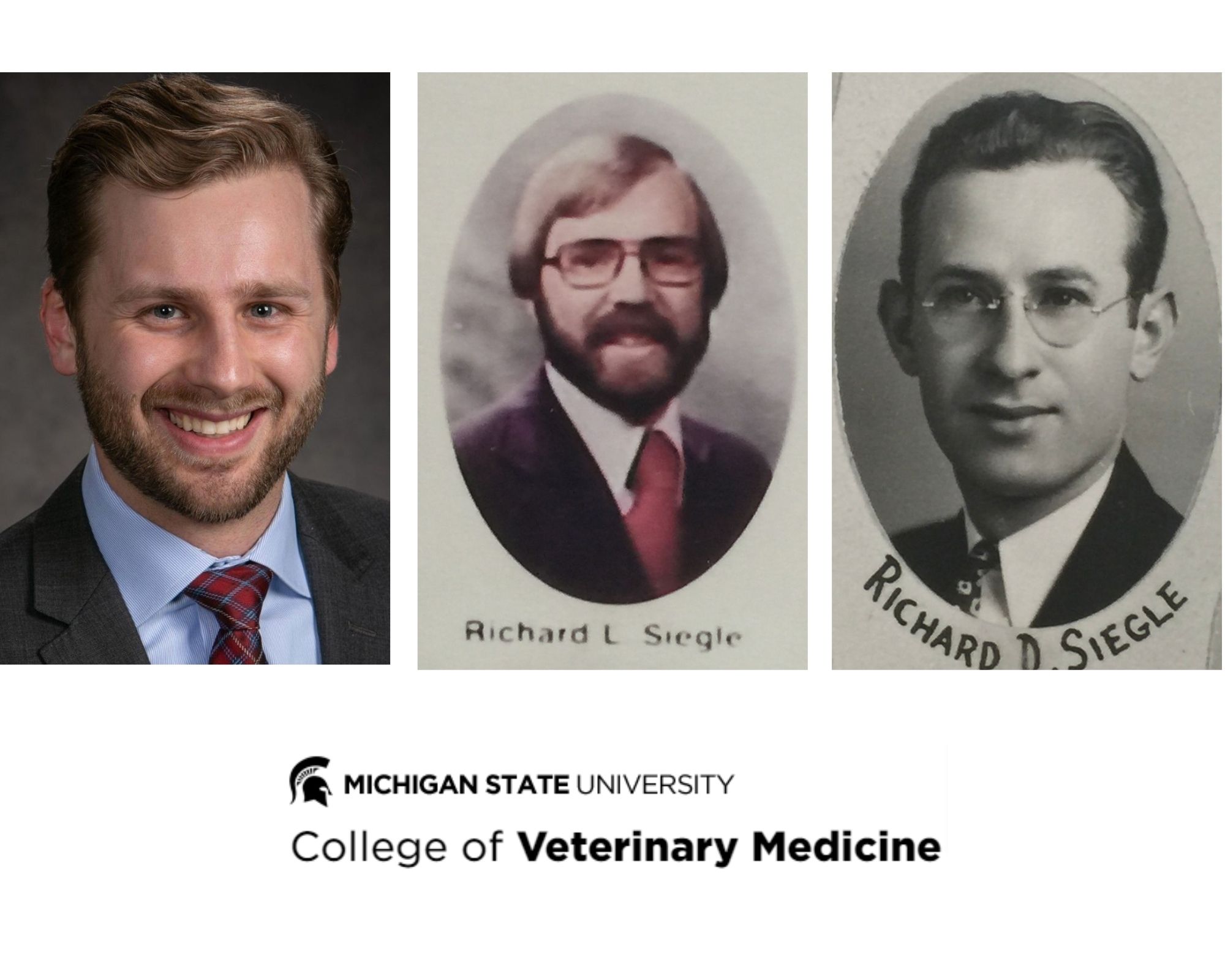 MSU College of Veterinary Medicine graduates. Left to right: Dr. Clayton Siegle in 2019, Dr. Richard L. Siegle in 1978, and Dr. Richard D. Siegle in 1939.