Protect your dog's coat this winter
Winter has hit West Michigan in full force, and along with cold weather, shorter days, and snow come dogs' winter coats. "Many dogs have a different type of coat in the wintertime that's thicker and heavier," said CHFA groomer Brittney. To some dog owners, it may seem like a good plan to leave that heavy coat alone until spring. According to Brittney, however, maintaining your pet's coat, including regular professional grooming, can be more critical during the winter than at any other time of year.
"It's really important for maintenance to keep their coats brushed out," she said. "When they're going outside and getting wet in the snow, if their undercoat isn't brushed out, that's going to create a compacted coat almost. Water speeds up the matting process if you're not brushing properly at home or having your dog groomed on a regular basis. That's the case for double-coated dogs like Samoyeds, Bernese Mountain Dogs, Newfies, and others, but also for any hair-bearing dogs like Goldendoodles, Poodles, Cocker Spaniels, Malteses, and Shi Tzus."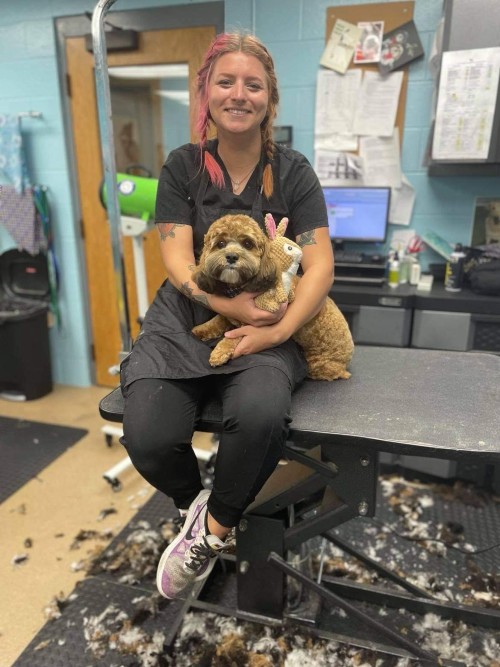 A growing problem
Matting starts small but can turn into a painful problem. "When you're not brushing regularly or don't have your dog on a routine grooming schedule, water, static, dander, dirt—all those things—are going to speed up the process of matting," said Brittney. "Some clients like to put sweaters on their dogs in the winter, and it's not good to leave them on. The friction from the sweater speeds up the matting."
"That matting starts small but will eventually get larger and turn into an unmanageable, matted coat. It keeps bunching together. Especially with double coated dogs; if they need help getting that undercoat out, that also is staying in there and compacting and the mat just gets closer and closer to the skin. When the matting gets to the skin level, that's when the coat requires shaving."
Brittney has seen many matted coats in her grooming career, and though she is slow and careful in removing the matting, it's never a good experience for the dog or for the groomer. "We like to send them home looking their best, and it's hard to do that when we have to shave them down completely to the skin."
Proper brushing techniques
Brittney emphasizes that proper brushing in the winter, and year round, is more involved than many people think. "A lot of people will just brush the top coat and they're not getting all the way down to the skin, which is very, very important," she said. "Especially all dogs with a thick double coat and dogs that are hair-bearing like poodles, doodles, shih tzus or yorkies. It is really important to be brushing from the skin out." Making a habit of regular brushing from an early age is a good way to ensure that it is a pleasant experience for the dog, Brittney said. "It's important at the puppy stage to get them used to it. It's also really important to get them to the groomer as soon as possible when they're young, so that they can get used to noises and people handling them."
"Brushing regularly and bringing your dog to the groomer every four to six weeks helps keep matting to a minimum," added Brittney. "We like to see them regularly and we like to keep them fluffy!"
Call us to schedule your pet's grooming appointment with Brittney or any of our talented groomers today!