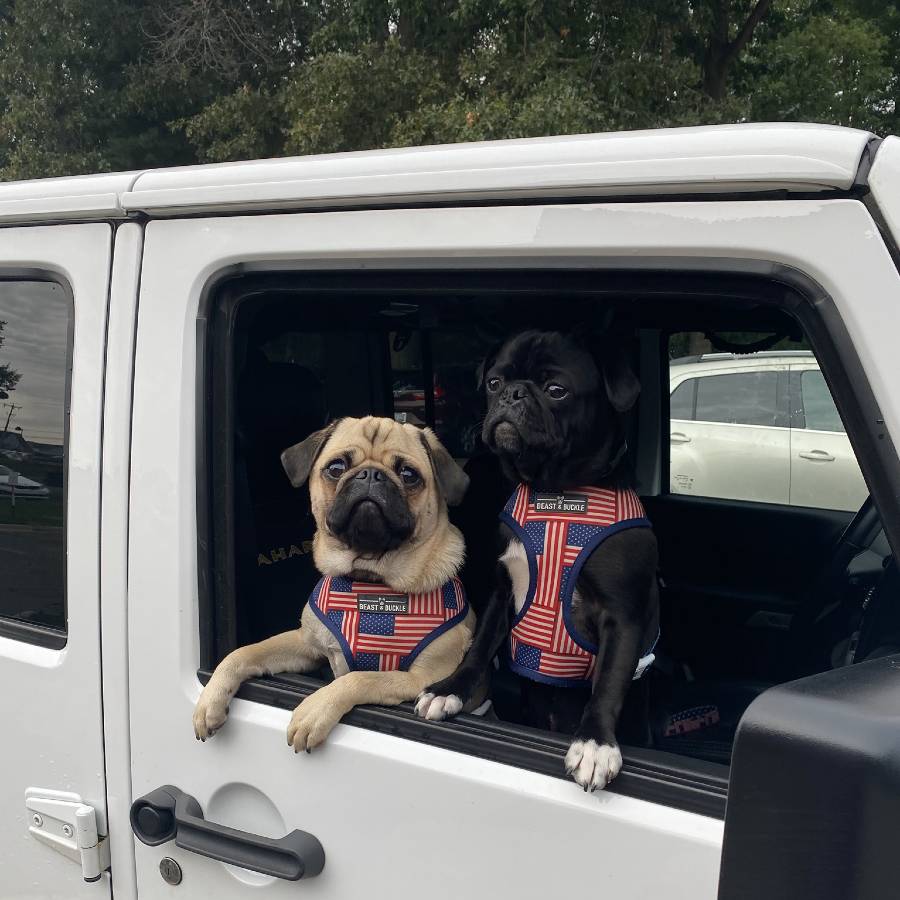 After a year of curbside service, our clinics are going strong
There's no question the COVID-19 pandemic has meant change for everyone—and every organization, company, and individual has responded in a different way. For veterinary clinics such as Cascade Hospital for Animals and Breton Village Animal Clinic, the early uncertainty around the pandemic in March of 2020 meant taking decisive action. Before the announcement of any government orders, the clinics implemented curbside service in order to promote social distancing. Staff saw their duties change.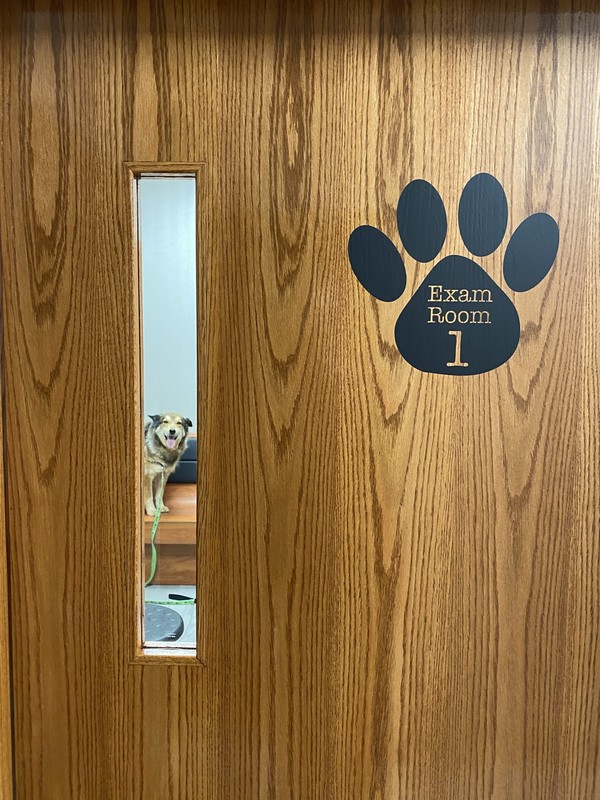 A view of Okie in the exam room as his owner waited in the car."Our team members who were previously staffing the front office or caring for boarding and daycare pets started working in the parking lot to greet clients and shuttle patients in and out of the hospital to clients waiting in their cars," said Dr. Steven McBride, who has played a large role in the clinics' COVID-19 changes.
Soon after, the clinics were subject to further restrictions mandated by the state of Michigan. "At the beginning of the outbreak, we were ordered by the governor to restrict our practice to essential services only," said Dr. McBride. "So we discontinued grooming, boarding, daycare, routing healthy pet examinations and elective surgeries." With auxiliary services and preventative care now off the table, both clinics were limited to treatment of sick or injured patients and surgical procedures deemed essential by the state.
Restrictions eased
During the summer of 2020, the state of Michigan eased restrictions on preventative care and elective surgeries. The resulting backlog of procedures was further compounded by the number of new pets that home-bound people had adopted during the pandemic. "There was an explosion in new pet numbers," said Dr. McBride. "Many of these were puppies and kittens who are now old enough to be spayed and neutered."
But it wasn't only new pets who added to the backlog. "As people spent more time at home with their pets, they discovered new problems they hadn't noticed before," said Dr. McBride. Varying hours and reduced services at other clinics in the area meant that their clients also started coming to CHFA and BVAC. Coupled with the decreased efficiency of curbside service and difficulty in finding the new staff, the backlog continues to make it difficult for the clinic to keep up with demand.
The start of modified curbside
Working in the parking lot through the hot summer months was difficult but manageable for staff, who continued to work diligently to maintain the social distance protocols. When the chill of November arrived, however, the clinics' leadership knew it was time for yet another change. "As the weather began to deteriorate, it became obvious that having team members work outdoors was quickly going to become uncomfortable," said Dr. McBride. "Fortunately, the floorplan of our hospitals is such that we could safely allow clients to enter the waiting area for pet drop-off and pick-up while still maintaining 'social distancing'." Today, while clients are not permitted in exam rooms, they are now allowed into the lobbies to drop off and pick up their pets, a considerable improvement in efficiency and staff workload.
Future plans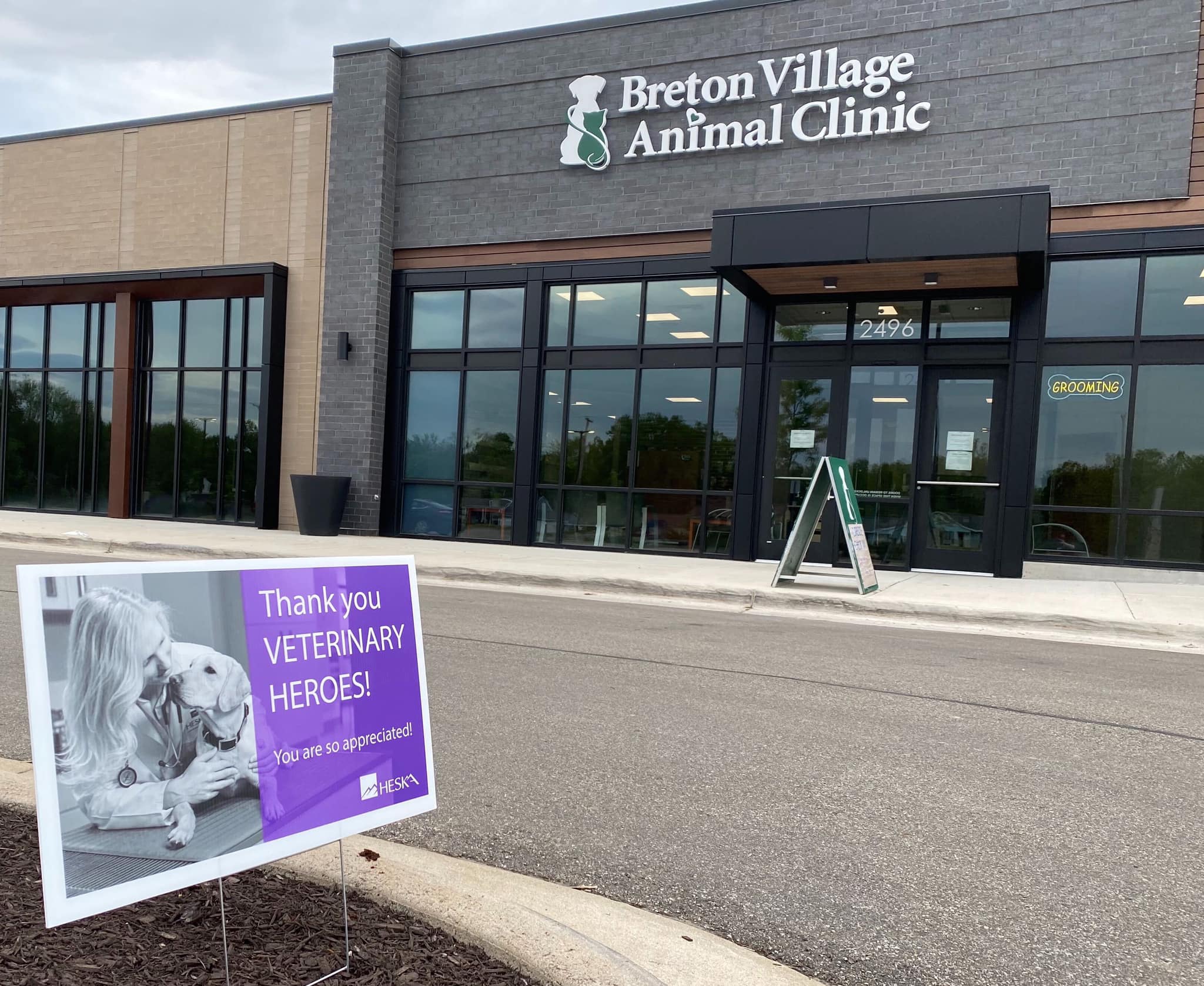 Breton Village Animal Clinic employees were recognized with a sign for their hard work.
It's the question on everyone's mind: "When are we returning to normal?" CHFA and BVAC staff are as eager as our clients to go back to allowing owners in exam rooms, and with vaccines more readily available, there is hope on the horizon. The clinics' leadership pays careful attention to local infection numbers to determine the right time to completely reopen. "I would like to see the seven-day average of new cases in Kent County consistently below 10-20 cases," said Dr. McBride.
The health of the staff is foremost in the owners' consideration. "Allowing clients into the examination room is going to be determined more by the vaccination status of our team members," said Dr. McBride. "A client who has been vaccinated can still be carrying other respiratory viruses." Unvaccinated staff who are exposed to the virus at work and show signs of respiratory illness are sent home with the assumption that the symptoms are COVID.
"That compromises our ability to remain open and deliver the veterinary services we need to give to our patients," added Dr. McBride.
Throughout the course of the pandemic, from the early days to the present, the staff and clients of CHFA and BVAC have weathered the changes well and will continue to do so, said Dr. McBride. "Our clients have been very good about following mask and social distancing guidelines, and it's wonderful getting to see some of them in person again. We're looking forward to having them back in the exam room with us!"
---
View a video demonstration of curbside below!
Watch an interview with Dr. McBride about CHFA and BVAC's experience with curbside service over the past year!