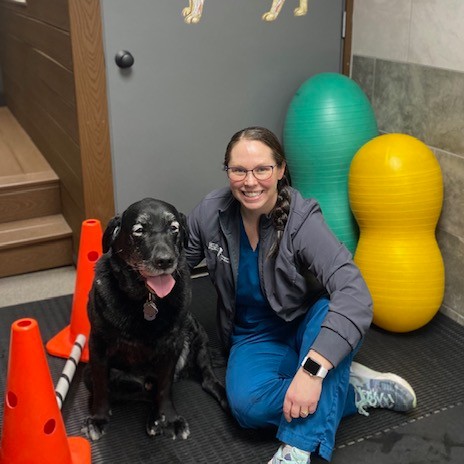 Veterinary rehabilitation nurse Emily Harkness with loyal client, Colby, age 10.
How veterinary rehabilitation helps your pet cope with aging
Whether we are prepared for it or not, it's a fact that in the best-case scenario, our pets are going to get old. And just like humans, pets' needs and abilities evolve in their golden years. CHFA's certified canine rehabilitation nurse, Emily Harkness, has seen these changes happen with many pets through her work in our veterinary rehabilitation facility. Emily and Dr. Greg Paplawsky, director of rehabilitation, describe their work with aging pets as "age management," and she tailors her sessions and recommendations not only to the particular medical issues of the pet, but also to what is most comfortable to the pet.
Help beyond post-surgery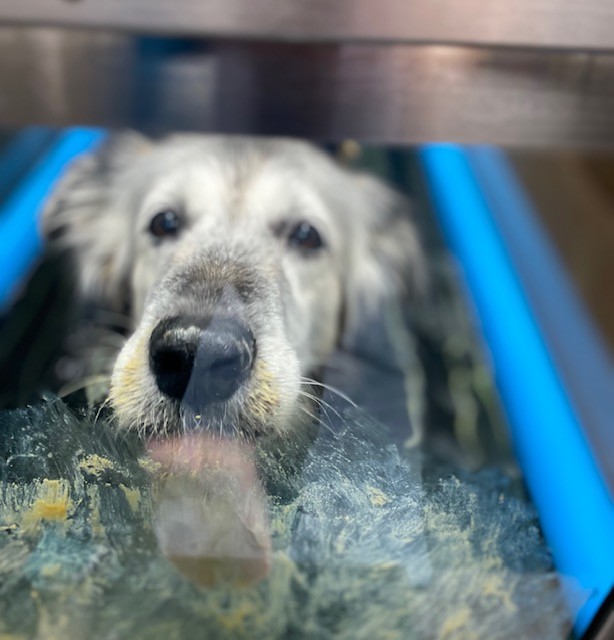 Lucy has since passed away, but her time in rehab with Emily helped make her golden years easier to manage. Here she is on the water treadmill.
Often, owners of aging pets come to Emily at their veterinarian's recommendation when their pet has begun to exhibit signs of limited mobility or arthritis. Other times, older pets who come to see her for post-surgical care end up staying on with her for regular sessions. "Let's say a dog had a knee surgery later in life, at nine or 10. We found after they were rehabbed they weren't wanting to stop rehab. The rehab was helping them in other ways that maybe the owner hadn't noticed were a problem before."
For many of these older dogs, the therapies and recommendations that Emily uses qualify as palliative care, "Palliative care is really a way to increase quality of life, such as making changes around the home for mobility modifications and decreasing stress for the senior dog." Emily enjoys working with the senior patients because they enjoy the extra attention. Many senior dogs love the massage, stretching and water treadmill time. It's a great way to invest in your dog's quality of life and mobility.
Homelife recommendations make up a large part of how Emily helps pets live out their senior years more comfortably. For example, she often tells clients to add more lighting to the areas their pets frequent, "Because their vision does change, adding more lighting is a really easy way to decrease stress. Maybe they don't want to go down that hallway anymore because it's dark," she said. "So change your light bulbs or add a nightlight. Those sorts of changes can make a big difference." Adding yoga mats or stair treads is also a simple way to provide an environment that prevents slipping. "Most modifications really don't require a large investment."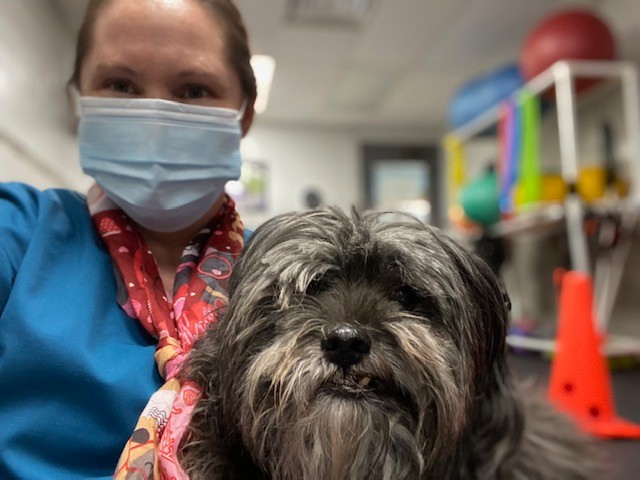 Emily with her senior client Monster, who benefits from veterinary rehabilitation.Aging is a process
"Age management is ongoing," Emily says. "Pets come and see me each week, instead of one big appointment where I just overload owners with information. I can ask, 'How did we do this week at home?' Maybe they'll say, 'Well, he's slipping a lot.' So I can give them a mobility handout and say, 'Here are some ways that you can decrease slipping for a senior dog.' Then they can try those solutions that week and see if it works for them." And although she is not able to prescribe medication, she is able to recommend that clients talk to their veterinarians about issues that do come up like senility or pain management options.
Emily is compassionate and full of empathy when listening and discussing with clients about the changes their pets are going through, and addresses their concerns about this often difficult stage. "I have a lot of sources to help them wrap their head around the anticipatory loss, grieving their pet before they're gone, because it can seem very lonely when this is happening."
Thanks to their visits to Emily, clients do see a positive change in their pets, both mentally and physically. "I hear it a lot, 'He's like a new dog,'" says Emily. "And that will last for a time, but aging is a process and unfortunately so far we haven't found a way to stop it yet. So I am there to help them with the changes as they come and adapt how we work with them."
This blog is part one of a three-part series. In part two, we'll explore some of the in-office therapies Emily uses and how she decides which therapy is right for which pets.