So you've decided to welcome a puppy into your life! You'll soon know boundless joy, excitement, and laughter…and many sleepless nights, housebreaking missteps, and missing shoes. Puppies are not for everyone, but for the brave souls who open their hearts and homes to them, they can be rewarding life-long members of the family.
We love puppies at Cascade Hospital for Animals and Breton Village Animal Clinic, and it's important to us that you embark on this adventure as ready as you can be. Here are some tips from Dr. Greg Paplawsky on taking the first steps in adopting a puppy and how to ease the transition for both your new friend and your family.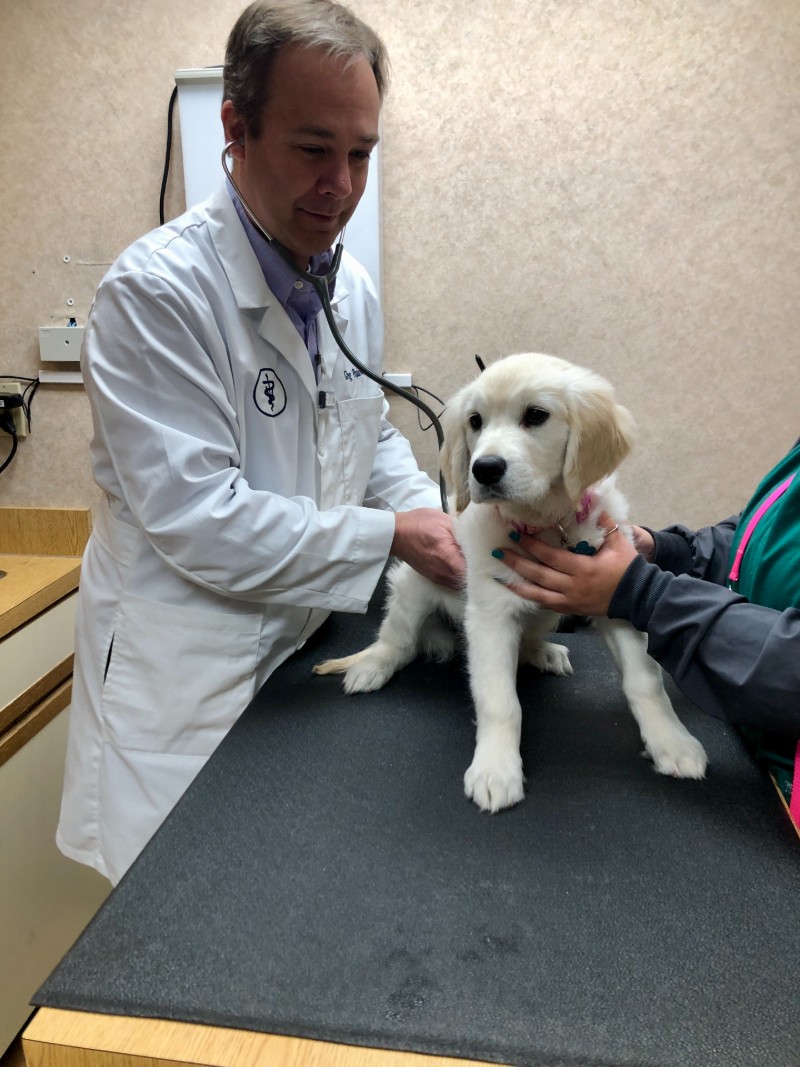 Pick out the perfect pet
Whether you're adopting from a shelter or working with a breeder, you'll need to choose the right puppy for your home. Do extensive research about the breed (or dominant breed if the puppy is a mix): How large does this breed tend to get? Is it easily trainable? Does this breed of dog tend to have the right level of energy to match your family? "The more research you do will pay off in finding a great fit for the family's lifestyle," said Dr. Greg Paplawsky.
After you've tracked down a good puppy candidate, learn as much as you can about him by observing him with his litter mates, if they are present, or asking the puppy's current owner about his behavior with people and other animals, ensuring that he'll get along with everyone in the house, from small kids to other pets.
Once you've adopted your puppy, make an appointment with us as soon as you can. We'll give him a thorough examination to make sure he's in good health and ensure he's up to date on all the necessary shots and medications. "The first puppy exam is a great way to start the veterinary relationship and help make the puppy comfortable coming to the vet," said Dr. Paplawsky.
Get the house in order
Before your new puppy comes home, you'll need to ensure your home is ready for him. That includes puppy proofing to set him up for success.
Put away shoes, socks, and other tempting makeshift chew toys.
Keep electrical cords and wires inaccessible
Make sure household plants are out of the puppy's reach
If you don't have a fenced yard, have a plan for keeping the puppy contained or on leash while outdoors
You'll also need to have all the right supplies on hand. Make sure you have puppy food (ideally the same brand he was eating in his previous home), food and water bowls, a properly-fitting collar and leash, puppy-safe toys, and plenty of cleaning supplies for accidents.
Because we recommend crate training your puppy, be sure to have a crate waiting for him when you bring him home. Start with a size-appropriate crate (just big enough for him to stand up, turn around, and sleep comfortably). You may consider buying a crate big enough to accommodate his size when he's an adult and use an adjustable divider as he grows. "Crate training and getting your puppy comfortable in the crate is a very important way to give the puppy a safe and happy place to be," said Dr. Paplawsky.
Patience is key
A new puppy in the home can feel like a full-time job. They need attention, affection, lots of training, and loads of patience. But if you come into that job fully prepared—with us there to help you along the way—it'll be the start of a journey that brings life-long rewards.