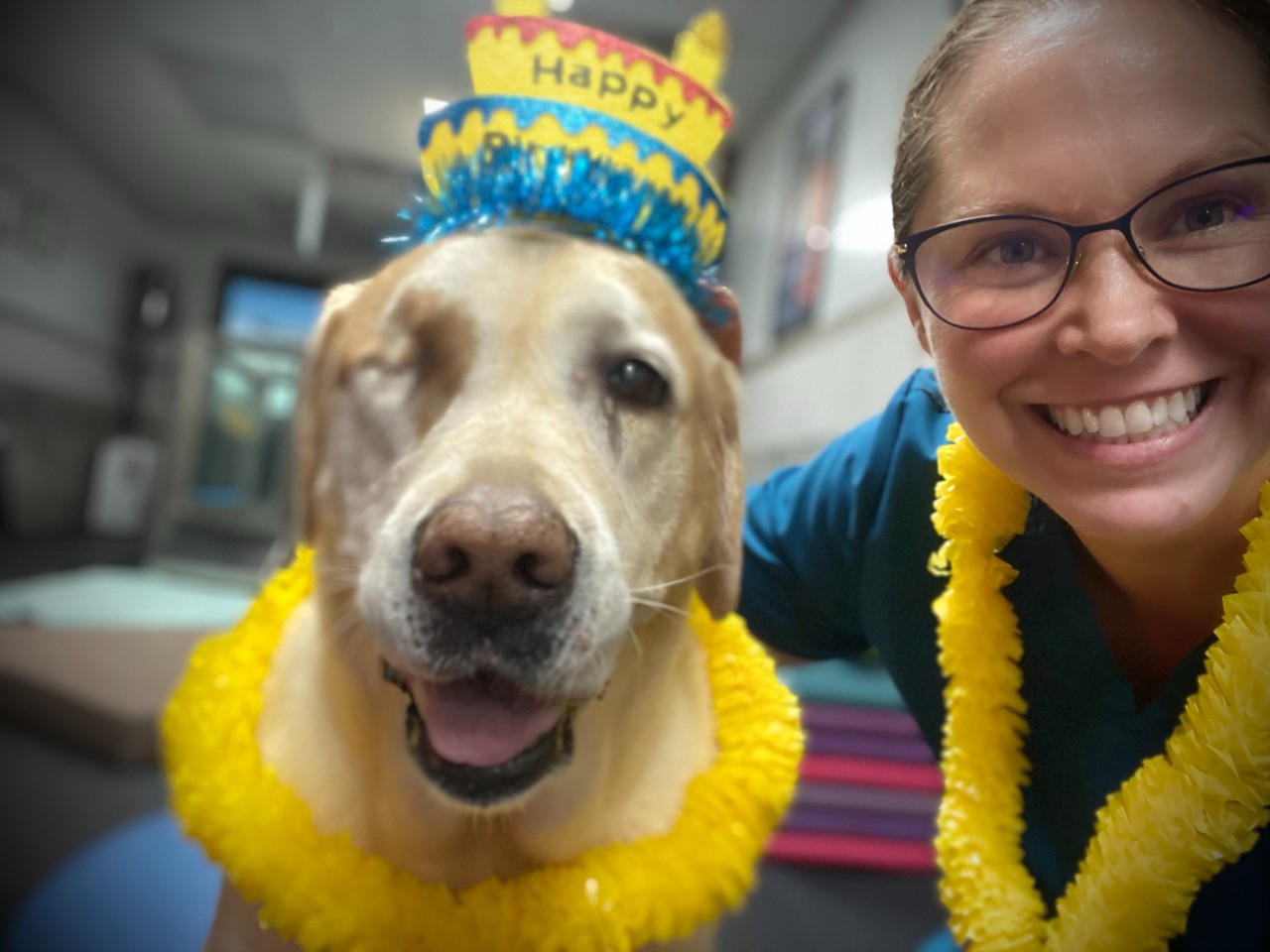 For one senior dog, veterinary rehab has been lifechanging
This is part three in a three part series about the veterinary rehab program at Cascade Hospital for Animals and the benefits it brings to pets. In part two, we explored the two primary types of patients rehabilitation nurse Emily Harkness sees and the best courses of treatment for them. In part one, Emily talked about how she and Dr. Greg Paplawsky view veterinary rehab for seniors as age management to ease the transition to their golden years and how she works with owners to make home life as comfortable as possible.
Many clients have brought several generations of pets to our veterinary rehab facility. When Laura, a CHFA client, began bringing her senior lab Barkley to rehab, seeking relief for his age-related ailments, she was so impressed with the results that she started bringing her younger senior lab, Lola, to see Emily as well. Barkley has since passed away, but according to Laura, "Rehab added a year to his life, no question."
Lola, now 12, is still a regular client of Emily's, coming to visit her once every two weeks since 2019, and both Laura and Emily believe veterinary rehab has had an extremely positive influence on her well-being.
Help through the years
Now deaf and with only one eye, Lola's needs have changed since she first started coming to veterinary rehab. "As she was getting older, she was showing some generalized arthritis symptoms, and having seen the benefits for Barkley, Laura started to bring Lola to see us as well," said Emily. "Lola's now on a very specific diet of food for joint pain and does pain management with a variety of types of medications." These approaches to help ease Lola's arthritis pain are known as multimodal pain management. "On top of that we have the physical rehabilitation portion of exercises and the treadmill."
At home, Lola is unable to easily use stairs, so with Emily's guidance, Laura has incorporated different environmental modifications to help keep Lola both mobile and safe. "We've talked about ramps, harnesses, elevated food and water dishes, and laying down yoga mats on the hardwood floor to prevent slipping," said Emily. These in-home modifications play an important role in Lola's well-being, but for Laura, the big difference for Lola comes after her sessions with Emily every other week.
"She loves going to see Emily," said Laura. "She's deaf and recently had an eye removed, so the world is a scarier place for her these days. Going to see Emily is a constant for her, a familiar place that she looks forward to."
More of a stationary dog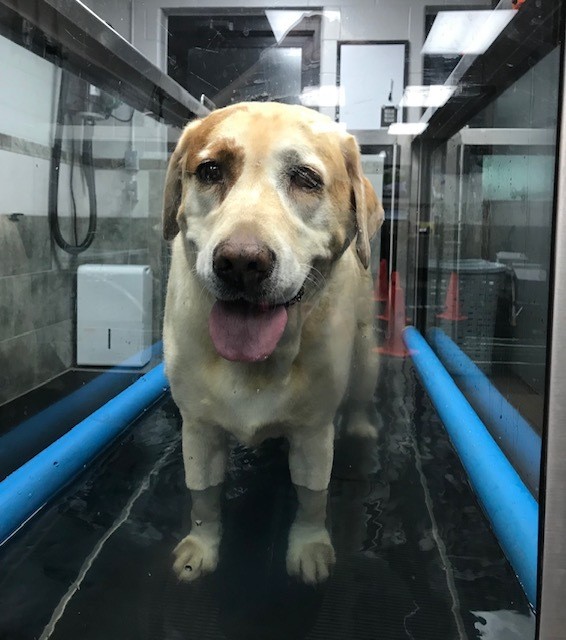 Lola loves walking in the warm water of the treadmill, which helps soothe her arthritic joints.
In part two of the rehab series, Emily talked about the two different types of senior dogs she sees: Those who prefer variety in their activities from session to session and those who need familiarity to thrive. Lola falls in the latter category. Emily keeps her on a routine that is both comfortable and effective.
First, lots of activity. "Lola loves the obstacle course. I set up cones, cavaletti rails, a dog bed that's about four inches off the ground, a BOSU ball, and a hula hoop, and I kind of walk her through these things to work on stability, getting her to pick up her feet," said Emily. "She's starting to do a little bit of shuffling. As dogs tend to age, they don't want to pick them up quite as high so then we'll step over things that aren't too high but high enough to remind her to pick up her feet."
After tackling the obstacle course, it's time for Lola to relax. "I do a lot of range of motion and a lot of massage on Lola because she's pretty sore," said Emily. "Her arthritis has gotten progressively worse." Emily also gives Lola laser therapy to help soothe her pain.
Finally, it's time for one of Lola's favorite parts of her visit: the water treadmill. "I use that modality because I can put the water really high and use the buoyancy of the water to allow her to get a better range of motion without all of her weight on there," said Emily. "She likes the treadmill a lot. The water is very warm and feels good on her sore joints." Emily carefully monitors Lola's comfort level in the water and adjusts the speed of the treadmill accordingly.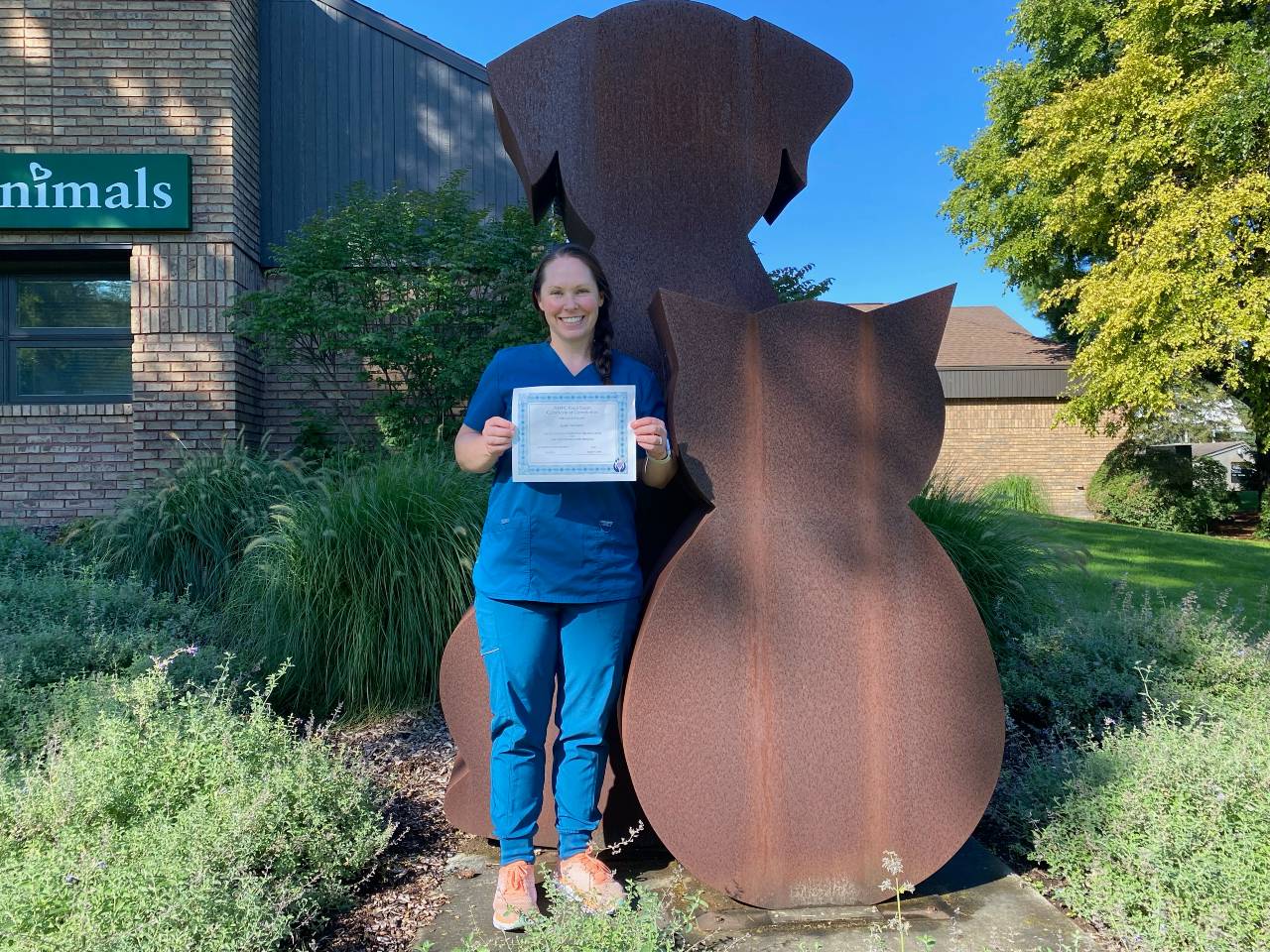 Emily shows off her new certificate she earned as a Hospice and Palliative Care Technician.A bucket list for pets
One of the key goals of veterinary rehab for senior pets like Lola is to make sure their quality of life is as good as it can be at home. Emily recently became a Certified Hospice and Palliative Care Technician, after completing an intensive continuing education program through the International Association for Animal Hospice and Palliative Care. As part of the training, she learned more about the unique challenges of providing comfort, care, and quality of life to older pets like Lola.
"I talk a lot with clients about a senior pet's bucket list…the things that make your dog your dog," said Emily. "Lola has a pool at home and loves to go swimming. There are older kids in the family who come home from college and she loves to see them. Plus, there's a younger dog at home and it's important to Lola and her owners that she can play with the younger dog." Rehab is helping Lola to maintain the quality of life to do these things that she loves.
Team Lola
Part of Lola's success is due to her family, veterinarians, and Emily working together for her physical and mental wellbeing. "I adore Lola, I adore working with the family and they have her best interest at heart," said Emily. Laura feels the same about Emily and the veterinary rehab facility. "Emily is the best," said Laura. "She's so knowledgeable about dogs in general and about Lola; plus, Lola loves her. When we get to the office, she's always happy to go straight back there with Emily."