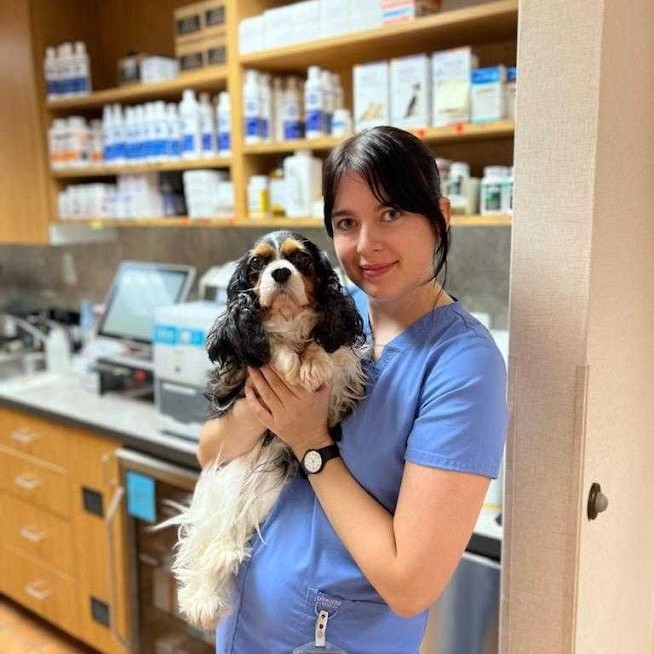 Our Licensed Veterinary Nurses Set us Apart
For many years, there has been an issue across the veterinary world that the pandemic only worsened: a shortage of licensed veterinary technicians, now more commonly called registered veterinary nurses (RVN). It's difficult to fully account for the shortage, but to make up for it, many veterinarians employ non-credentialed assistants to carry out certain tasks.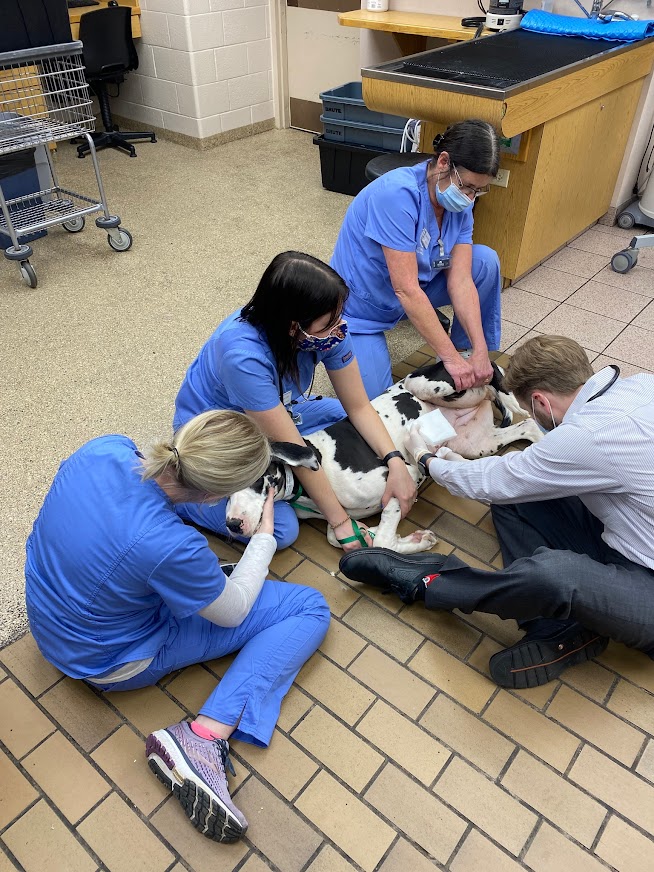 Veterinary nurses restrain a Great Dane for Dr. C. Siegle.At CHFA and BVAC, we make an important distinction in the type of work performed by the technicians who are licensed by the State of Michigan as Veterinary Nurses and those assistants who are not credentialed nurses. Gabe Kleinschmidt, who has been a Licensed Veterinary Nurse for three years and a member of our team since 2020, affirms that there are certain roles that will always only be filled by accredited technicians.
"Unlicensed assistants mostly attend veterinary appointments, and they get their training on the job," she said. "They get a lot of experience just by working here and through an extensive training program we have for them. What sets our licensed nurses apart from the non-licensed assistants is that the nurses do anesthesia, catheter placement, and urine collection. We do intensive care, client education, and we also have our own nurse appointments and do dental cleanings with anesthesia as well."
Never a dull moment
Among the 19 licensed nurses on staff, the multiple responsibilities involved with their job mean there is no day-in, day-out routine. "We have RVNs that have been working at Cascade for over 20 years, and they have more of a tailored routine," said Gabe. "But most of the nurses, we just break things up equally. One day your job will be surgery, the next day you'll be doing dentals, or the next day you'll be doing nurse appointments. We all have a wide range of different skills that we do, so we're all pretty well rounded. We'll have a lot of nurses on in one day, but we're all doing a different task."
Because of the trust the hospital places in them, Gabe believes the fact that there are multiple RVNs at CHFA and BVAC who have a tenure of over 20 years is no accident. In fact, one RVN, Debbie, has been working at CHFA for over 47 years under two, and soon to be three, generations of leadership.
Gabe herself has worked at five different hospitals in her career and while there is much about working at CHFA she prefers, one aspect that stands out is the value it places on education and licensing. "I feel like every hospital has a different tier as far as what sets their nurses apart. I've worked at clinics that don't have licensed nurses, because legally they can operate under the license of a doctor," said Gabe. "Because we have licensed nurses performing the anesthesia and other services, that makes us special. I think a lot of people don't realize that or understand the significance of it."
Training is key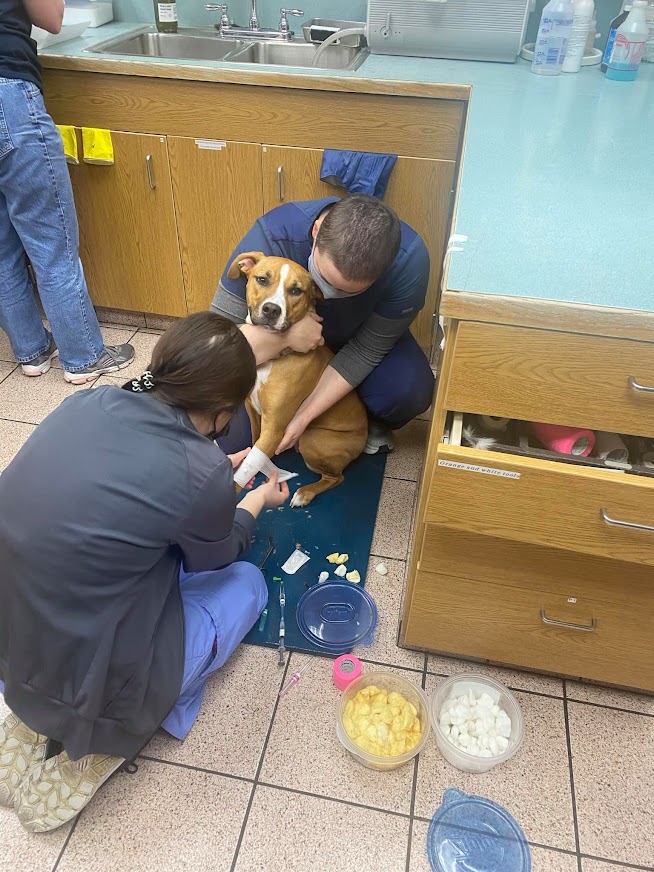 Gabe adding an IV to a pet's leg.
The nationwide licensed veterinary nursing shortage has affected veterinary offices everywhere, including CHFA and BVAC, where non-licensed assistants now sometimes assist with nursing appointments, though licensed nurses are still fully involved. "I feel our ownership, now and with the upcoming generation of ownership, values the importance of training," said Gabe. "Even as veterinary assistants become a bigger part of our staff, they're still going to continue to operate under the watchful eye of someone with a nursing license."