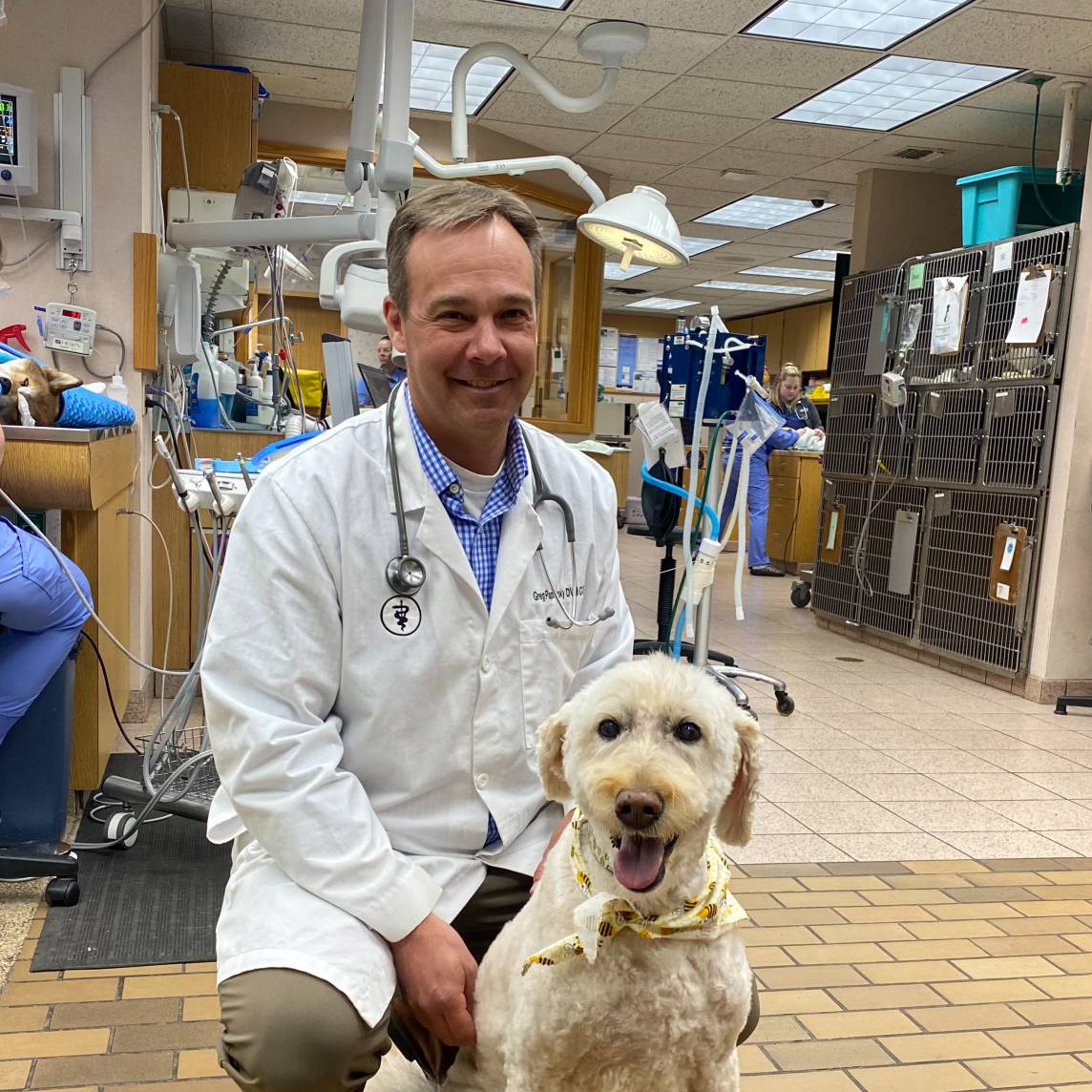 Dr. Paplawsky pictured with Molly, a dog who participated in a clinical trial.
What are clinical trials and why do we participate in them?
At Cascade Hospital for Animals and Breton Village Animal Clinic, we value staying at the forefront of veterinary medicine. Helping to advance new developments in this ever-evolving field means better care for our patients and better a prognosis for pets with serious illnesses. That's why we have been participating in clinical drug trials for more than a decade.
Tightly controlled environment
Clinical trials are research studies we conduct at the request of drug companies to evaluate the safety and effectiveness of new treatments. The purpose of these trials is to gather data to determine the potential benefits and risks of the treatment being tested.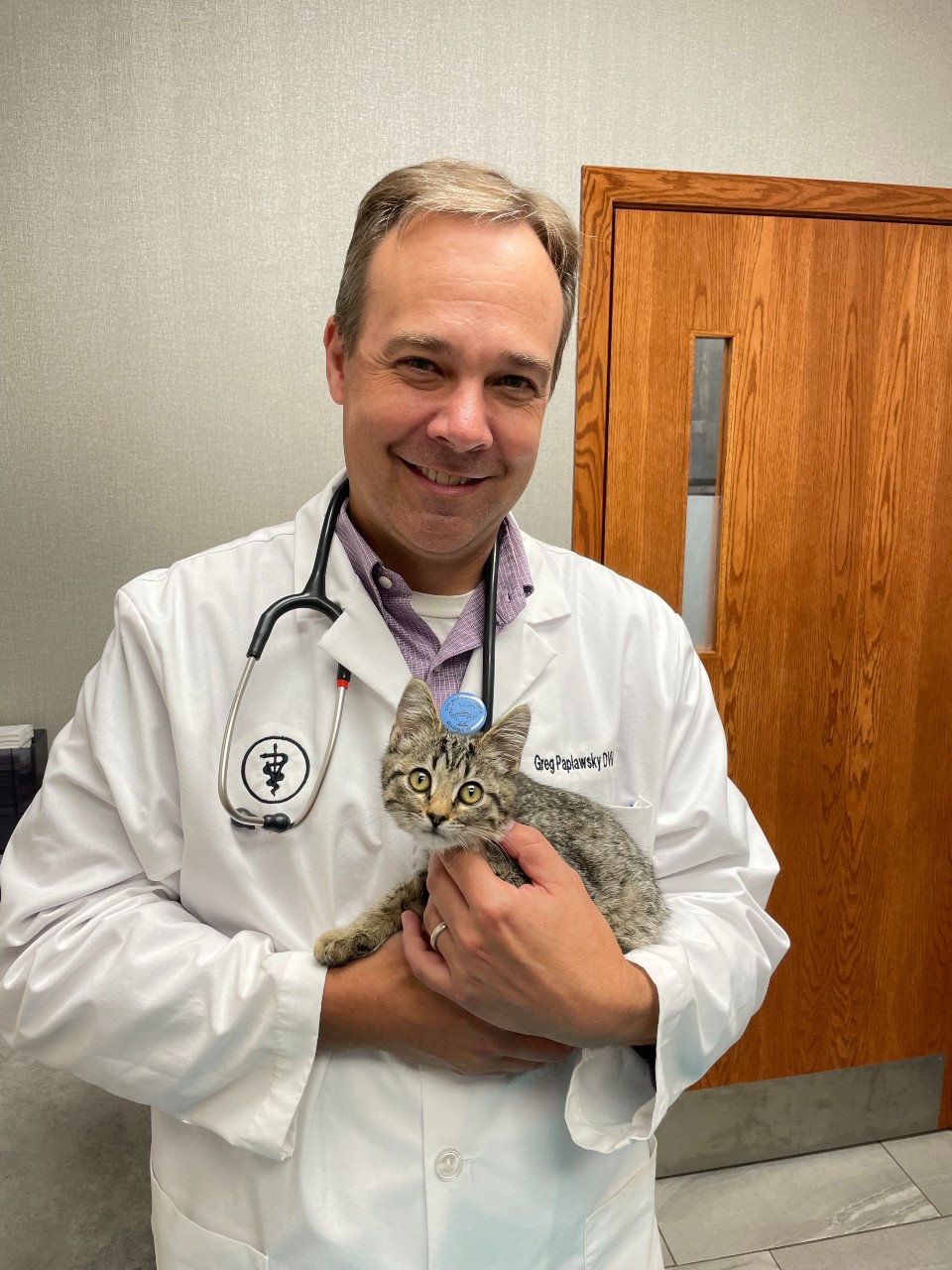 Dr. Paplawsky, shown here with a patient, is the Clinical Investigator for our clinical trials.According to Dr. Greg Paplawsky of CHFA, who is the Clinical Investigator for the trials, "When drug companies get promising new medications, they do a lot of in-house trials. When they get to the point where the next step in the approval process is field trials with actual patients and pets, they reach out to different practices via a third party that says, 'This is the population of pets we're looking for.'" Essentially, if CHFA is approached to participate in a trial and we find we are able to meet the needed criteria, we agree to participate in the trial, "and then they'll set us up with the whole protocol."
Clinical trials are blinded studies, meaning hospitals that participate have no way of knowing whether they are in a placebo group, in which they are to administer a non-medicated injection or pill, or whether they are in the group that administers treatment with an active ingredient. "We also don't know what the medication is going to be, or even the drug company that is sponsoring the trial," says Dr. Paplawsky. All that the participants in the study know is the criteria needed for the pets who will receive the treatment.
"We just collect the data, do blood work, and we send it off," says Dr. Paplawsky. "Then the drug company looks at the data from us and other participants in the trial, and if the trial is successful, submits it to the FDA for approval."
Many benefits for all
For clients, patients, and CHFA alike, clinical trials have benefits beyond helping develop new treatments. "We do it to help advance medicine, and our clients tend to do it because they get some benefits from being part of a clinical trial, too," says Dr. Paplawsky. "They get free blood work, free vaccines, potentially free treatment, and they also usually get credit on their veterinary account to use at the hospital."
How does a patient get chosen for a trial? "There's a screening process, and it's very detail-oriented. We approach a client to be a part of a trial, they agree, and then we have a rigorous, controlled screening process to ensure the pet meets the inclusion and exclusion criteria. If they're screened and they pass, then they can get enrolled in the clinical trial."
Due to the nature of the blinded studies, there's no way for us to know whether the drugs we test make it to market, or if they do, what drug they eventually become. "Some of the drugs that we've trialed include some new heartworm preventatives and some new allergy medications," says Dr. Paplawsky.
A safe process
Once a pet is enrolled in the trial, staff conducts monitoring, reporting, and check-ins to ensure there are no adverse effects. Dr. Paplawsky leads the research team and is assisted along the way by technicians and veterinary assistants. "A lot of staff like to participate in the trials because it's interesting and something a little different from the day-to-day," he says.
He reassures clients that the trials are a safe process that is completely voluntary. "It's controlled and well-monitored," he says. "We do these trials because without them, there wouldn't be any new products and new treatments."