Librela is a promising new arthritis treatment for dogs
Seeing your dog show signs of slowing down is never easy. Sometimes the culprit is not necessarily aging alone, but osteoarthritis, which can make movement more difficult and painful. There's no cure for this condition, but its effects can be controlled with treatment. If you talk to your veterinarian about your dog's symptoms and testing reveals a diagnosis of osteoarthritis, some of the available treatments you and your veterinarian might discuss include a combination of medications and non-pharmaceutical interventions (physical rehabilitation, acupuncture, laser therapy, and nutritional supplements, for example), says Dr. Becky Schaffer.
Pain-free future
A new monthly injectable medication called Librela, however, could change the way current and future canine osteoarthritis patients are treated. "We've only had the medication for several weeks," says Dr. Schaffer, "but I have definitely seen patients who received Librela get around more easily! Several patients are already showing improvements like going up and down stairs again, running for their ball, and other increases in activity."
Not only is Librela proven effective as pain management for osteoarthritis, it's also a safer long-term option compared to oral medications such as Rimadyl and Gabapentin. "We can still use all of those other methods, but Librela gives us another option to control pain without some of the harsh side effects that chronic oral medications can have on an aging pet," says Dr. Schaffer.
Hope for Scotch Ann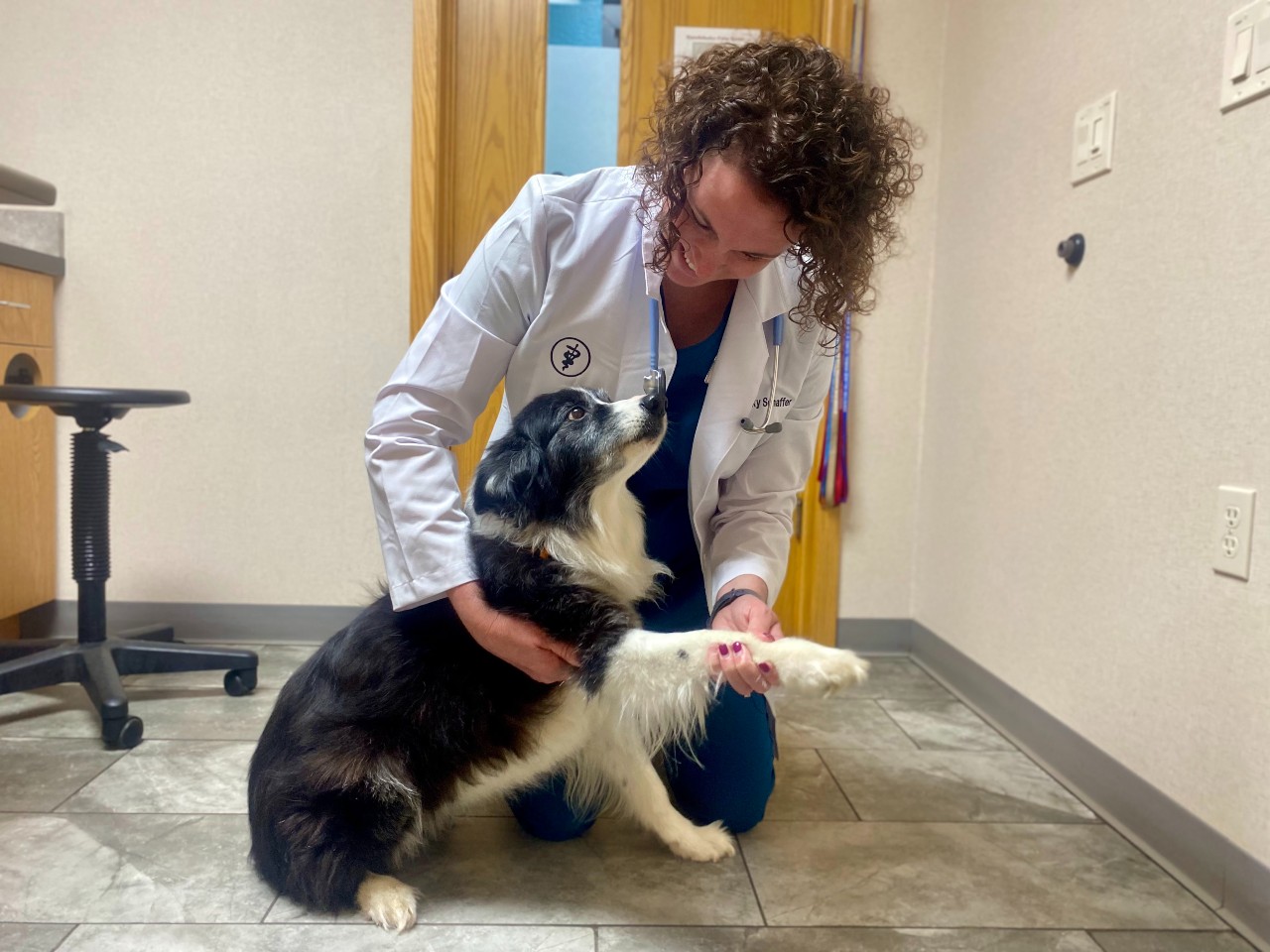 Dr. Schaffer examines Scotch Ann.
CHFA employee Ashley, whose 12-year-old Border Collie Scotch Ann has arthritis, hopes that Librela will bring her the relief she needs to enjoy day-to-day life to the fullest again. Since around Spring of 2020, Scotch Ann has experienced front end lameness, and "episodes of hind leg and back pain that made her reluctant to move," says Dr. Schaffer.
It's difficult to see Scotch Ann experience this pain, says Ashley. "She has a limp in her front leg and she can no longer get in the car by herself. I have to pick her up to get in there." Her zest for play is less with the pain as well: "She does not chase a frisbee to catch. She will chase it, but she just lets it hit the ground and doesn't try to catch it." Additionally, as a Border Collie, Scotch Ann "thinks she needs to work every day, and unfortunately this means that sometimes she will overdo it and be quite painful for a couple of days."
For the past three years, Scotch Ann has undergone rehabilitation, laser therapy, and acupuncture; and taken oral medications, joint supplements, and fish oils. When Librela became available, Ashley and Dr. Schaffer were ready to give it a try for Scotch Ann. "She has received one injection so far," says Ashley. "It can take a couple of injections before changes are noticed so we have not seen a great change yet, but since starting Librela, we haven't had any days where she can't move after a day of activity!"
Though it is early for Scotch Ann, both Ashley and Dr. Schaffer hope Librela will be a great solution for her. "I'm hopeful that Librela will relieve pain better than her current regimen of medications and help extend her excellent quality of life for as long as possible," says Dr. Schaffer. "Ideally we may be able to drop some of her oral medications and continue with Librela alone, but that will depend on how she does on the injections."
"I am hopeful that we will see improvements in her day-to-day life," says Ashley. "I would love for her to be able to get herself into the car again, because she hates to be picked up. Even if we do not see that change, I am hoping we will keep her moving comfortably for as long as possible!"
If your dog is showing symptoms of osteoarthritis, give us a call to see if Librela is the right solution!