Having a parrot for a pet isn't for everyone. In fact, if you ask parrot owner and enthusiast Tom Edwards, a long-time client of CHFA's board-certified avian and exotic mammal veterinary specialist Dr. Tracey Ritzman, it's not for most people. "It's so much work that I try to talk people out of it...if after talking to me you still want to own a bird, you were meant to be a bird owner," says Tom.
Tom and his wife Kim have two parrots: Elliott, a 32-year-old double-yellow-headed Amazon and Ollie, a 17-year-old green-winged macaw. "When I say that I've had a bird for 32 years, people are usually surprised that she's only had one home. They're a lot of work, and you have to do that work for a long time, so unfortunately people often rehome them."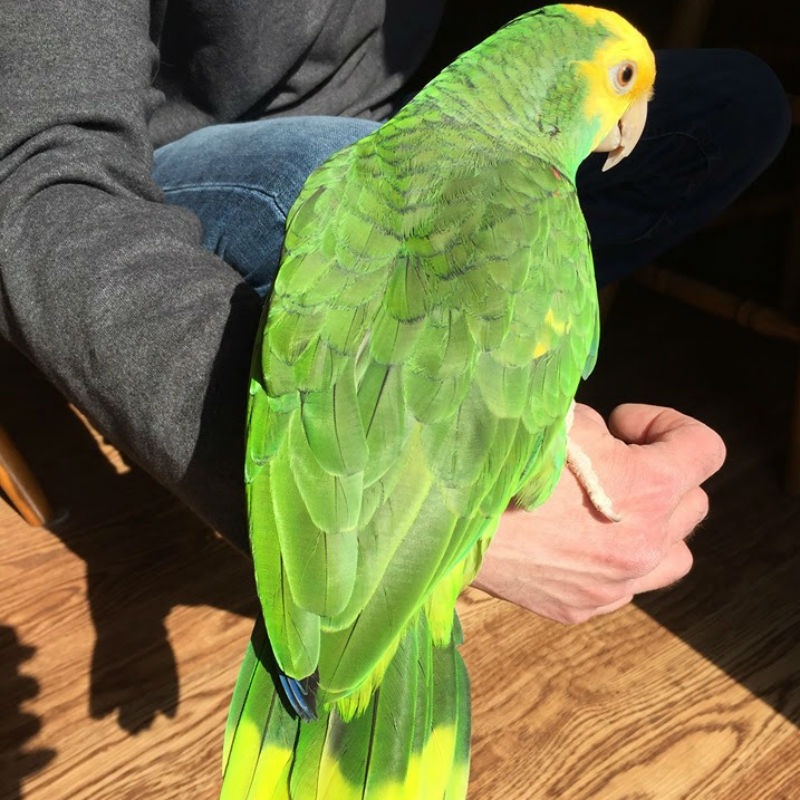 Tom's had Elliott since she was a baby in 1987, and she's been with him through some major milestones, including meeting, dating, and marrying Kim and raising two children to adulthood. Over the years, Elliott's daily needs have always intertwined with the rest of the household: "When the kids were babies, I'd be in the recliner next to Elliott's cage, rocking them and feeding them a bottle with one hand, and feeding Elliott with the other."
Although Tom is now at home during the day due to a chronic pain condition, he once juggled care for Elliott with a full-time job, which wasn't easy. "I got everything set for her in the morning but it was hard to leave her. I had the TV on a timer to entertain her."
In 2002, Tom and Kim brought home Ollie, mainly so that Elliott would have a companion during the workday. "There is a thought in parrot keeping that keeping just one bird, if you work long hours, might not be the best thing for the birds," said Tom. "Being alone all day isn't necessarily the best for them."
The two birds are in cages next to each other and have established a bound in spite of the fact they're never close enough to touch (due to the difference in their beak sizes). When Elliott needed to stay at CHFA for an x-ray recently, Tom says Ollie seemed to notice she was gone. "I sensed that he kind of missed her," Tom said. "He acted a little strange."
Tom sets "four or five" alarms on his phone throughout the day to keep Elliott and Ollie on a feeding routine. His birds eat four times a day on schedule, and their meals include a carefully prepared mix of green and orange vegetables to mimic what they would eat in the wild as closely as possible, as well as mixed nuts.
"I feed them everything on a schedule," Tom says. "I feel like their robot sometimes."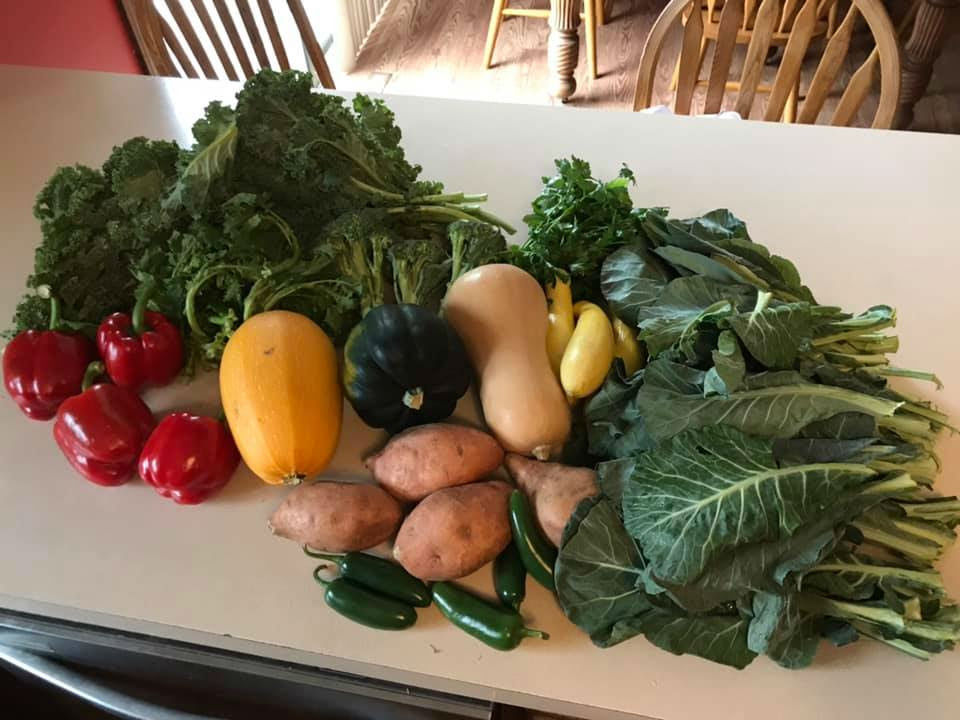 Although Tom goes the extra mile for his parrots' feeding, according to Dr. Ritzman, giving parrots access to food all day is essential. "Birds have a higher metabolic rate than mammals and require a constant supply of food and fresh water," said Dr. Ritzman. Tom's parrots are also fed a formulated diet, which are parrot pellets recommended by Dr. Ritzman. "A seed-only diet is too high in fat for many parrots and lacks many essential nutrients such as amino acids (proteins) and calcium," she said.
During the day, Elliott and Ollie play on their toy stands, which Tom creates for them every year.
"I cut up wooden blocks (I get most of my supplies from the hardware store), and then I dye them with a bird-safe food dye. Their toys are important to keep them active, but also to keep their nails and beaks conditioned."
Even with their toys, Elliott and Ollie get regular health examinations and grooming from Dr. Ritzman to keep their beaks and nails in good condition. Dr. Ritzman recommends all pet birds see an avian veterinarian at least once a year for a health examination.
"Having regular veterinary visits for parrots is very important as these wonderful feathered companions are very long-lived," said Dr. Ritzman. "Some species of parrots can live up to 50 years or older! The decision to choose a parrot as a pet often requires a life-long commitment and a lot of time and care. People thinking about getting a pet bird should speak with someone who already has birds like Mr. Edwards prior to making a final decision."
Tom says he's impressed with the level of care that Dr. Ritzman provides to his birds. "Dr. Ritzman does a fantastic job," Tom said. "I've had, I think four or five vets since I started with birds. And really I think in our area for certain she is the best vet that you can go to for birds."
Please call us at 616-949-0960 or visit our Patient Portal to schedule an appointment with one of our dedicated vets.